In her Naturalization Papers, Great Aunt Stephania couldn't remember the ship on which she emigrated to the United States, although she stated that she arrived at New York from Bremen on September 16, 1901.  Two ships did arrive at New York from Bremen on September 16, 1901:  the SS Kaiser Wilhelm der Grosse and the SS Friedrich der Grosse.  Stefania wasn't aboard either of these ships.
The SS Barbarossa
Today, I received a message from Drew Smith (one of the Genealogy Guys) who told me that he found Stefania's Passenger Manifest on the Ellis Island site, and indeed he had!  Stefania arrived on the SS Barbarossa on May 22, 1901 (a few months earlier than she reported in her naturalization papers)!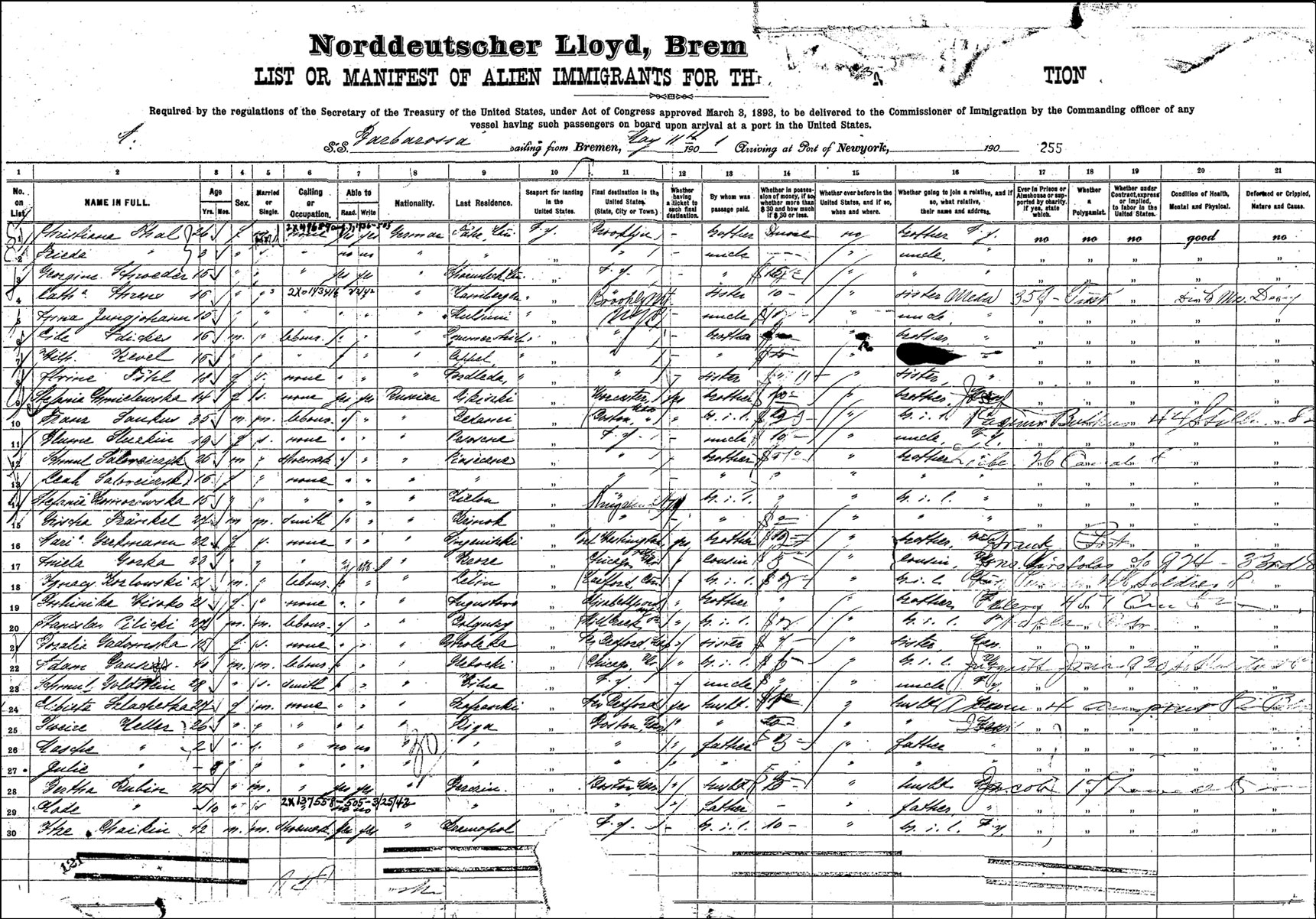 Passenger Manifest for Stefania Chmielewska – 1901
Click on the link for a PDF copy of the Passenger Manifest for Stefania Chmielewska – 1901.  The manifest shows that:
Stefania Chmielewska traveled on the S.S. Barbarossa, leaving Bremen on May 11, 1901 and arriving at New York

Although this page does not state the date of her arrival, other pages in the manifest show that the ship arrived in New York on May 22, 1901

Stefania is listed on page 255, line 9 of the manifest

She was a 14 year old single female with no occupation who could read and write

Her nationality was Russian, her last residence was Likiszki, and she would be landing at New York

Her final destination was Worcester, Mass., she had a ticket to her final destination, and her passage was paid by her brother

She had $7 with her, she had never been in the United States before, and she was planning to join her brother, Josef

She had never been in prison, almshouse, or supported by charity

She was not a polygamist and she was not under contract to work in the United States

Her mental and physical health were good, and she was not disabled or cripple
The Ellis Island indexes have Stefania listed as follows:
First Name:  Stefnie [the manifest actually says Stefania]
Last Name:  Chmielewska
Ethnicity:  Russia
Last Place of Residence:  Likiizki [the manifest actually says Likiszki]
Date of Arrival:  May 11, 1901 [the actual date of arrival, as indicated on another page of the manifest, was May 22, 1901]
Age at Arrival:  14y
Gender:  F
Marital Status:  S
Ship of Travel:  Barbarossa
Port of Departure:  Bremen
Manifest Line Number:  0009
The Ellis Island index contains three transcription errors.  I'll write to them and ask them to correct these errors.  The folks at Ellis Island are happy to correct transcription errors, but they won't change misspellings or errors in the manifests, themselves.
But, notice the checkmark in the first column of the manifest, in front of Stefania's name.  This doesn't look good for Stefania, because this check mark means that Stefania was detained at Ellis Island.
Tomorrow:  What happened to Stefania when she was detained
Copyright © 2006 by Stephen J. Danko