John Jwanauski immigrated into the United States on December 15, 1912.
In July 1917, he enlisted in the U.S. Army and fought for the United States in World War I.  The record of his enlistment provides some details of his military service.  In brief, john fought on the Western Front in France and was present at the final battle at Meuse Argonne when Germany signed the Armistice on November 11, 1918.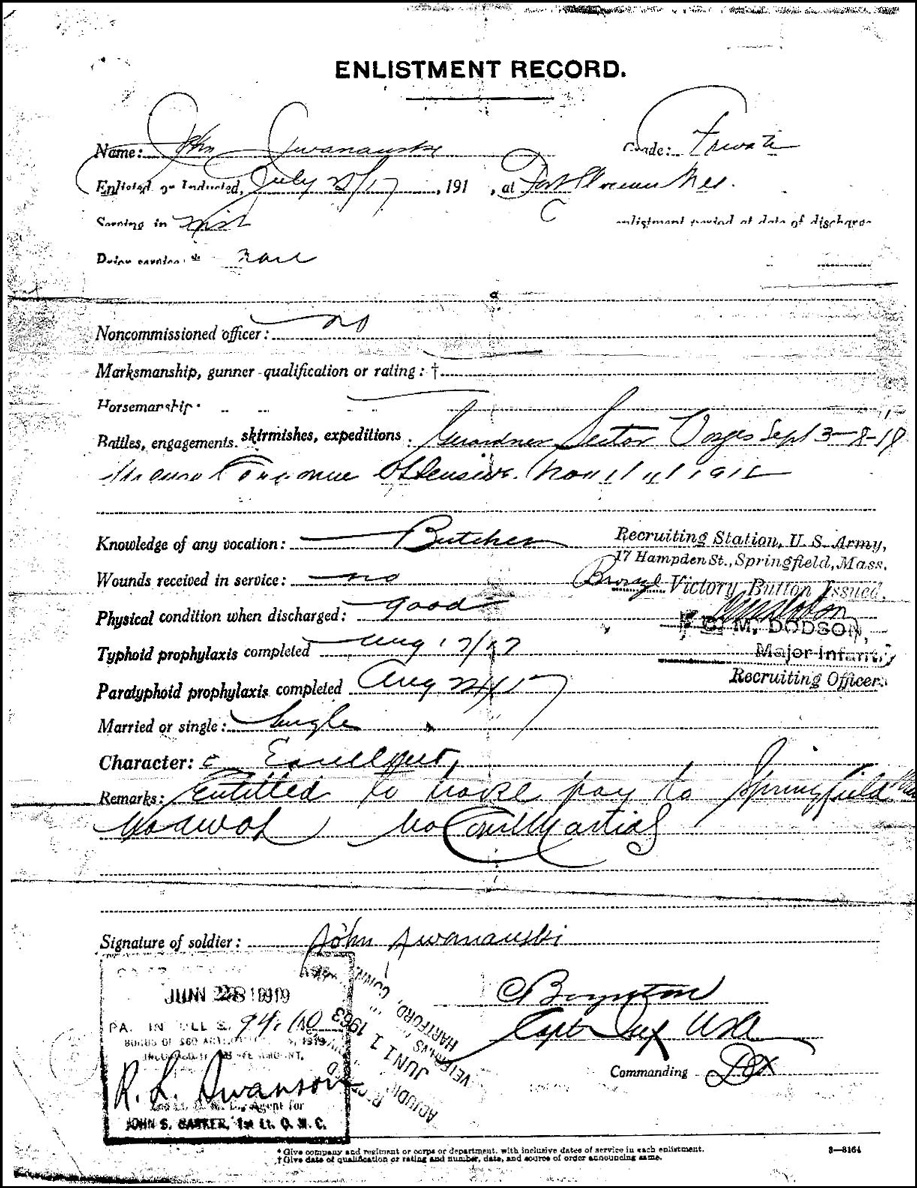 Enlistment Record for John Jwanauski
Click on the link for a PDF copy of the WW1 Enlistment Record for John Jwanauski – 1917.  The record shows that:
John Jwanauski was a private, enlisted or inducted on July [22], 1917 at Fort Slocum, NY

He served in the First […] enlistment period at date of discharge

He had no prior service, was not a noncommissioned officer, had no marksmanship, gunner qualification or rating, or horsemanship

John was involved in two battles, engagements, skirmishes, and expeditions:  the first at Gérardmer Sector, Vosges [France] from Sept 3-8, 1918, and second at the Meuse Argonne Offensive from Nov [1-11], 1918

His vocation was as a butcher

he received no wounds in service and his physical condition was good when discharged

His typhoid prophylaxis was completed on Aug 17, 1917 and his paratyphoid prophylaxis was completed on Aug 22, 1917

He was single and his character was described as excellent

John was entitled to travel pay to Springfield, Mass, he had no record of AWOL, and he had no record of Court Marshall

John signed the document himself

C Boynton, Capt Inf USA, Commanding [Def] also signed the document
Other stamps and notations were:
Recruiting Station, U.S. Army,
17 Hampden St., Springfield, Mass.
Bronze Victory Button Issued
[signed] C M Dodson
C M Dodson
Major Infantry
Recruiting Office

[?]
JUN 28 1919
PAID IN FULL $94.10
BONUS OF $60 [?] 1919
[?]
[signed] R. L. Iwanson
[?] Agent for
JOHN S. CARTER, 1st Lt. Q. M. C.

RECEIVED
ADJUDICATION DIVISION
JUN 11 1963
VETERANS [?]
HARTFORD, CONN.
Tomorrow:  Photographs of the area where John served in World War I
Copyright © 2006 by Stephen J. Danko