Harriett (Fadden) Gibson died less than two years after the death of her husband, Arnold R. Gibson.  An unusual aspect of her death is that she died, not in Vermont where she lived all her life.  She died in Albany, New York, and her body was removed to Worcester, Vermont to be buried next to her husband.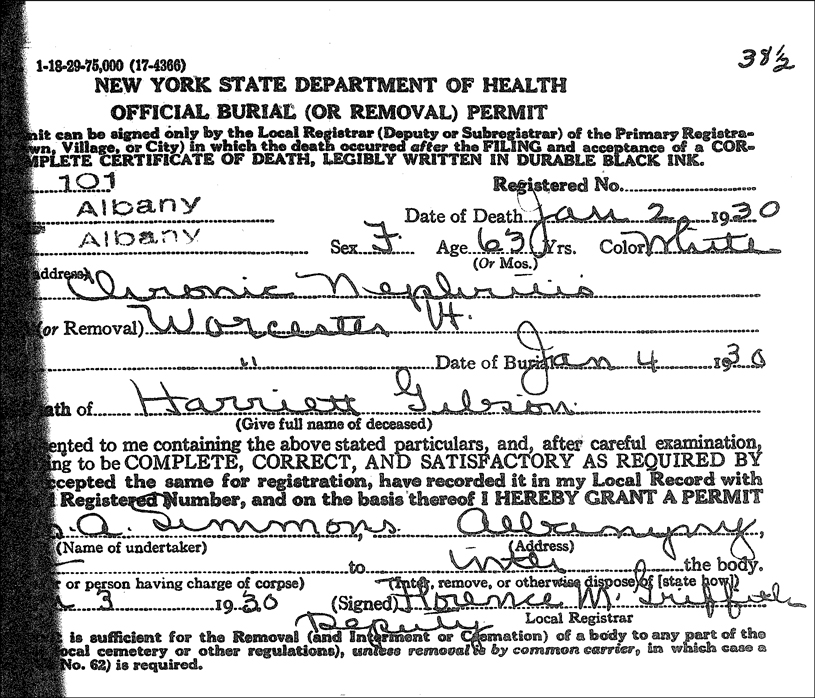 The Burial Permit for Harriett Gibson
SOURCE: New York State Department of Health. Official Burial (or Removal) Permit. 1930. Harriett Gibson. FHL US/CAN Film 2022665, Family History Library, Salt Lake City, Utah.
Click on the link for a PDF copy of the Burial Permit for Harriett Gibson 1930.  The permit states:
Harriett Gibson died on 2 Jan 1930 in Albany, Albany County, New York;

Harriett was a white woman, who was 63 years old at the time of her death;

On 03 Jan 1930, Florence M. Griffith, Deputy Local Registrar, granted a burial permit to [illegible] A. Simmons of Albany, New York to inter the body;

Harriett was buried on 04 Jan 1930 in Worcester, Vermont;

Two numbers appear on the permit: 38 1/2 in the upper right and 101 in the upper left.
Tomorrow:  Why was Harriett Gibson in Albany, New York when she died?
Copyright © 2007 by Stephen J. Danko