My half first cousin once removed, Anastasia Rita Meleski Blackman Izbicki died on New Year's Day 2000.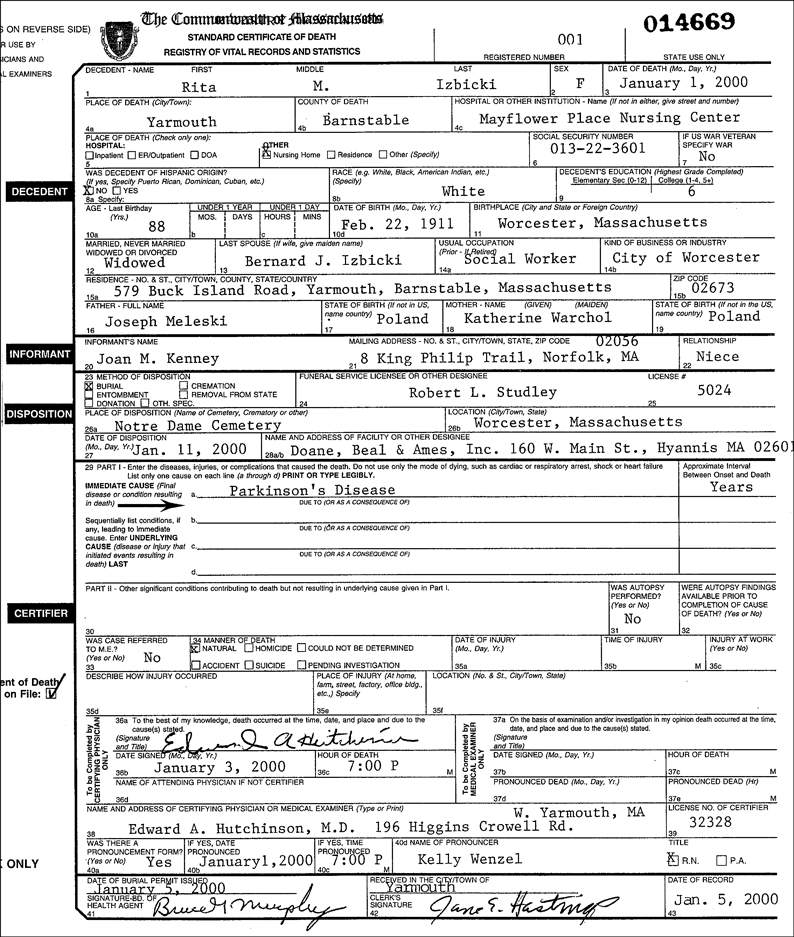 The Death Record for Rita M. Izbicki
Click on the link for a PDF copy of the Death Record for Rita M. Izbicki – 2000.  The record states:
Rita M. Izbicki, a white female, died on January 1, 2000 in the Mayflower Place Nursing Home in Yarmouth, Barnstable County, Massachusetts

Her Social Security Number was 013-22-3601, she was not a US war veteran

Rita was 88 years old at the time of death; she was born 22 Feb 1911 in Worcester, Massachusetts

She was the widow of Bernard J. Izbicki; she was a Social Worker for the City of Worcester, and she lived at 579 Buck Island Road, Yarmouth, Barnstable County, Massachusetts 02673

Her father was Joseph Meleski and her mother was Katherine Warchol, both born in Poland

The informant was Rita's niece Joan M. Kenney of 8 King Philip Trail, Norfolk, MA 02056

Rita was buried in Notre Dame Cemetery, Worcester, Massachusetts on 11 Jan 2000 by Doane, Beal & Ames, Inc. of 160 W. main St., Hyannis, Massachusetts 02601

Rita died of Parkinson's Disease, from which she suffered for years; there were no underlying causes or significant conditions

No autopsy was performed, the case was not referred to the medical examiner, and her death was natural

Rita's death occurred on 03 Jan 2000 at 7:00 PM, as stated on the pronouncement form by Kelly Wenzel, R.N. and as certified by Edward A. Hutchinson, M.D. of 196 Higgins Crowell Road, W. Yarmouth, Massachusetts, license number 32328

The Burial Permit was issued 05 Jan 2000 by Bruce T. Murphy

The Death Certificate was received in the town of Yarmouth by Jane E. Hastings on 05 Jan 2000
This Death Certificate provides a clue to another relative: Joan M. Kenney, Rita's niece.
Copyright © 2007 by Stephen J. Danko