Today, I participated in an online chat for the Canadian Records courses I'm taking through the National Institute for Genealogical Studies.  During that chat, I mentioned that I was interested in finding Canadian immigration records.  None of my direct ancestors lived in Canada, but three of my aunts and two of my uncles married spouses with roots in Canada.
The instructor, Brenda Merriman, mentioned that Canadian immigration records were only maintained starting in 1865.  I knew that most of the families for which I was searching had immigrated before that, so I'd have no luck looking for immigration records for most of them.  One family, the Rawdings, was still a possibility.  I knew that my Aunt Nat's father-in-law, Allister Rawding, was born on 19 May 1893 in Millville, Aylesford, Nova Scotia, but I didn't know when the family immigrated to Canada.
Brenda suggested that I search the 1901 and 1911 Census Records for Canada to find the year of immigration.  I quickly searched the Ancestry.com database and, to my surprise, I found Allister Rawding in the 1901 Census living with his parents, John and Melissa Rawding!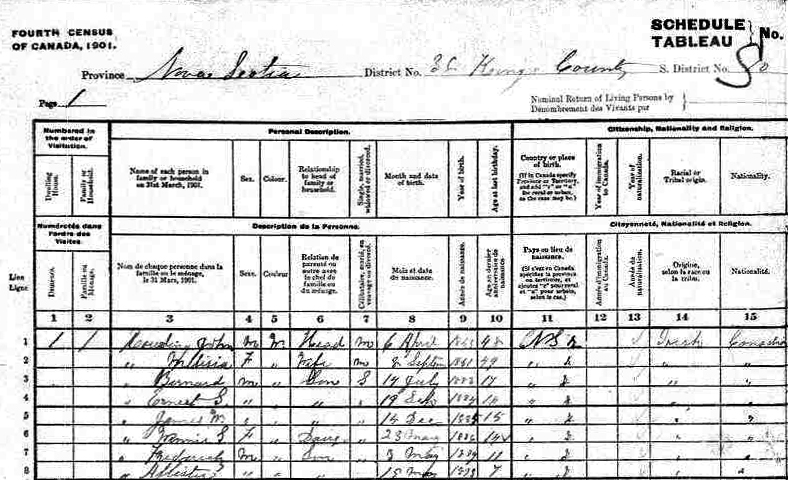 1901 Census Record for the John Rawding Household (Left Side)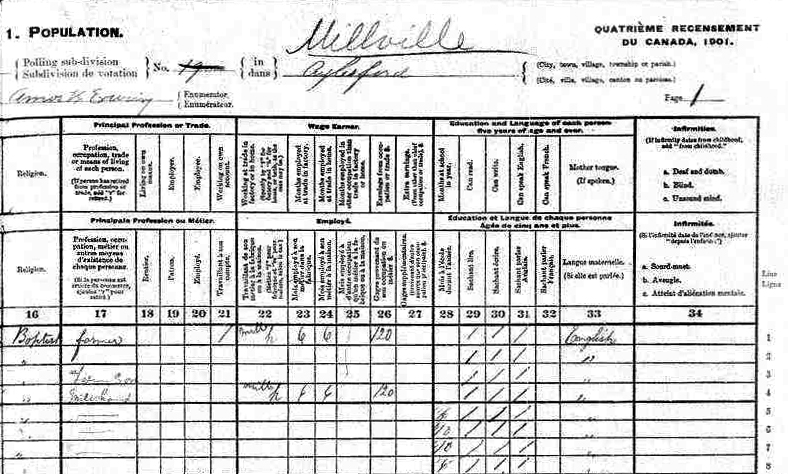 1901 Census Record for the John Rawding Household (Right Side)
SOURCE: John Rawding Household, 1901 Canada Census, Schedule 1, Nova Scotia, District No. 36 – Kings County, Sub-District No. S – Millville, Dwelling House 1, Family or Household 1, Lines 1-8, Library and Archives Canada Micropublication T-6453.
Click on the link for a PDF copy of the Canada Census Record for the John Rawding Household – 1901.  The record states that:
The household consists of John Rawding born 6 Apr 1853, his wife Melissa born 3 Sep 1851, and their children Bernard born 14 Jul 1883, Ernest S. born 19 Sep 1884, James M. born 14 Dec 1885, Minnie S. born 23 May 1886, Frederick born 3 May 1889, and Allister born 19 May 1893

Everyone in the household was born in Nova Scotia, was of Irish origin, was of Canadian nationality, was of Baptist faith, could read and write, and spoke English, but none spoke French

John's occupation was farmer working at home in a mill, Bernard's occupation was [illegible] son, and Ernest's occupation was mill hand working at home in a mill

John and Ernest worked 6 months in a factory and 6 months at home, each earning $120 in their occupation

James, Minnie, Frederick, and Allister were in school 10 months of the year
Well, clearly, if John and Melissa were born in Nova Scotia in the 1850s, I don't need to search Canadian immigration records, since their families were in Canada before the immigration records were maintained.
However, this clearly was an early Christmas present.  I now have information on the Rawding family I didn't have before, and this information may lead to more records, especially the Canadian Census records from 1861-1891.
Copyright © 2006 by Stephen J. Danko