The village of Bartołdy is significant in my family history because the spouses of some of my Chodkowski relatives (surnames Witkowski and Pajewski) were either born there or died there. The village belonged to the parish of Zielona.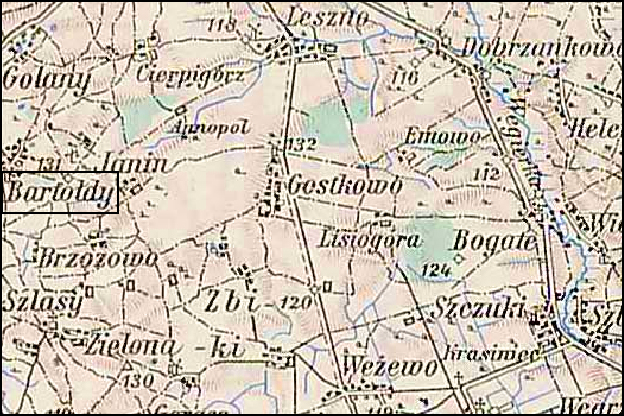 Austrian Military Map of the Bartołdy Area – 1910
SOURCE: Third Military Mapping Survey of Austria-Hungary, Sheet 39-53, Ostrolecka. Online http://lazarus.elte.hu/hun/digkonyv/topo/200e/39-53.jpg; downloaded 17 May 2010.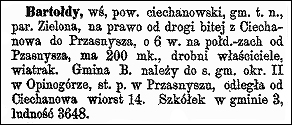 Słownik Geograficzny Entry for Bartołdy
Source:  Sulimierski, Filip, Bronisław Chlebowski, and Władysław Walewski, eds., Słownik Geograficzny Królestwa Polskiego i Innych Krajów Słowiańskich (Geographical Dictionary of the Kingdom of Poland and other Slavonic Countries) – Warsaw 1880, Volume I, page 112.
Click on the link for a PDF copy of the Słownik Geograficzny entry for Bartołdy. Translated from the Polish, the entry reads:
Bartołdy, a village in the Ciechanów Powiat, Gmina of the same name, and Zielona parish, to the right of the beaten track from Ciechanów to Przasnysz, about 6 versts [0.66 miles per verst] to the southwest of Przasnysz. There are 200 residents, a minor landowner, and a windmill. The Bartołdy Gmina belongs to the municipal court of the second okręg in Opinogórze. There is a post office in Przasnysz. It is 14 versts from Ciechanów. There are three nursery schools in the Gmina and a population of 3648.
The maps of the Third Military Mapping Survey of Austria-Hungary and the entries in the Słownik Geograficzny were prepared at about the same time and make a good pair for studying places in and around the Congress Kingdom of Poland at the end of the 19th century and beginning of the 20th century, a time period when the Eastern European ancestors of present-day Americans left their homelands for the United States.
Copyright © 2010 by Stephen J. Danko