Many thanks to those who have gone out of their way to help me regain access to my Facebook account after the stephendanko.com domain was labeled abusive by the folks at Facebook.
One friend sent an email message to a contact at Facebook. Facebook replied that:
We appreciate your email. Unfortunately, we cannot take any action on or release any information regarding a user's account until we receive correspondence from the account holder.
Apparently the Facebook staffer in User Operations hasn't read The Two Kingdoms (A Cautionary Tale).
Another friend tried to post a link to The Two Kingdoms (A Cautionary Tale) on Facebook, but Facebook wouldn't permit the action.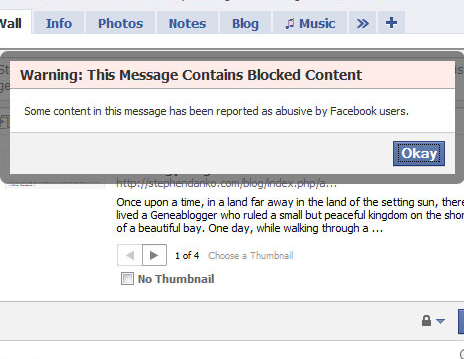 My friend finally got around the block by converting the permalink URL to a tiny URL.
Two more friends posted links to The Two Kingdoms (A Cautionary Tale) on their own blogs Genea-Musings and Apple's Tree, and I appreciate that very much!
And now, today, I was informed that other friends have set up a group on Facebook: the Friends of Steve Danko for Facebook Account and Blog Restoral. Let's see if Facebook takes any notice of this. Unfortunately I, myself, still can't get into my account to join this group myself.
Many thanks to everyone for their support.
Copyright © 2010 by Stephen J. Danko