Between the births of Teofil Niedziałkowski's children Sabina and Stanisław, Teofil's father died.  The Death Record for Teofil's father, Wojciech (Adalbert) Niedziałkowski, is number 13, the top record on this page from the Szwelice parish records.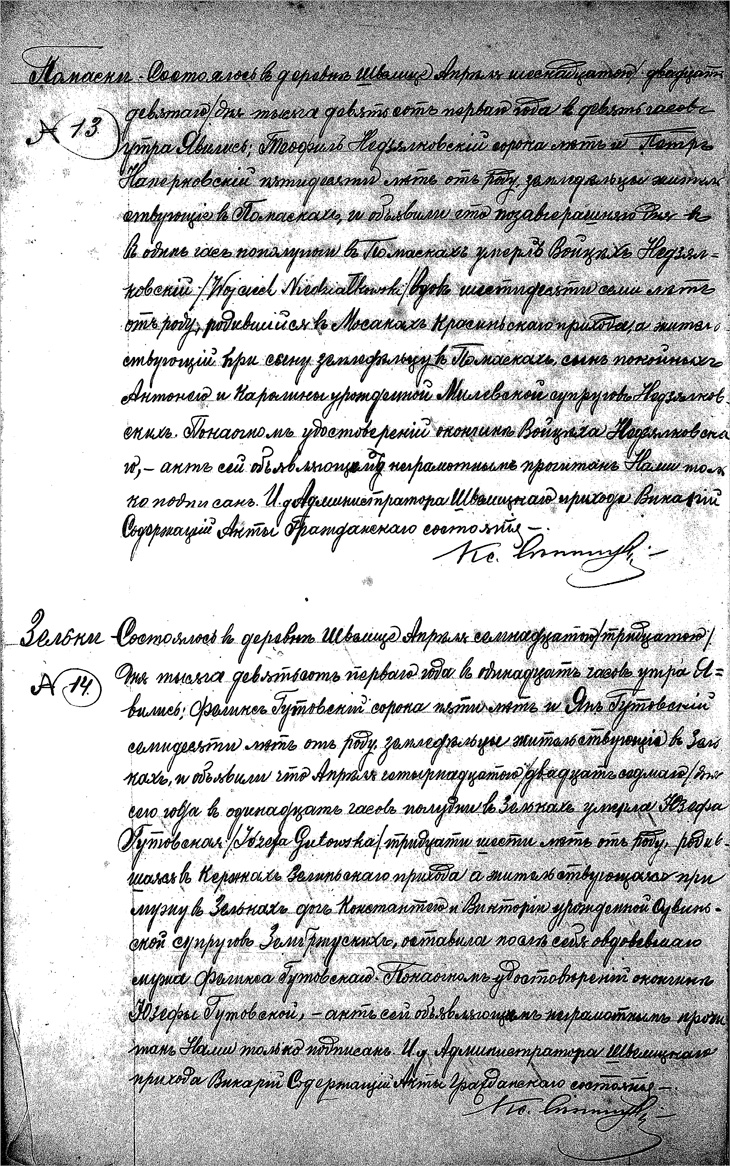 The Death Record for Wojciech Niedziałkowski
Click on the link for a PDF copy of the Death and Burial Record for Wojciech Niedziałkowski – 1901.  The record, translated from the Russian, states:
№ 13.  Pomoski

This happened in the village of Szwelice on April 16th / 29th 1901 at 9 o'clock in the morning.  Teofil Niedzialkowski, age 40, and Piotr Napierkowski, age 50, farmers living in Pomaski, appeared and stated that on the day before yesterday, after one o'clock past midnight in Pomaski, Wojciech Niedzialkowski died, a widower, age 67, born in Mosaki, Krasne parish, and lived with his son, a farmer in Pomaski, the son of the deceased Antoni and Karolina née Milewski Niedzialkowski, after eyewitness testimony on the death of Wojciech Niedziałkowski, – this document was read to the declarant, who is illiterate, and was signed by us alone.  I.d Administrator of the parish of Szwelice, Assistant Pastor, Keeper of the Documents of the Civil State

Father [Sędzicki]
I have not found the birth record for my grandfather, Kostanty Niedziałkowski.  I have also not found the Birth or Marriage Records for my great-grandfather, Teofil Niedziałkowski.  However, I do have copies of the Birth and Death Records for Franciszek Niedziałkowski (Kostanty's uncle and Teofil's brother) which state that Franciszek's (and, by extrapolation, Teofil's) father was Wojciech Niedziałkowski.
Wojciech's Death Record further helps to confirm that Wojciech is Teofil's father, since Teofil reported the death and the record further states that Wojciech was living with his son.  Still, I need to find Kostanty's and Teofil's Birth Records to be absolutely sure of these relationships.
This record does not directly state the date of death – it merely states "the day before yesterday", indicating that Wojciech died on April 27, 1901.
Finally, the record names Wojciech's parents – Antoni Niedziałkowski and Karolina Milewska – my great-great-great grandparents.
Copyright © 2006 by Stephen J. Danko