When Stefania Chmielewska arrived in New York in 1901, she was detained, rather than immediately admitted to the United States.  Various notations, such as an "X", "D", or "held" between columns 1 and 2, or in the name column on the passenger manifest, indicate that a passenger was detained.  The manifest may also include other notations to indicate that a passenger was held for a Board of Special Inquiry, that a Certificate of Arrival was issued, that a Warrant of Arrest was issued, or a number of other events occurred.  See the post on A New Look at Immigrant Passenger Manifests for more details.
In Stefania's case, the actual manifest page shows that quite a few other passengers on the Barbarossa were detained as well, and many of these passengers had something in common – they were unaccompanied minors.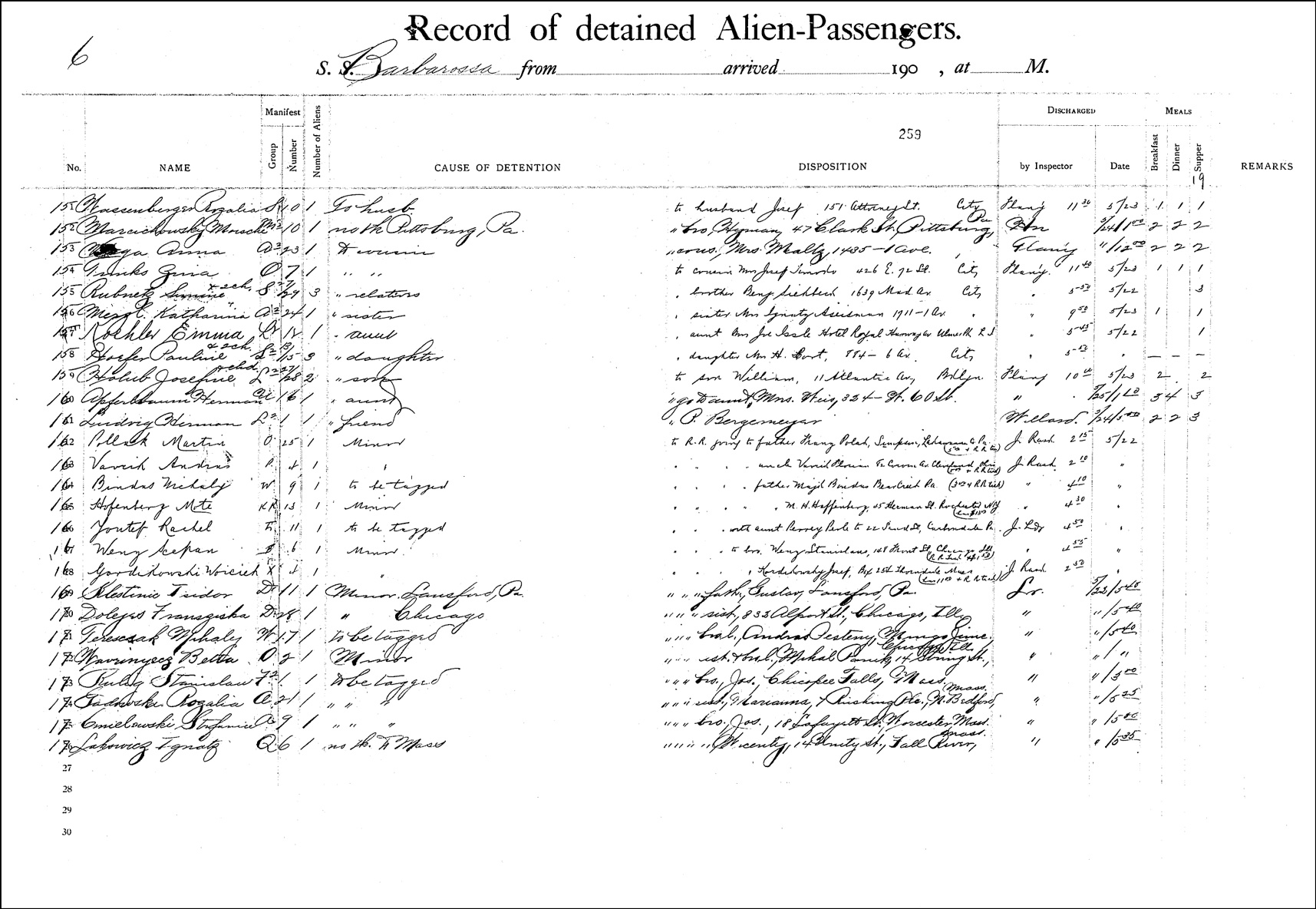 Record of Detained Alien Passengers for Stefania Chmielewska – 1901
Click on the link for a PDF copy of the Record of Detained Alien Passengers for Stefania Chmielewska – 1901.  This records show that:
Stefania Chmielewska was detained passenger number 175, listed on the manifest in Group A, Number 9
Stefania was traveling alone and the Cause of Detention was "to be tagged"
Stefania's disposition was "to R.R. jrny to" [to railroad journey to] her brother Joseph, 18 Lafayette St., Worcester, Mass.
She was discharged by inspector [Lr.] at 15:30 [3:30 PM] on May 22
She was not detained long enough to receive any meals at Ellis Island
The meaning of "to be tagged" is not explained, but I assume it meant that the officials at Ellis Island tagged her so that she would reach her brother's house safely.  I assume that Stefania could not speak English, and probably traveled alone on the railroad to Worcester.  All in all, the voyage from Lithuania to Bremen, from Bremen to New York, and then New York to Worcester must have been quite an exciting and frightening adventure for a 14 year old girl traveling alone, and was probably the first time in her life she had ever traveled any significant distance from home.
Copyright © 2006 by Stephen J. Danko