At last weekend's Family Tree DNA 5th International Conference on Genetic Genealogy for Project Administrators, Thomas Krahn, Technical Laboratory Manager of Family Tree DNA's Genomics Research Center in Houston, discussed Null Alleles and also presented an update on the "Walk Through the Y" project.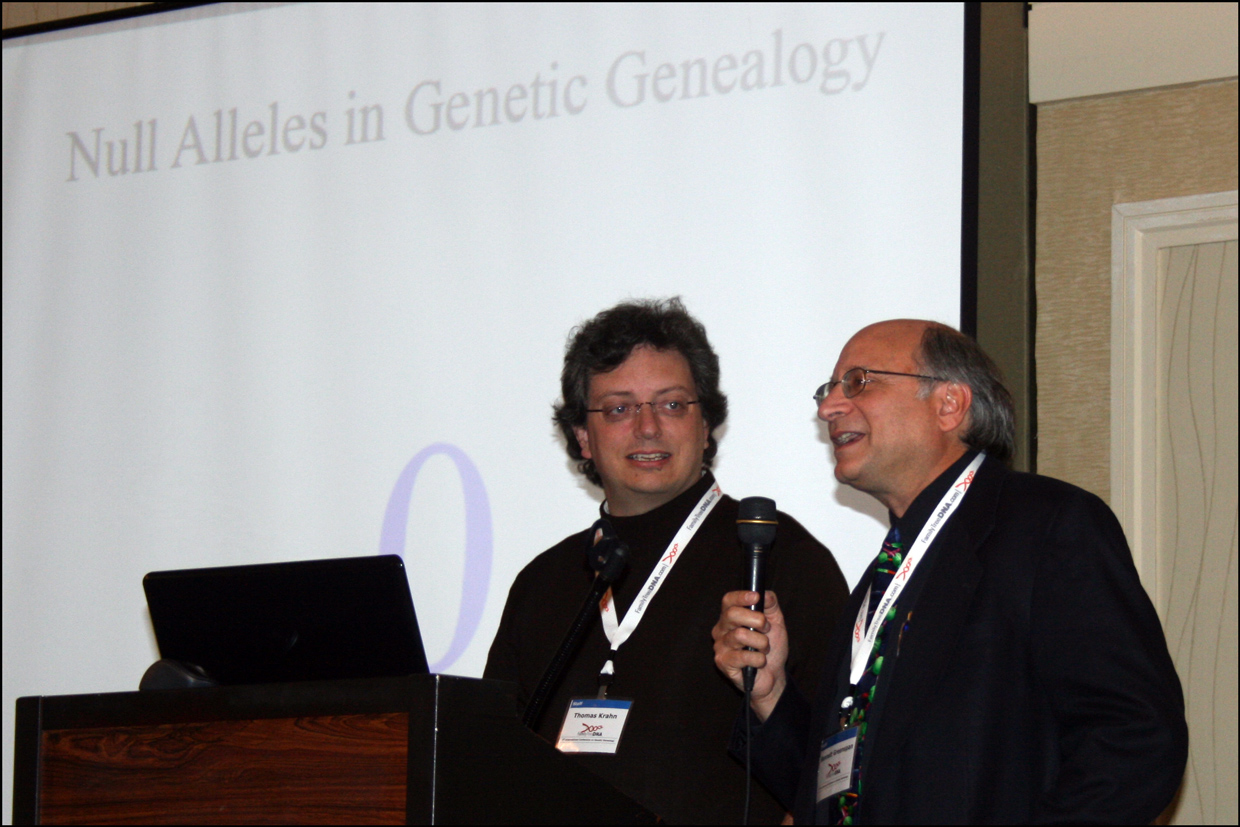 Thomas Krahn and Bennett Greenspan
SOURCE: Thomas Krahn and Bennett Greenspan (Houston, Harris County, Texas). Photographed by Stephen J. Danko on 15 March 2009.
Thomas defined null alleles as a mutant copy of a gene that completely lacks that gene's normal function. The mutation can be an error in the promoter, or an error in transcription or translation.
At Family Tree DNA, scientists are looking for null alleles in junk DNA, rather than in genes. These null alleles represent a DNA segment of good quality, limited to the two primer pairs of a polymerase chain reaction (PCR) that doesn't yield a PCR product in some biological samples, while all other samples of that kind show a clear, detectable signal with the same PCR reaction.
Described in this way, null alleles can result from a bad DNA template, a situation where the assay doesn't work, or the detection method fails.
Occasionally null alleles are detected at one of the two laboratories (Arizona and Houston) but not the other, because the two labs use different primers.
In another case (DYS448), the primers worked, the PCR worked, but still resulted in a null allele. DYS448 had lost a whole segment of DNA. The mutation was stable and non-lethal.
In the "Walk Through the Y" project, Family Tree DNA intends to look for public and private single nucleotide polymorphisms (SNPs) by sequencing 100 kB of the Y chromosome from selected individuals. The project is open to the public at a cost of $750. Results will have a six week turnaround time.
Copyright © 2009 by Stephen J. Danko