My uncle, Jan Dańko, was born in Nienadowa, Galicia (Austria-Poland) and immigrated to the United States with his mother and older sister, Zofia.  After he arrived in America, Jan adopted the English version of his name, John, but was more commonly known as Jack.
His date of birth varies among the sources I have:
May 2, 1905 (Birth and Baptismal Record – Church Record) 
About 1907-1908 (1910 Federal Census – 2 years old on April 15, 1910)
About 1903-1904 (1920 Federal Census – 16 years old on January 1, 1920)
About 1904-1905 (1920 Federal Census – 25 years old on April 1, 1920)
May 1, 1904 (Family History written one of my aunts)
May 1, 1904 (Date provided by John's descendants)
May 1, 1904 (Affidavit for License to Marry)
May 1, 1904 (Marriage License)
1904 (Gravestone – born in 1904)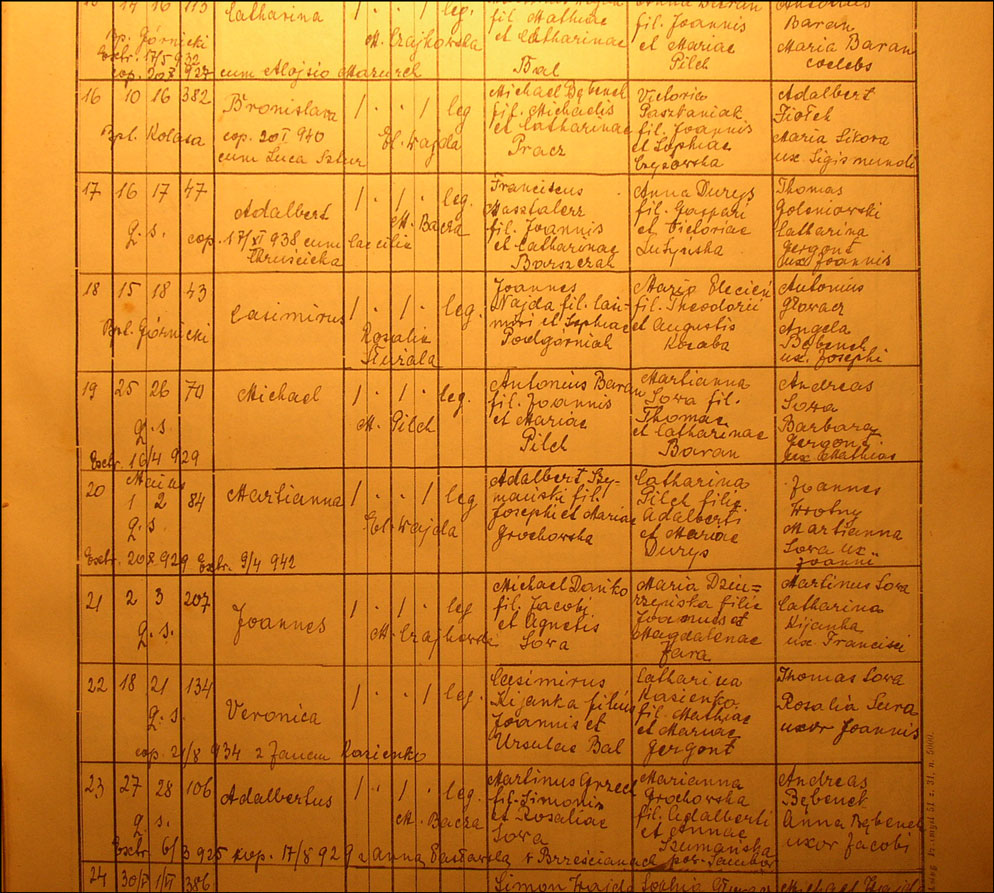 Birth & Baptismal Record for Jan Dańko
Of the records recorded above, Jan Dańko's Birth and Baptismal Record is the only primary record for the date of his birth, since it is the only record made at the time of the event by persons who had direct knowledge of the event.  Other records may have been made by people who were present at the birth, but they were recorded much later.  The Birth and Baptismal Record was recorded in Latin and states that:
Jan was the 21st birth recorded in Nienadowa that year
Jan was born on May 2, 1905 and baptized on May 3, 1905
Jan's family lived in house number 207
The child's name was Jan, he was a Catholic boy and was legitimately born
Jan's father was Michał Dańko, son of Jakub Dańko and Agnieszka Sowa
Jan's mother was Maria Dziurzyńska, daughter of Jan Dziurzyński and Magdalena Jara
Jan's Godparents were Marcin Sowa and Katarzyna Kijanka, the wife of Franciszek Kijanka
Jan was baptized by Father M. Czajkowski
This record lists Jan's mother as Maria Dziurzyńska, whose parents were Jan Dziurzyński and Magdalena Jara.  This is the first record I found that shows that the family was using the name Dziurzyński (male)/ Dziurzyńska (female).  The fact that the record shows Jan's mother's name was Maria is probably due to the fact that the names Maria, Marja, Marianna, and Marjanna were often used interchangeably in Poland.
The name Dziurzyński was repeatedly misspelled after the family arrived in America.  The Birth Records for Michael and Mary Danko's children who were born in America recorded the nmae Dziurzyński as:
Dziurzynska (Statia Danko's Birth Record)
Ginsky (Bronisława Danko's Birth Record)
Dzevirzynska (Michael Danko's Birth Record)
Jusuka (Bertha Danko's Birth Record)
Jurinsko (Mary Danko's Birth Record)
Guginski (Joseph Danko's Birth Record)
Dziurzynski (Helen Danko's Birth Record)
Dziurzynski (Frank Danko's Birth Record)
I should note, however, that several of these Birth Records were transcriptions, and the errors in spelling may have occurred during transcription. 
As was the case with my aunt Zofia's Birth and Baptismal Record, several other names on the same page as Jan's Birth and Baptism are prominent in my family history.  These names include Sowa, Giergont, Głowacz, Bal, Pilch, Wajda, Kijanka, and Szymański.