As part of his Petition for Naturalization, Damian Niedzialkowski was required to show that he had arrived in the United States legally. To do this, the U.S. Department of Labor produced a Certificate of Arrival that detailed his entry into the United States.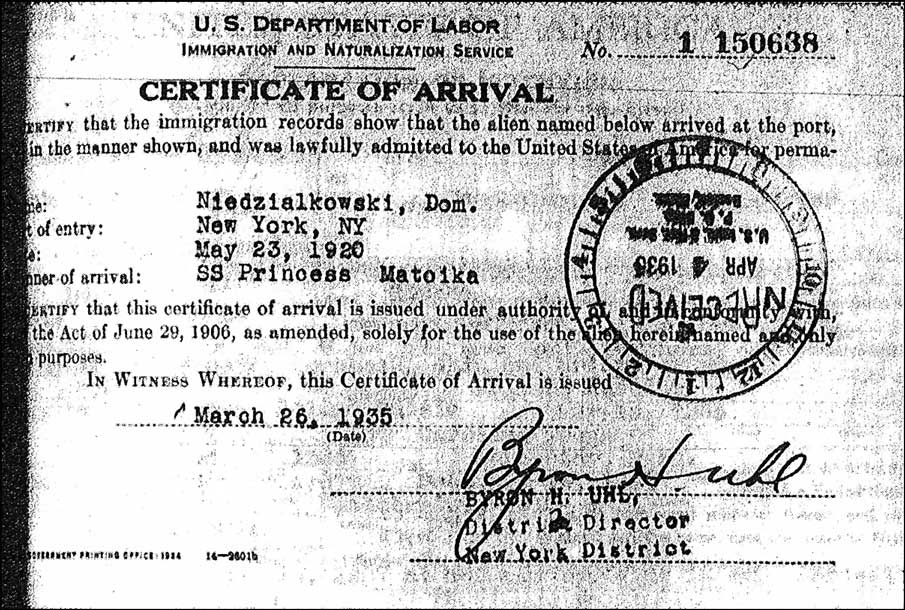 Certificate of Arrival for Dom. Niedzialkowski – 1935 (obverse)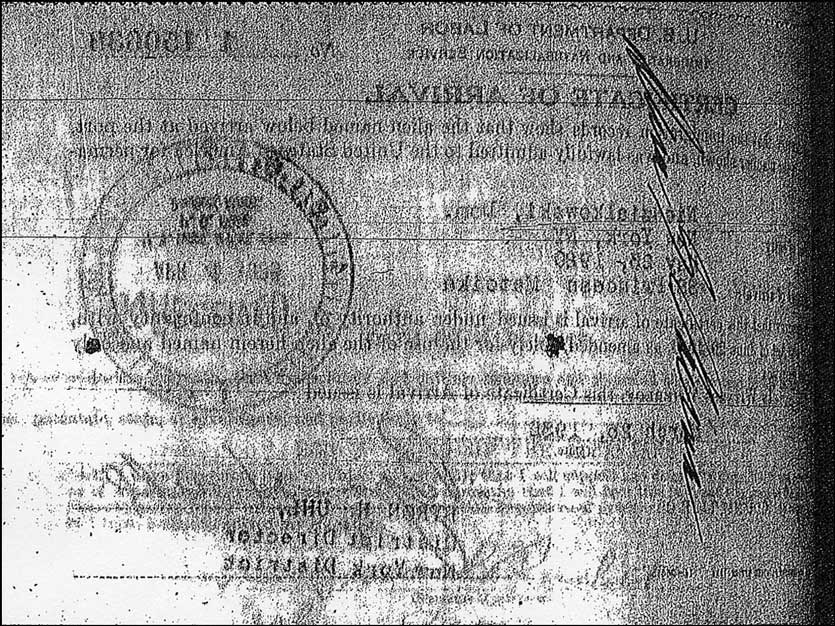 Certificate of Arrival for Dom. Niedzialkowski – 1935 (reverse)
SOURCE:  Worcester County, Massachusetts, Naturalizations, v. 102 (1937-1938): Certificate of Arrival of Dom.  Niedialkowski, 1935, Filed under Petition for Naturalization No. 27505; Superior Court of Massachusetts at Worcester.  FHL microfilm 2,131,567. Family History Library, Salt Lake City, Utah.
Click on the image above to enlarge it. Click on the link for a PDF Copy of the Certificate of Arrival for Dom. Niedzialkowski – 1935. The certificate states that:
Dom. Niedzialkowski arrived in New York NY on 23 May 1920 aboard the SS Princess Matoika;

His Certificate of Arrival No. was 1 150638;

The certificate was issued 26 Mar 1935 by Byron H. Uhl, District Director, New York District;

The reverse of the certificate mostly shows bleed-through from the front, but also includes a signature I cannot read.
The line on which Damian's name appeared on his passenger manifest also included an annotation made after arrival. The annotation read:
1-150638-2/19/35
These markings indicate the number of the Certificate of Arrival and (probably) the date on which the request for the certificate was made. I actually used the information in this annotation to find the naturalization records.
The Certificate of Arrival was bound together with the Declaration of Intention and Petition for Naturalization and all three documents were filed under the Petition Number.
Written for the Carnival of Eastern European Genealogy.
Copyright © 2008 by Stephen J. Danko