Joanna Milewska Niedziałkowska died on 05 May 1868 at 11 am in Rukle in the Congress Kingdom of Poland. She was presumably buried on 06 May 1868 in the parish cemetery.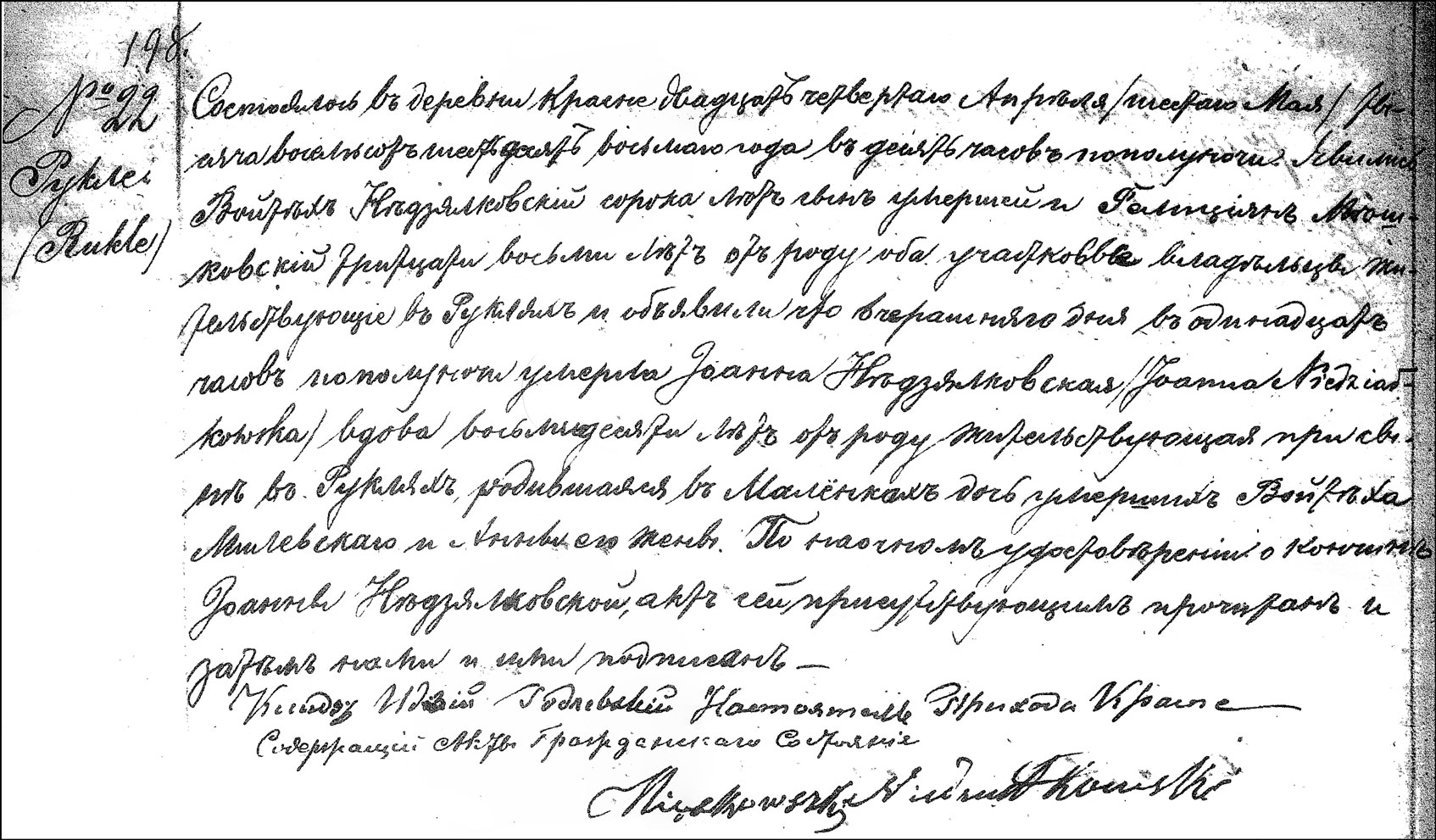 The Death Record of Joanna Niedziałkowska – 1868
SOURCE: Parafia pw. św. Jana Chrzciciela (Krasne, Ciechanów Powiat, Płock Gubernia, Congress Kingdom of Poland). Akta zgonów 1859-1875, Joanna Niedziałkowska death (1868), page 198, entry 22; FHL microfilm 1808246.
Click on the image for a larger view of the document. Click on the link for a PDF copy of the Death Record of Joanna Niedziałkowska – 1868. Translated from the Russian, the record states:
198.
No. 22
Rukle

This happened in the village of Krasne on the 24th of April (Julian Calendar) / 6th of May (Gregorian Calendar) 1868 at 10 o'clock after midnight. Wojciech Niedziałkowski, forty years from birth, son [of the deceased?] and Felicjan Miątkowski, thirty-eight years from birth, both owners of a part, residing in Rukle, appeared and stated that yesterday, at 11 o'clock after midnight Joanna Niedziałkowska died, a widow, eighty years from birth, residing with her son in Rukle, born in Malonki, daughter of the married couple Wojciech and Anna Milewski and his wife Anna. After eyewitness testimony on the death of Joanna Niedziałkowska this document was read to those present, and [one word?] by us and signed by us.
The Reverend [three words?}, pastor of Krasne
Maintaining the Civil Registry.

                   Miątkowski     Niedziałkowski
This document is one of the records I found at the Family History Library during the recent UPGS Conference.
This death record appears to be for the sister of my 3rd Great Grandmother, Karolina Milewska Niedziałkowska. When Karolina was married, she was living with her sister in Rukle, and this is where Joanna Milewska Niedziałkowska died. Both Karolina and Joanna married into the Niedziałkowski family. Joanna named one of her sons Wojciech, the same name as Karolina's husband. I don't yet know who Joanna's husband was.
Copyright © 2008 by Stephen J. Danko