Today was Scanfest, hosted by Miriam of Ancestories. It was the first time I had participated in Scanfest, and for good reason: I haven't had a scanner in years.
But, that has now changed.
I now own three scanners: a Planon Docupen Pen Scanner, an IRIScan Express 2 Portable Scanner, and an Epson Perfection V700 Photo Flatbed Scanner.
Today at Scanfest, I experimented with scanning negatives with the Epson Perfection V700. I tried scanning with different film holders for the negatives. I tried scanning the negatives without a film holder. I tried different settings in the software. I tried scanning at different resolutions. I tried saving to TIFF and JPEG formats.
At the end of the three hour Scanfest, I had actually scanned only one negative.
Still, I had learned a lot.
The negatives I tried to scan were not 35 mm negatives. They were either 2.25 in x 3.25 in negatives or 2.25 in x 2.25 in negatives. Although the negatives fit in one of the film holders perfectly, the software insisted I was scanning slides and broke the negatives into pieces as I tried to scan multiple negatives simultaneously.
I ended up using the medium format film holder that held my negatives perfectly. When I tried to scan the negatives without a film holder, the negatives tended to curl up a bit and the scans were less than acceptable. However, I had to tell the software that I wasn't using a film holder in order to get acceptable scans.
I tried scanning multiple negatives simultaneously, but the exposure of the various negatives varied significantly and a single scan of eight negatives resulted in some of the images being underexposed and some perfectly exposed. I ended up scanning one negative at a time, which gave me optimal results.
I tried scanning at 600 dpi, 720 dpi, 800 dpi, and 1200 dpi. As expected, the higher resolutions gave me better quality images, although the improvement in quality was apparent only after I zoomed in on the images to see the detail. With the improvement in quality and resolution came a price. The file sizes at 1200 dpi were extremely large. I decided that scanning at 800 dpi was a good trade-off in terms of good resolution with a manageable file size.
I first tried scanning in JPEG format, but remembered Sally Jacobs' recommendation to save the original scan as a TIFF image, since JPEGs save the file using lossy compression. So, I rescanned and saved to TIFF format (about 6-9 MB per image), cropped and edited the images in Photoshop, and saved the images in JPEG format with a final file size of about 1 MB per image.
So, here's an example of the final output of one of these files. The photo is of my sister's bedroom in my parents' apartment on Russell Road in Albany, New York. The photo was taken in December of 1953, just after Christmas. I know the photo was taken just after Christmas because the roll included photos of opened gifts under a Christmas tree. I could deduce the year, because the same roll included photos of my sister who appeared to be only a few months old at the time. Hence, the photos were likely taken in December 1953, probably between Christmas and the end of the year. Indeed, the photos may have been taken on Christmas Day itself, a likely occasion for picture taking.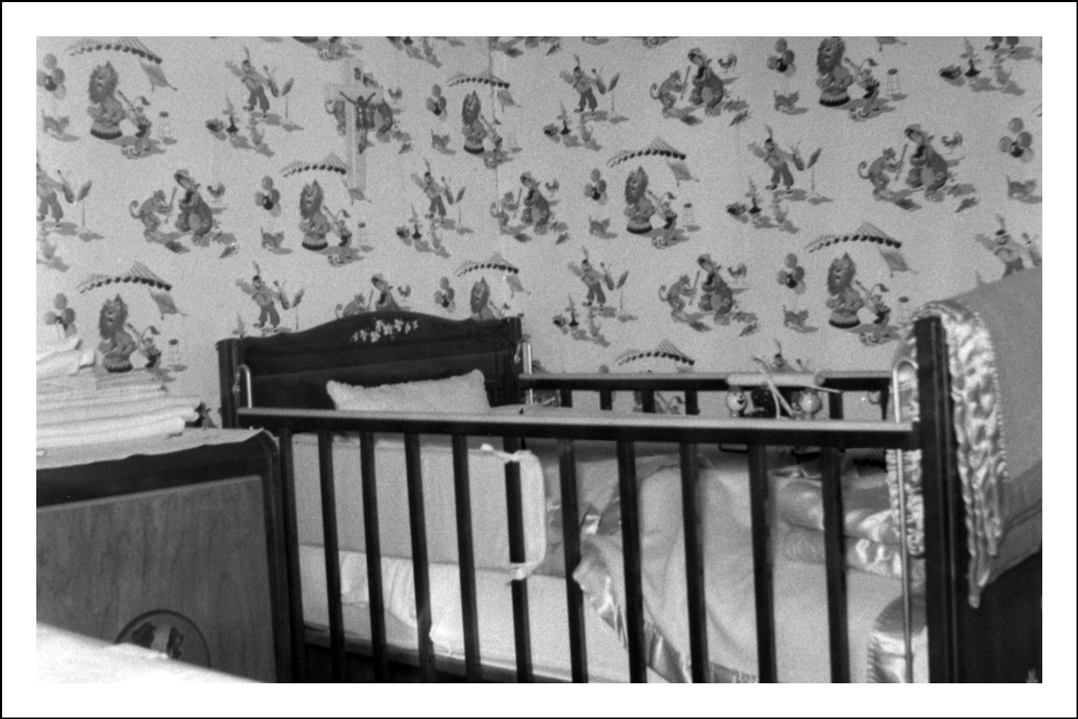 My Sister's Bedroom on Russell Road
SOURCE: My Sister's Bedroom on Russell Road (Albany, Albany County, New York). Photographed by Frank or Jane Danko in late December 1953.
The format of this negative was 2.25 in x 2.25 in, meaning that the photo was taken using my parents' Kodak Brownie Hawkeye Camera. This camera was introduced by Kodak in 1950 and discontinued it in 1961. I suspect the camera may have been a Christmas present in 1953 because these 1953 images are the earliest negatives in my parents' collection. I now own the very same Brownie Hawkeye Camera that was used to take these pictures, since it was one of the things I rescued from my parents' house before it was sold in December.
I remember my father talking about papering the walls of my sister's bedroom himself. The pattern is fairly busy, and so I zoomed in on the scanned image to get a better look. Click on the pictures to see a larger version of the images.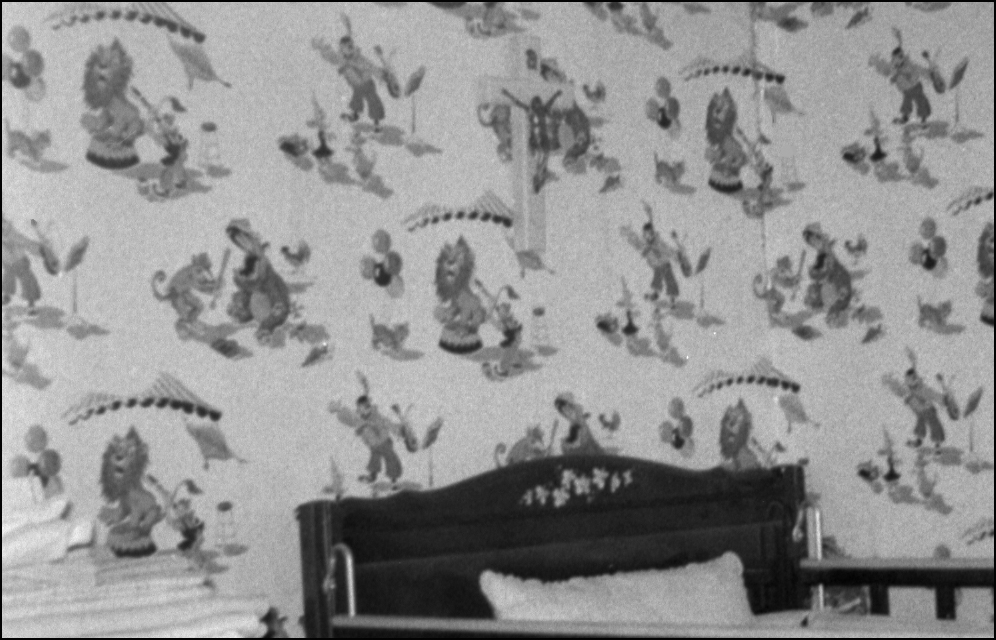 The Wallpaper and Crucifix on the Walls of My Sister's Bedroom
SOURCE: The Wallpaper and Crucifix on the Walls of My Sister's Bedroom (Albany, Albany County, New York). Photographed by Frank or Jane Danko in late December 1953.
While the image is a bit fuzzy at this magnification, one can still discern some of the images: a lion tamer and lion, a monkey playing baseball, and a fiddler playing to a group of animals. Still, in the middle of this busy wallpaper, you can see a crucifix on the wall, something I didn't really notice until I blew up the photo. My sisters and I all had identical crucifixes in our bedrooms, identical except for the colors: white, pink, and blue.
I ended up scanning a total of 28 negatives today. Scanning went a lot more quickly after I worked out the details of how to scan. I'll have to plan on scanning the rest of the negatives on a regular basis, perhaps weekly, if I ever hope to scan all the negatives I have in my collection. I only have about 600 more of these 2.25 in x 2.25 in negatives to go, and then I can move on to other size negatives!
Copyright © 2007 by Stephen J. Danko