On 10 Feb 1745, Louis Gamache, son of Nicolas Gamache and Élisabeth Ursule Gamache, died. He was buried in the Church of St. Ignace, New France under his Seigneurial territory on 11 Feb 1745.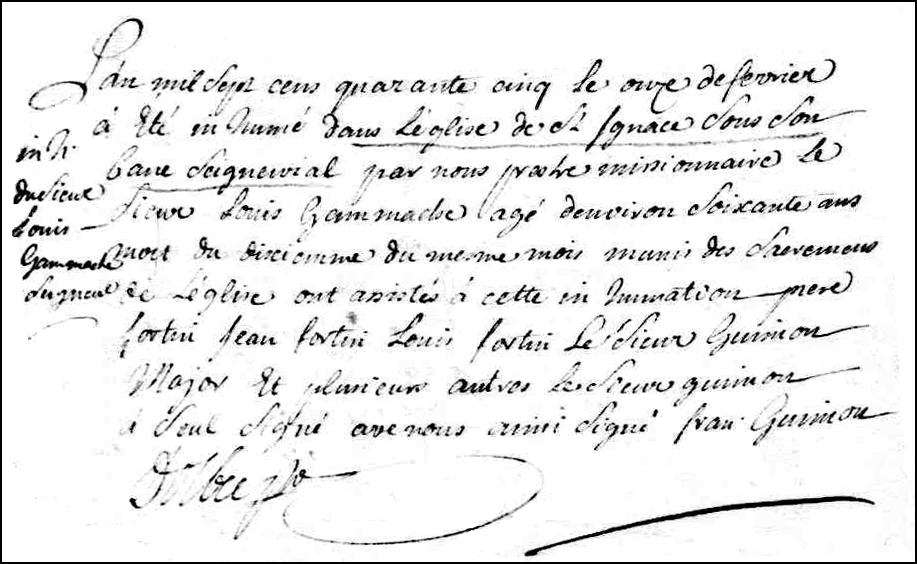 The Death and Burial Record of Louis Gamache – 1745
SOURCE: Gabriel Drouin, comp. Drouin Collection. Montréal, Québec, Canada: Institut Généalogique Drouin. Parish of St. Ignace, New France, 1745. Death and Burial Record of Louis Gamache, Back of Folio 16.
Click on the image above to enlarge it. Click on the link for a PDF copy of the Death and Burial Record of Louis Gamache – 1745. Translated from the French the record reads:
Burial of Mister Louis Gamache, Seigneur

In the year one thousand forty five on the eleventh of February
was buried in the church of St. Ignace under his
seigneurial bench by us the missionary priest of
this place, Louis Gamache, age about sixty years,
died on the tenth of this same month, armed with the Sacraments
of the Church. Pierre Fortin, Jean Fortin, Louis Fortin, Mister
Guimon, Major, and many others assisted in this burial.
Mister Guimon has signed below with us. signed Fran[çois] Guimon
Dolbec, priest
This record can be found as image 181/948 in the Québec Vital Records (Drouin Collection), 1621-1967 on Ancestry.com in the records for Cap St. Ignace 1679-1808. The record appears on the back of folio 16.
Louis Gamache is described in this record as a seigneur and a reference is made that he was buried under his seigneurial territory.
Many of the parish records from New France describe the subjects of the records as habitants. This record, however, describes the subject as a seigneur.
Cardinal Richelieu established the seigneurial system in new France in 1627. Seigneuries were narrow strips of land along the Saint Lawrence River which were officially the property of the King of France.
Seigneurs managed the seigneuries for the king. Habitants were free men who worked for themselves but paid taxes to the seigneur. Habitants often worked for the seigneur three days each year in such tasks as building roads.
UPDATE 08 Mar 2008: Gilles, The Nomadic Researcher, wrote to say that I had mistranslated a phrase in this record. The record provides the location of the burial of Louis Gamache. Gilles wrote that the phrase, in French, is "sous son ban seigneurial", translated into English as "under his seigneurial bench". Gilles also provided additional information about this phrase:
"In New France and old Québec, benches in a church were sold to the parishioners; in some churches, the seigneur had his special bench which was located in the front and sometimes with doors…"
Thanks, Gilles!
Copyright © 2008 by Stephen J. Danko