One thing my family did not do was travel.
During the summers, a long trip was the 150 miles or so from Albany, New York to Worcester, Massachusetts via Route 20 (before the Massachusetts Turnpike was completed). During the winter, we barely traveled at all and, even then, our travel was restricted to the Albany area.
One trip during the holiday season I do remember, though, was not exactly a family trip. My Boy Scout troop went on a winter camping trip, a Freeze-Out, to the Helderberg Mountains to the southwest of Albany.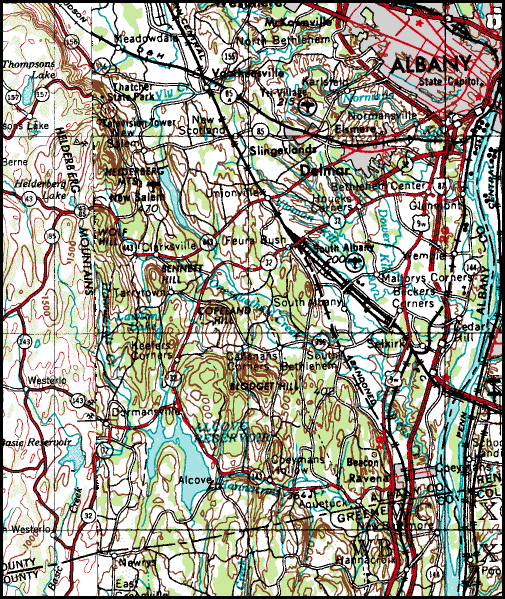 My father accompanied my troop on this particular camping trip and, to this day, he revels in relating the experience to anyone within earshot. He's told even me the story dozens of times, even though he knows I was there. His story goes something like this:
The morning we arrived in the Helderbergs, the skies were crisp and clear. There was not a cloud in the sky. There was no wind. The temperature was below freezing, but none of us really noticed the cold all that much.

The side of the hill on which we set up camp was treeless, and would have been covered in grass during the summer, but was now blanketed with a thick pallet of snow, mostly unspoiled by footprints of man or beast.

We unpacked the cars, set up the tents, and started a campfire.

The boys grabbed their sleds, saucers, and inner tubes to enjoy this perfect winter day sliding down the hill. They packed down the snow to make fast sledding tracks down the hillside. They built ramps to propel their sleds and saucers into the air as they slid down the hill.

After sledding all day, we all gathered by the campfire for a simple, hot meal – beef stew. Nothing tasted so good.

And, then, the sun set. And the wind rose. And the temperature plummeted.

I have never been so cold in my life.

We dove into our tents and crawled into our sleeping bags without worrying about cleaning up the dishes.

Exhausted from the day's activities, we all slept soundly and woke the next morning to another clear, crisp day. We approached the remains of the previous night's supper to find that, had we any intent to clean the dishes before we broke camp, those hopes were long past. Everything was frozen solid including the ladle, frozen in the remains of the beef stew. The stew, in turn, was frozen in its pot.

No matter. We packed everything up into the cars and headed home. The dishes would wait.
Written for the Advent Calendar of Christmas Memories – Day 11. 
Copyright © 2007 by Stephen J. Danko