Katarzyna Niedziałkowska, the sister of my 5th great grandfather Ignace Niedziałkowski, married Józef Obidzienski on 22 Nov 1751.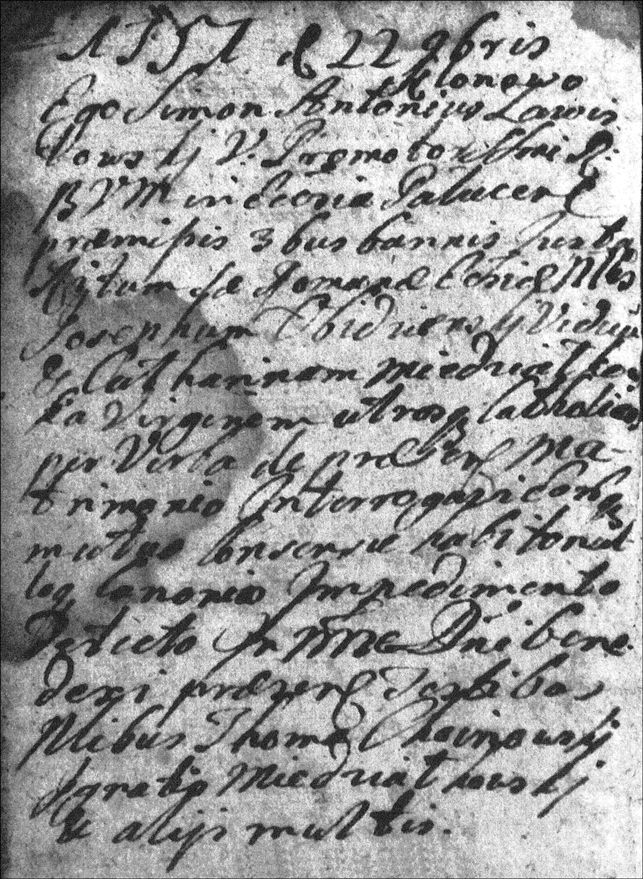 The Marriage Record of Józef Obidzienski and Katarzyna Niedziałkowska – 1751
SOURCE: Parafia Św. Gotarda (Pałuki, Ciechanów County, Mazovian Voivodeship, Polish-Lithuanian Commonwealth). Liber Copulatorum, ab Anno 1747 ad 1781, Księga II, p. 12, Józef Obidzienski and Katarzyna Niedziałkowska marriage (1751); FHL microfilm 1,496,612.
Click on the link for a PDF copy of the Marriage Record of Józef Obidzienski and Katarzyna Niedziałkowska – 1751. Translated from the Latin, the record states:
1751 day 22 November

Klonowo

I, Szymon Antoni Lawinkowski, V. Promotor the Most Holy Rosary of the Blessed Virgin Mary in the church in Pałuki, after publication of three banns nearby [several words?] by the names of Józef Obidzienski, widower, & Katarzyna Niedziałkowska, an unmarried woman, both [?] Catholic, by the words of those present at the marriage interrogation [?] mutual consent [?] without detecting any Canonical impediment blessed in the name of the Lord witnesses present were the nobles Tomasz Choinowski, Ignace Niedziałkowski, & many others.
This entry is one of the Niedziałkowski family records that I found recently by examining microfilms at my local Family History Center.
I have some difficulty translating these Latin records because the handwriting is difficult to interpret, the priest often didn't use the correct spelling or grammar, and there are no good guides to the Latin church records in Poland. Thus, I've included several question marks in the transcription (see the PDF file for the transcription) and translation to indicate I couldn't understand those words in the record.
Copyright © 2007 by Stephen J. Danko