Back in November, my nephew Lukas sent me Flat Stanley, a project for his first grade class.  I had heard about the Flat Stanley Project and was excited to take Flat Stanley on a tour of San Francisco.  In the book, Flat Stanley by Jeff Brown, Stanley is squashed flat by a bulletin board, but, happily, he can now visit his friends by traveling in an envelope.  The official Flat Stanley Project involves sending Flat Stanley to students in another school, but I've heard stories of Flat Stanley being sent to relatives.  Today, I'll share with you the report I sent back to my nephew's class about Flat Stanley's San Francisco Adventure, and if this isn't enough, you can read Megan Smolenyak Smolenyak's article Flat Stanley Does His Roots.
Hi, this is Flat Stanley.  I went on a trip to San Francisco, California to visit Lukas' Uncle Steve.  We drove all over the city and saw lots of sights.  First, we went to the place Uncle Steve works.  He works for a company called Telik.  They make medicine for sick people.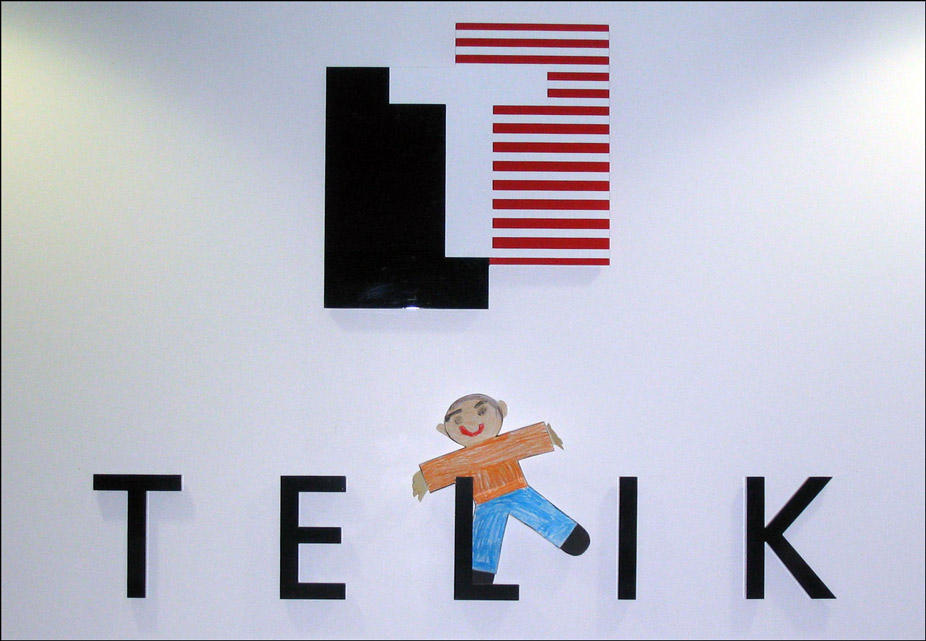 Then we went to Lombard Street in San Francisco.  This street is called the Crookedest Street in the World.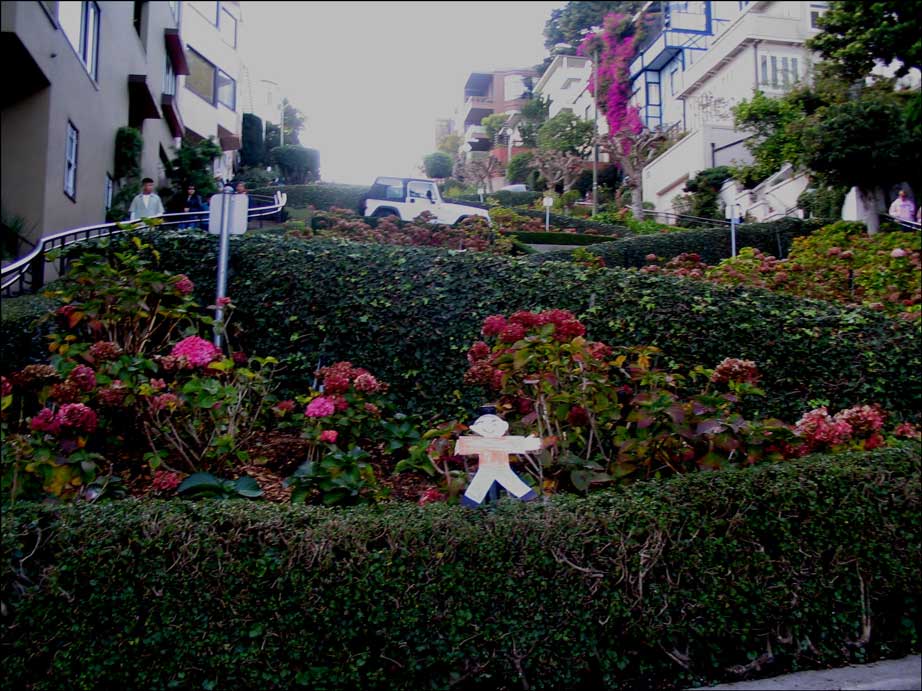 We saw Coit Tower, a famous tower on Telegraph Hill in San Francisco.  Even though it was still daytime, the moon was already out.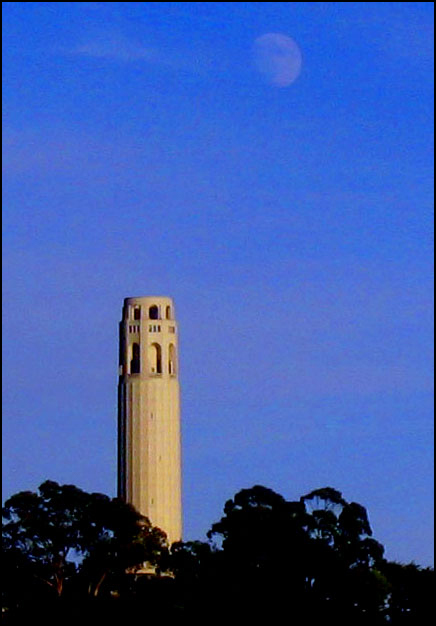 I waited for Uncle Steve, while he took a picture of Coit Tower.  Here I am, waiting at Uncle Steve's car.  Boy, the streets here are steep!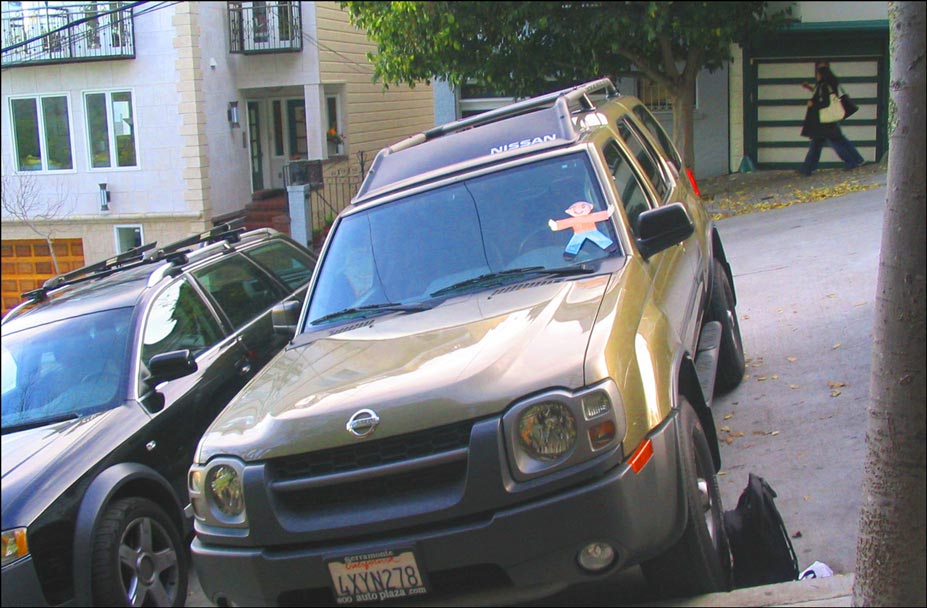 We went to the Palace of Fine Arts.  This place was built 90 years ago in 1915 for the Panama-Pacific Exposition.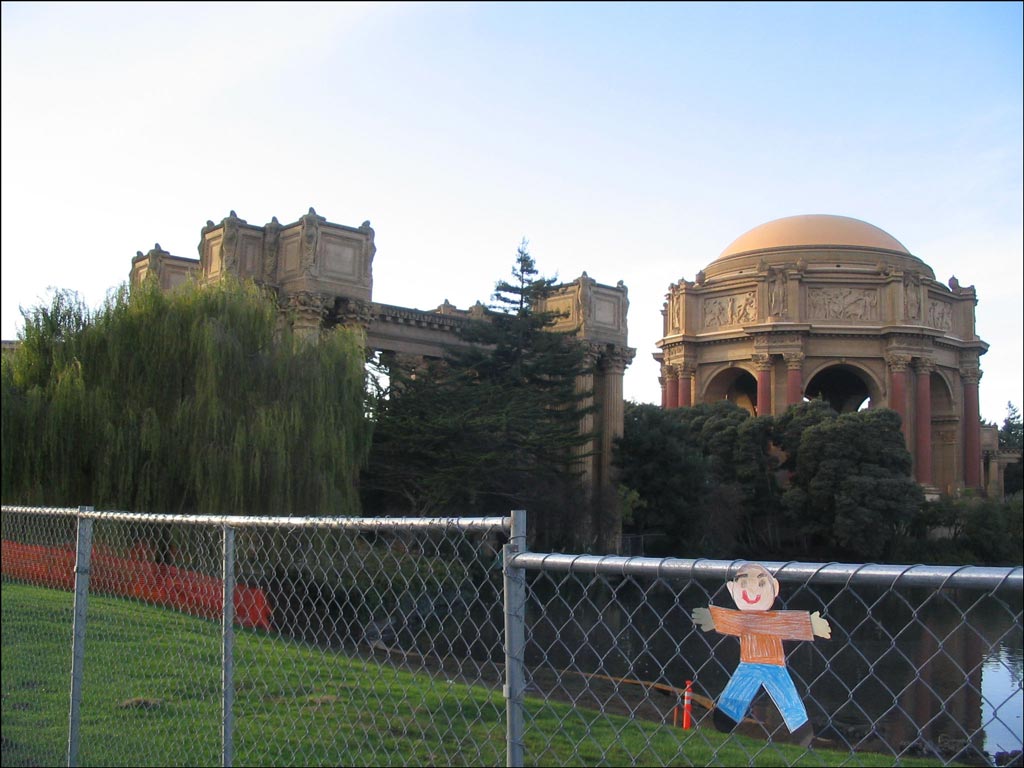 Then we went to the Palace of the Legion of Honor.  This is a famous art museum in San Francisco.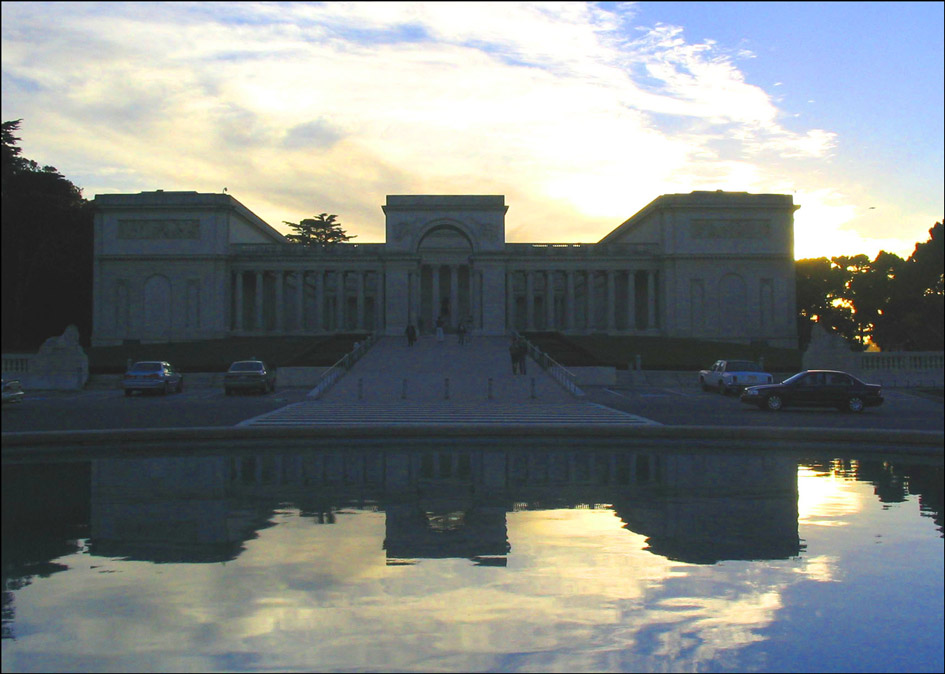 Uncle Steve took this picture of me with this statue at the Palace of the Legion of Honor.  It is called "The Thinker".  What do you think The Thinker is thinking about?  I'm sure I don't know.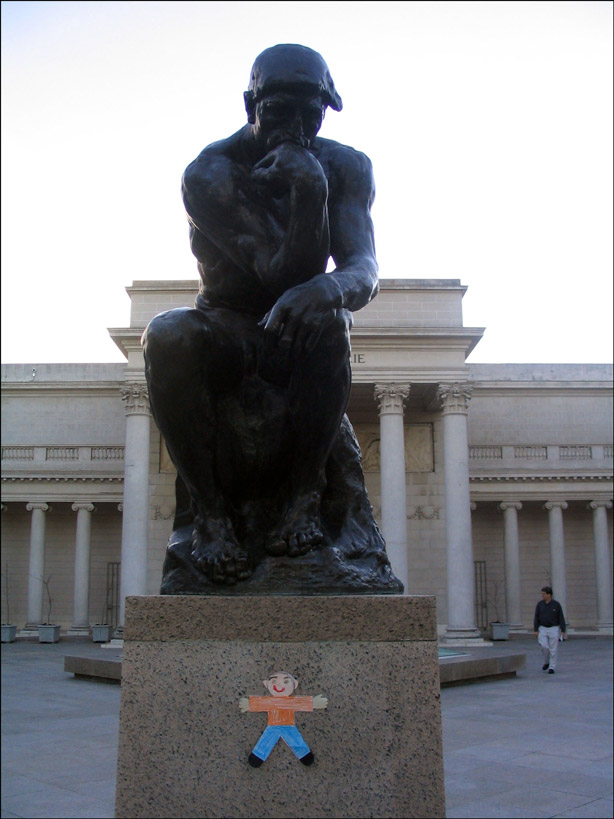 We drove to the Golden Gate Bridge.  This is a suspension bridge in San Francisco.  It is built where the Pacific Ocean meets the San Francisco Bay.  Other tourists stopped to talk to me here.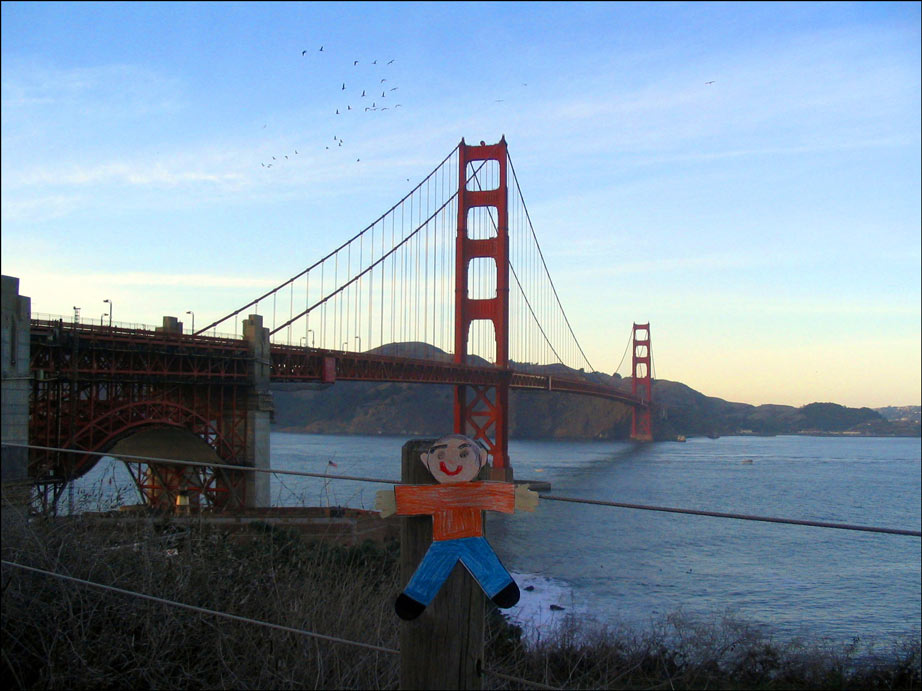 Then we drove to Golden Gate Park and visited a Tulip Garden named after Queen Wilhelmina of the Netherlands.  The windmill is over a hundred years old.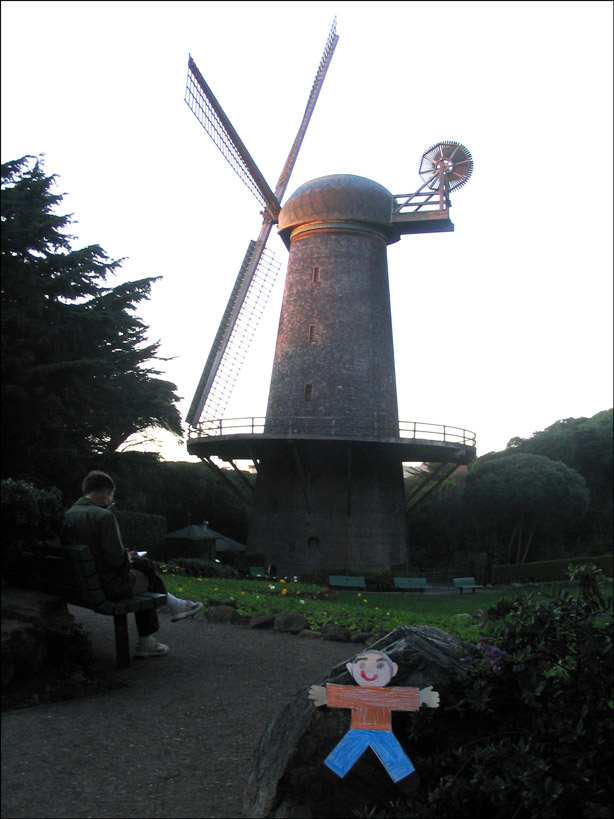 From there we walked to a beach on the Pacific Ocean.  We got there just when the sun was setting over the Pacific Ocean.  It was beautiful.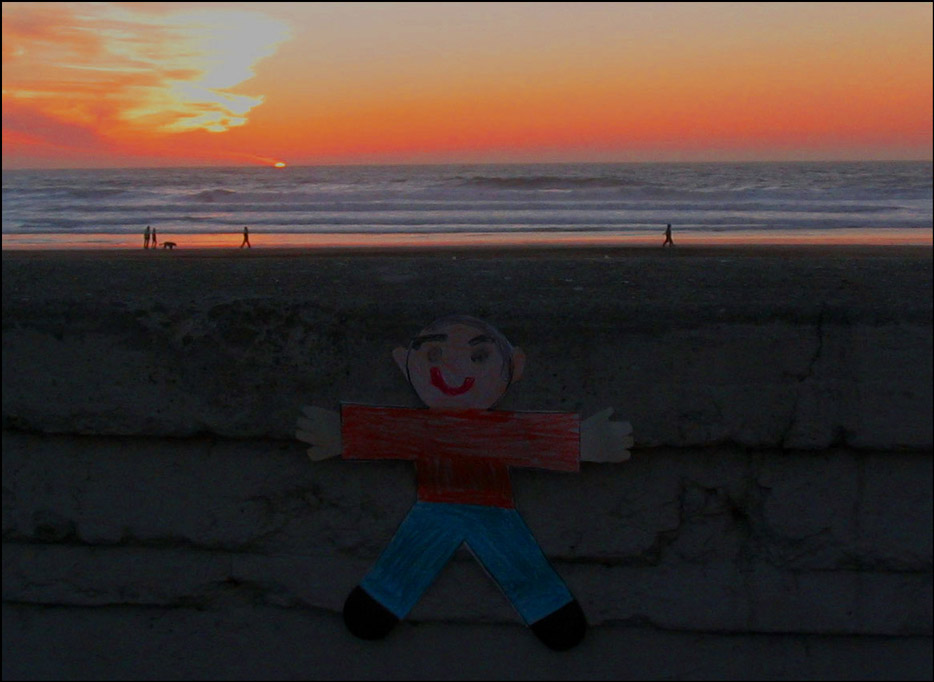 Finally, it was time to go home.  It was a very busy day.  But, before we went home, Uncle Steve took one last picture of the windmill with the moon behind it.
Copyright © 2006 by Stephen J. Danko