On 21 May 1847, the seventh child of François Gamache and Osite Martin, Adeline Gamache, was born. Her birth and baptism was recorded as entry B97 in the registers of the parish of St. Cyprien in Napierville.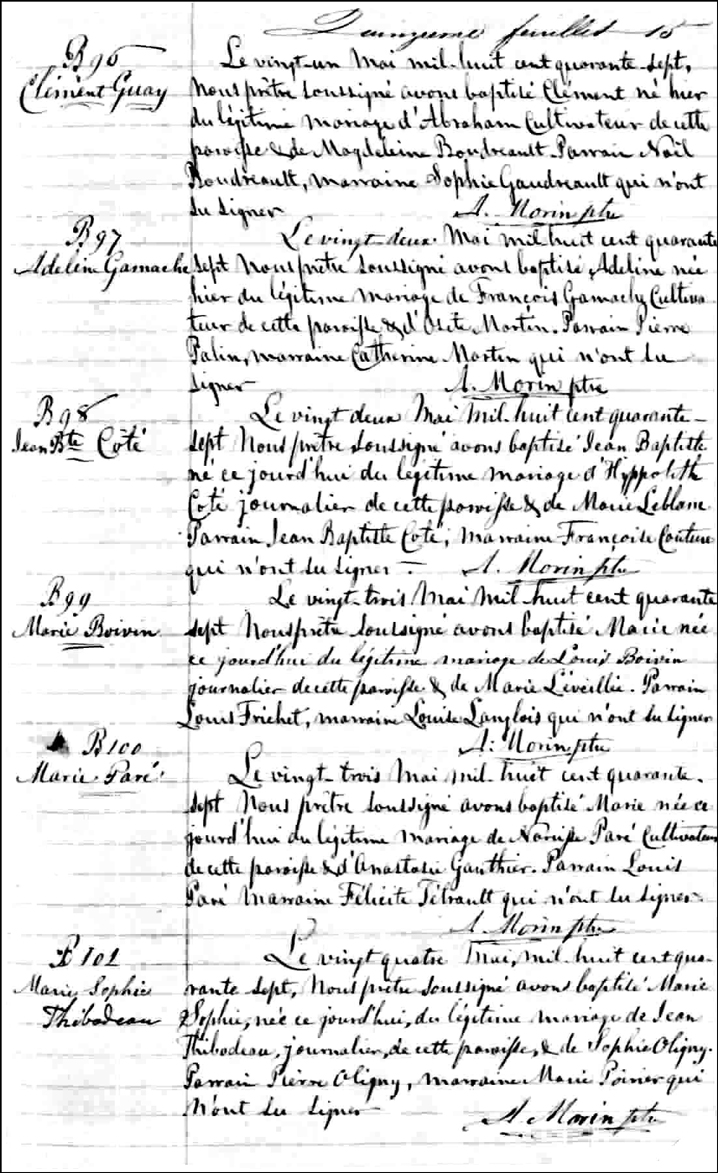 The Birth and Baptismal Record of Adeline Gamache – 1847
SOURCE: Gabriel Drouin, comp. Drouin Collection. Montréal, Québec, Canada: Institut Généalogique Drouin. Birth and Baptismal Record of Adeline Gamache, St. Cyprien, Napierville, Napierville County, Canada East, Province of Canada, 1847. Front of Folio 15, B.97.
Click on the link for a PDF copy of the Birth and Baptismal Record of Adeline Gamache – 1847. Translated from the French, the record states:
B97 [baptism 97]
Adeline
Gamache

On the twenty-second of May, one thousand eight hundred forty-seven, by us, the undersigned priest, was baptized Adeline, born yesterday of the legitimate marriage of François Gamache, farmer, and Osite Martin of this parish. The Godfather was Pierre Palin, and the Godmother was Catherine Martin, who did not know how to sign.

[signed] A. Morin, Priest
This record can be found as image 14 of 74 in the Québec Vital Records (Drouin Collection), 1621-1967 in the records for Napierville St-Cyprien for the year 1847. The record appears on the front of folio 15.
Usually, the front of a folio matches the image number, so that image 14 should be the front of folio 14. This relationship does not always hold true, and I've found that sometimes an image is reproduced twice, or extra pages are inserted into the folio set. I have not previously seen a situation where the image number is lower than the folio number, however. I checked out the situation here, and I found that the back of folio 2 and the front of folio 3 are missing from this set. I'm just grateful that the record for Adeline was not on the missing pages. 
François Gamache and his wife, Osite Martin, were having children with quite some regularity. Their seven children, up to this point, were born in 1838, 1839, 1841, 1843, 1845, 1846, and 1847. You have to wonder how they kept up with all these children!