Marie Domitille Gamache was born to François Gamache and Osite Martin on 07 Jun 1846. her birth and baptism are recorded as entry B.108 in the register of the parish of St. Cyprien, Napierville.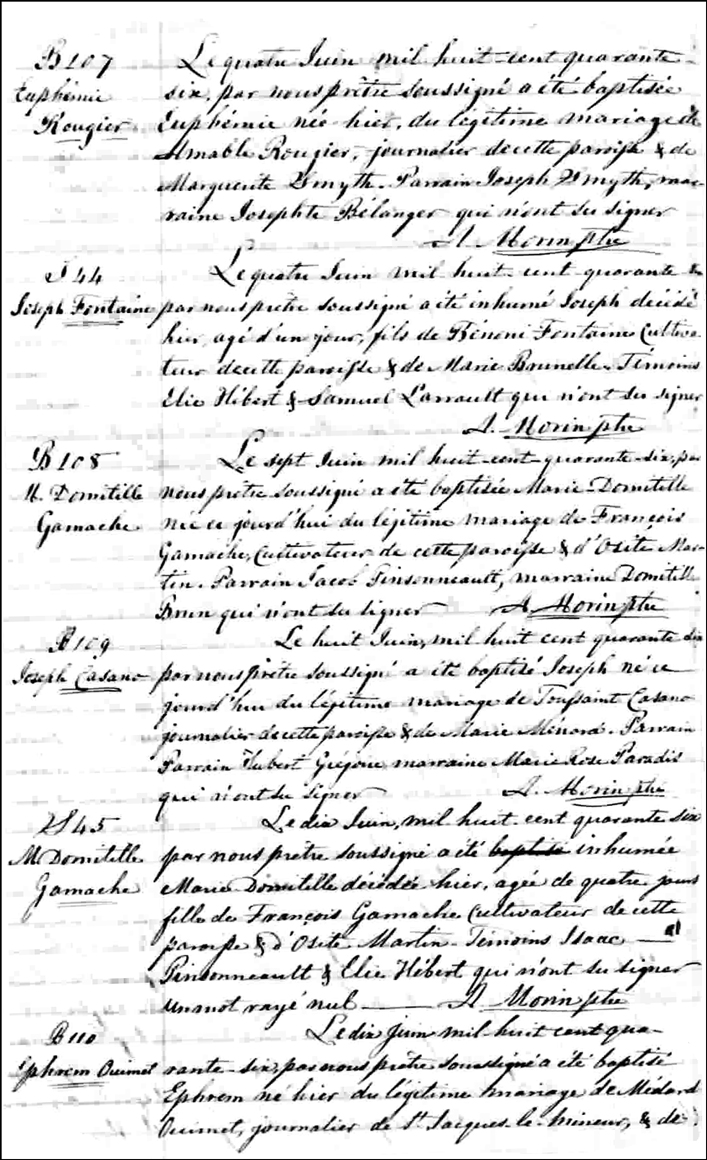 The Birth and Baptismal Record of Marie Domitille Gamache -1846
SOURCE: Gabriel Drouin, comp. Drouin Collection. Montréal, Québec, Canada: Institut Généalogique Drouin. Birth and Baptismal Record of Marie Domitille Gamache, St. Cyprien, Napierville, Napierville County, Canada East, Province of Canada, 1846. Back of Folio 18, B.108.
Click on the link for a PDF copy of the Birth and Baptismal Record of Marie Domitille Gamache -1846. Translated from the French, the record states:
B.108 [baptism 108]
M. Domitille
Gamache

On the seventh of June, one thousand eight hundred forty-six, by us, the undersigned priest, was baptized Marie Domitille, born today of the legitimate marriage of François Gamache, farmer, and Osite Martin of this parish. The Godfather was Jacob Pinsonneault, and the Godmother was Domitille Bonin, who did not know how to sign.

[signed] A. Morin, Priest
This record can be found as image 19 of 46 in the Québec Vital Records (Drouin Collection), 1621-1967, for Napierville St-Cyprien in 1846. The record is located on the back of folio 18. 
This record was apparently signed by the same priest, A. Morin, who signed many of the other records for the Gamache children. Oddly enough, the way the priest phrased the document was a bit different from the way he phrased earlier documents, and even his handwriting looks different on this document from the way it looked previously.
Perhaps someone else prepared this entry. Perhaps Father Morin was just getting older.