A male child, born to Charles Patenaude and Osithe Gamache in 1881, died five hours after birth. The birth, baptism, and death are recorded as one entry in the register: entry S.11.B.24.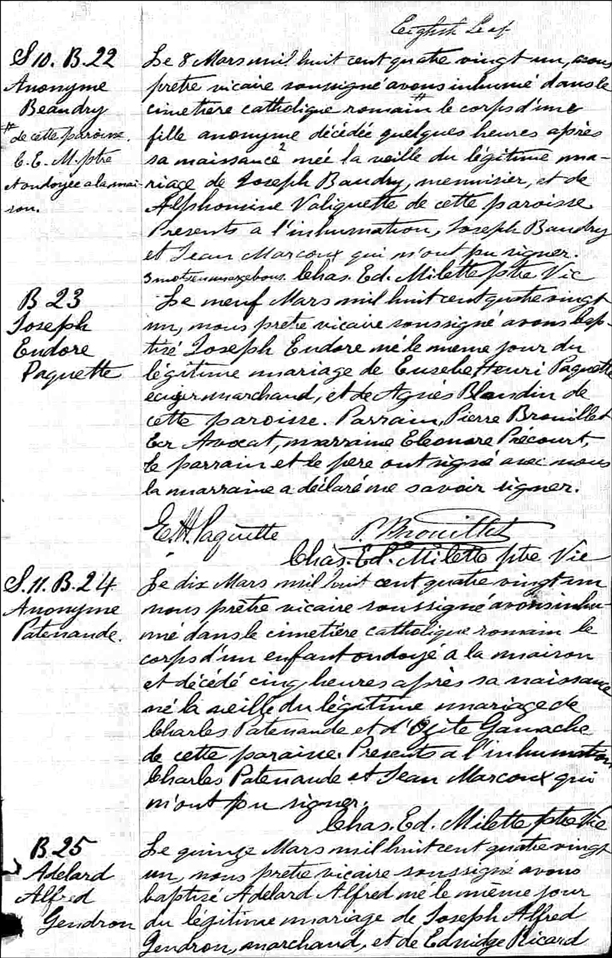 The Birth, Baptism, and Death of Unnamed Child Patenaude – 1881
SOURCE: Ancestry.com. Québec Vital Records (Drouin Collection), 1621-1967 [database on-line]. Original data: Gabriel Drouin, comp. Drouin Collection. Montreal, Québec, Canada: Institut Généalogique Drouin. Birth and Baptismal Record of Unnamed Child Patenaude, Roman Catholic Parish of St. Edmond, Coaticook, Québec, Canada, 1881. Front of Folio 8, B.24, S.11.
Click on the link for a PDF copy of the Birth, Baptism, and Death of Unnamed Child Patenaude – 1881. The record, translated from the French, states:
S.11.B.24. [burial #11] [baptism #38]
Unnamed Child
Patenaude

On the tenth of March, one thousand eight hundred eighty-one, we, the undersigned parish vicar, have buried in the Roman Catholic cemetery, the body of an infant baptized provisionally at home and who died five hours after birth, born the previous evening of the legitimate marriage of Charles Patenaude and Osithe Gamache of this parish. Witnesses at the burial were Charles Patenaude and Jean Marcoux who are not able to write.

[signed] Chas. Ed. Milette, Priest and Vicar
This unnamed child is apparently a male child. In this record, the word né, rather than née is used to express the English word born. Since the masculine form of the verb is used, the child must have been a male child.
The child had been baptized provisionally at home, since the parents apparently did not have time to bring the child to the church to be baptized before the child died.
In centuries past, the Roman Catholic Church speculated that infants who died before being baptized entered a state of limbo instead of heaven. Roman Catholic parents considered infant baptism of utmost importance to ensure that their children would be able to enter heaven should they die as infants.
Recently, the International Theological Commission of the Roman Catholic Church stated that limbo represents an "unduly restricted view of salvation", thus reversing centuries of theological thought.