Chester Joseph Dymek, son of Stanisław Dymek and Franciszka Ksepka, applied for a Social Security Account Number on 12 April 1937.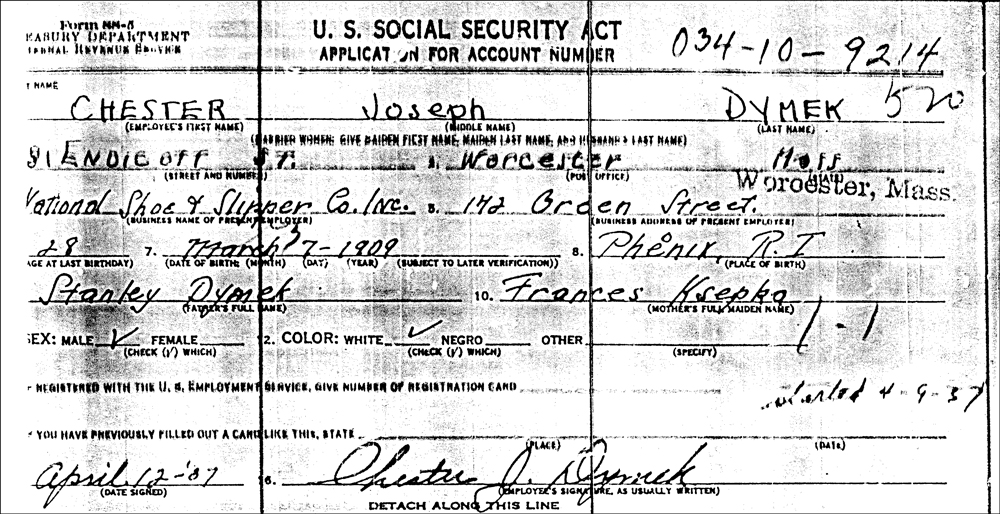 Chester Joseph Dymek's Application for a Social Security Account Number
SOURCE: Chester Joseph Dymek, SS no. 034-10-9213, 12 April 1937, Application for Account Number (Form SS-5), Social Security Administration, Baltimore, Maryland.
Click on the link for a PDF copy of the Application for Social Security Account Number for Chester Joseph Dymek. The application states:
Chester Joseph Dymek lived at 81 Endicott Street in Worcester, Massachusetts
He was employed by the National Shoe & Slipper Co. Inc. located at 142 Green Street, Worcester, Massachusetts
He started this job on 09 April 1937
At the time of application, Chester was 28 years old; he was born on 07 March 1909 in Phenix, Rhode Island
His parents were Stanley Dymek and Francis Ksepka
He was a white male, not registered with the U.S. Employment Service and had not previously applied for a Social Security Account Number
He applied on 12 April 1937 and was issued Social Security Number 034-10-9214
There are two stray marks on the application: the number 520 near the upper right and 1-1 written near the bottom right.
Copyright © 2011 by Stephen J. Danko