The first child of Wojceich Dańko and Rozalia Chruścicka was born a year after their marriage and was named Andrzej. Andrzej's record is the first one on the image below.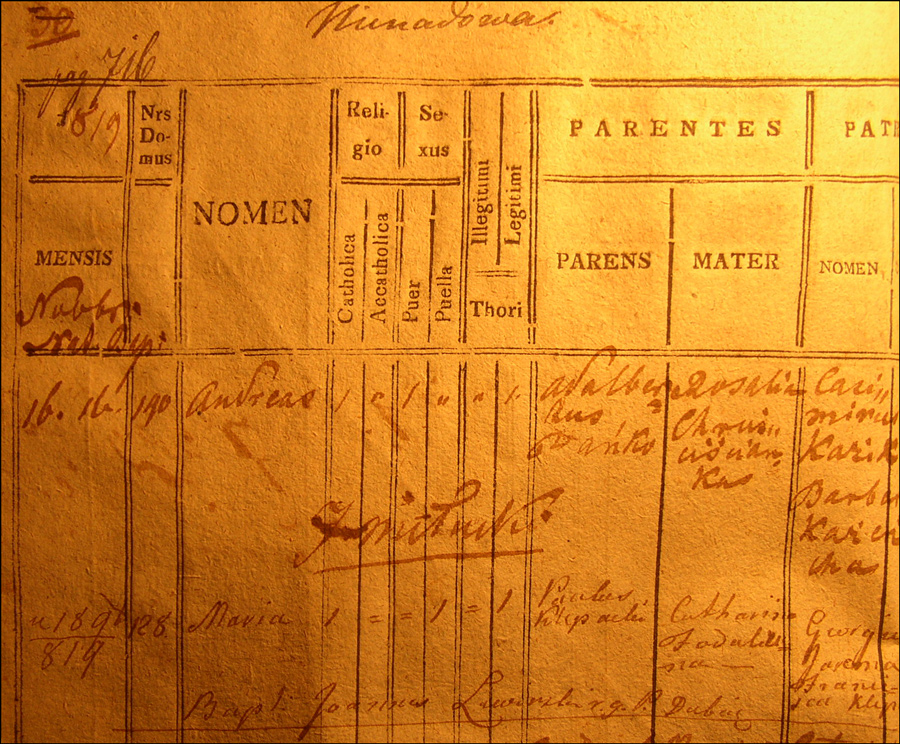 The Birth and Baptismal Record for Andrzej Dańko
SOURCE: Roman Catholic Parish of the Immaculate Heart of the Most Holy Virgin Mary, Dubiecko, Poland. Liber Natorum et Baptisatorum (Book of Births and Baptisms). 1819. Andrzej Dańko. Text in Latin, translated by Stephen J. Danko.
Click on the link for a PDF copy of the Birth and Baptismal Record for Andrzej Dańko. The record states that:
Andrzej Dańko was born on 16 Nov 1819, in house number 140 in Nienadowa, a boy legitimately born to a Catholic family

He was baptized on the same day by I [Miłucki ?] in the church in Dubiecko

His parents were Wojciech Dańko, a farmer, and Rozalia Chruścisnanka

His Godparents (Sponsors) were Kazimierz Kazik and Barbara Kazińska
Andrzej was baptized on the same day he was born. Usually, Polish infants were baptized within two days after their birth, but baptisms on the day of birth are relatively rare.
The Godparents' (sponsors') names are not completely legible, since the right side of this page is missing. It's interesting, though, that the surnames of the sponsors are very similar. Perhaps I'm missing part of Kazimierz' surname and the two surnames are the same.
Finally, Rozalia Chruścicka's surname appears to be spelled Chruścisnanka. I'm not sure why her name was spelled this way.
The priest who baptized Andrzej was Ignacy [Miłucki ?] the same priest who baptized Michał Dańko, the last son of Wojciech Dańko and his first wife, Marianna Jedlińska.