One day in 1973, my grandmother, Helen (Chmielewska) Niedzialkowski, asked if someone could give her a lift.  When asked where she needed to go, she said that she needed to clean out an apartment.  When asked why she needed to clean out an apartment, she answered that someone had died.  When asked who died, she replied, "My sister."
Apparently, most of the family never even knew Helen had a sister.
I don't know much about my grandmother's family, and she didn't talk about them very much.  When asked about her life in the old country, she would just say, "The past is dead," and that would be the end of the conversation.  My Aunt Jan told me that sometimes, while Jan was fixing Helen's hair, Helen would reminisce about her life before she came to America, but she was usually reluctant to talk about her past.
What I do know is that Helen's parents were Vincent Chmielewski and Anastasia Wojnowska, she had one full sister named Ona, she had one half-brother named Joseph, and she had one half-sister named Stephanie.  There may have been other half-siblings, but I know even less about them.  Joseph and Stephanie immigrated to the United States, but Ona stayed behind.  From various documents, I've learned that my grandmother may have been born in Vilnius, Trakai, Butrymonys, or Likiskiai in what is now Lithuania.  Since Trakai is in Vilnius County and Likiskiai is in Butrymonys County, these two villages are my best guesses for her birthplace.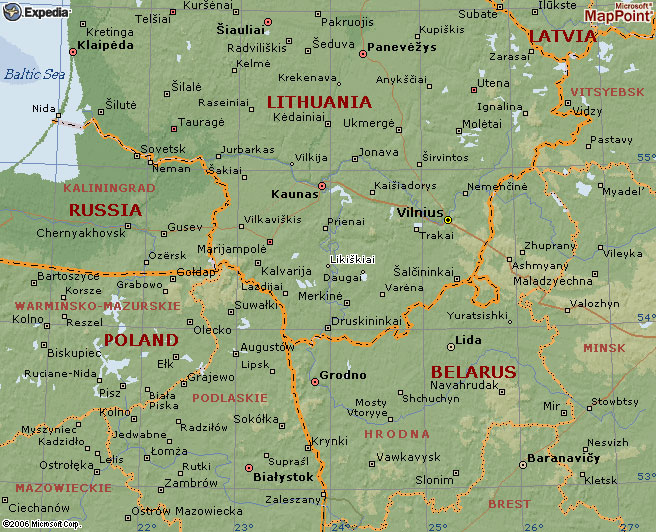 When Helen, Joseph, and Stephanie settled in Worcester, Massachusetts, they changed their surname to Meleski.  Joseph married and had several children, including Harry Meleski, about whom I've written before.  Stephanie never married, as far as I know.  In 1960 she wrote a letter to Helen in which Stephanie described which of her belongings she wished to bequeath to Helen.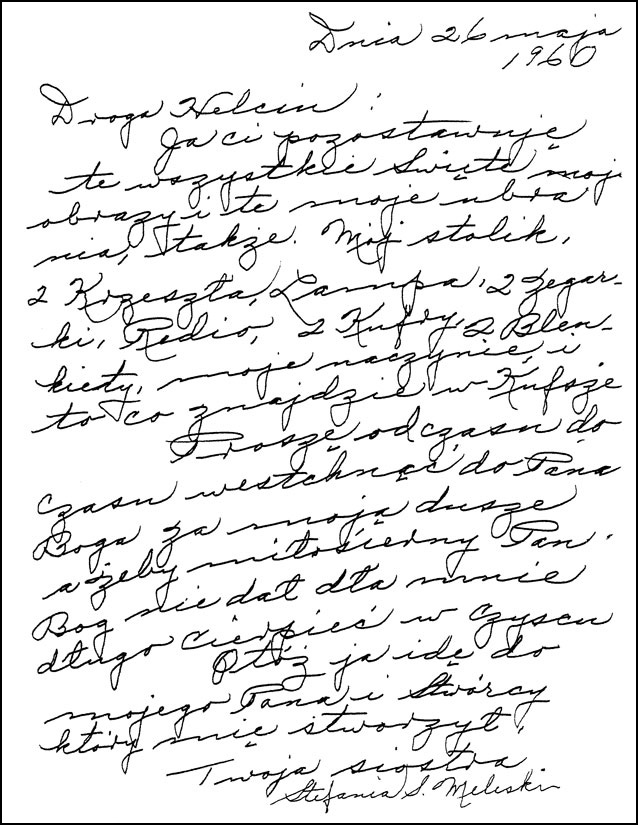 The letter, translated into English, reads as follows:
The 26th Day of May 1960

Dear Helen:

I leave you all these my Holy pictures and these my clothes, also my little Table, 2 Chairs, a Lamp, 2 Watches, a Radio, 2 Blankets, my dishes, and that which you will find in the Trunk.

I ask from time to time praying to the Lord God for my soul so that the merciful Lord God didn't give me a long time to suffer in purgatory.

Now I go to my Lord and Maker who created me.

Your sister

Stephania S. Meleski
From the tone of Stephanie's letter, it sounds as if she's ready to die at any moment.  She lived, however, another 13 years after she wrote the letter.  Stephanie Meleski's Death Certificate shows that she died on January 31, 1973 at the age of 87 years, 11 months, and 28 days.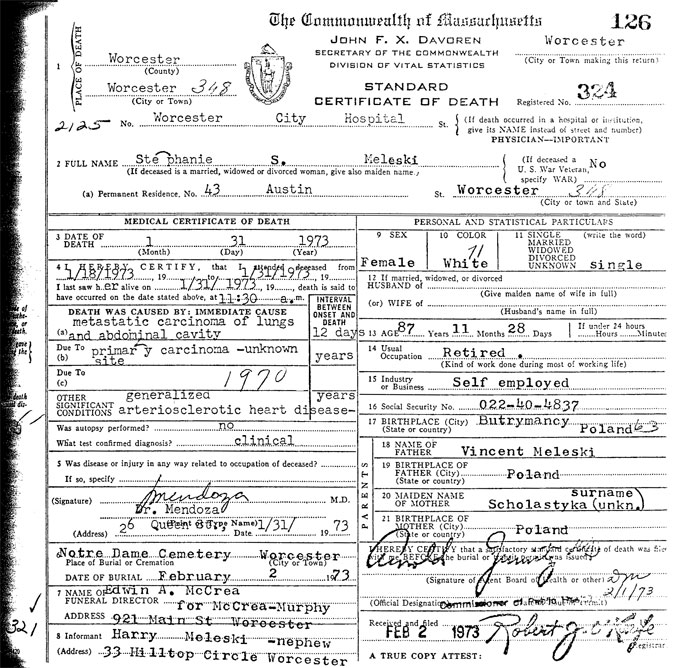 Stephanie was buried in Notre Dame Cemetery in Worcester, Massachusetts on February 2, 1973 in Section 25-C, Lot 1052, Grave 1.  She purchased two graves and her name is listed in the cemetery records as Mrs. Stephania Meleski, but as far as I know she was never married.
SOURCE: Grave of Stephanie Meleski – 1973 – Obverse (Worcester, Worcester Co., Massachusetts, USA); photographed by Stephen J. Danko on 24 Jun 2012.
SOURCE: Grave of Stephanie Meleski – 1973 – Reverse (Worcester, Worcester Co., Massachusetts, USA); photographed by Stephen J. Danko on 24 Jun 2012.
Genealogical Trivia
Here's a little genealogical trivia about the change from the Gregorian to the Julian Calendar.  The Gregorian Calendar replaced the Julian Calendar in 1582 in order to correct the discrepancy between the date of the Vernal Equinox in the Julian Calendar and the actual occurrence of the Equinox.  Pope Gregory decreed that October 4, 1582 be followed by October 15, 1582.  Many Catholic countries complied, but England and its colonies in America didn't make the switch until 1752, when Wednesday, September 2, 1752 was followed by Thursday, September 14, 1752 resulting in angry mobs crying "Give us back our 11 days!"
Copyright © 2006 and 2012 by Stephen J. Danko