My uncle, Joseph J. Danko, died on 05 Jul 1991 after being stricken on the Fourth of July.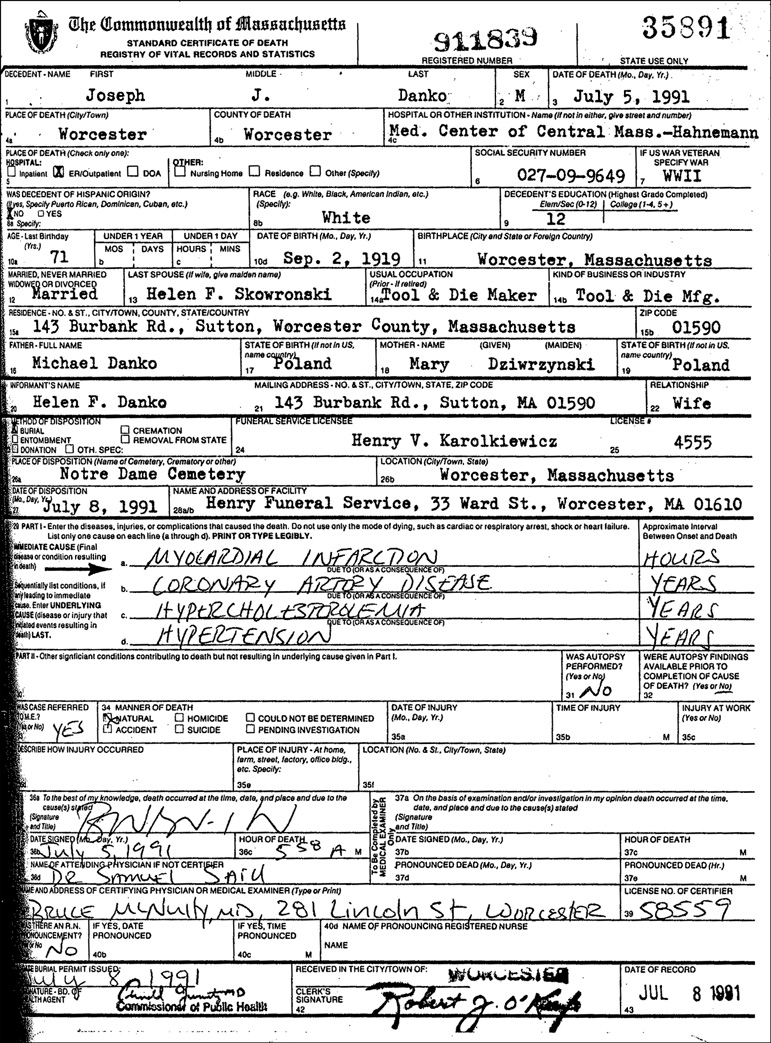 The Death Record for Joseph J. Danko
SOURCE: The Commonwealth of Massachusetts. Registry of Vital Records and Statistics.
Standard Certificate of Death. City of Worcester. 1991. Volume Unknown. Page 35891. Joseph J. Danko.
Click on the link for a PDF copy of the Death Record for Joseph J. Danko.  The record states that:
Joseph J. Danko, a white male, died on 05 Jul 1991 in the ER at the Med. Center of Central Mass.-Hahnemann

His Social Security Number was 027-09-9649, he was a veteran of WWII

Joseph was 71 years old at the time of death; he was born 02 Sep 1919 in Worcester, Massachusetts

He was a Tool & Die Maker for a Tool & Die Mfg.

His father was Michael Danko and his mother was Mary Dziwrzynski, both born in Poland

Joseph was buried in Notre Dame Cemetery, Worcester, Massachusetts on 08 Jul 1991 by Henry V. Karolkiewicz, license # 4555 of the Henry Funeral Service, 33 Ward St., Worcester, MA 01610

Joseph died within hours of myocardial infarction due to coronary artery disease, hypercholesterolemia, and hypertension; he suffered from all three complications for years

No autopsy was performed, although the case was referred to the medical examiner; his death was declared natural

Joe's death occurred on 05 Jul 1991 at 5:58 AM, as certified by Bruce McNully, MD of 281 Lincoln St., Worcester, whose license number was 58559

The attending physician was Sr. Samuel Said

The Burial Permit was issued 08 Jul 1991 by Arnold Gurwitz, MD, the Commissioner of Public Health

The Death Certificate was received in the city of Worcester by Robert J. O'Keefe on 08 Jul 1991
I tried to confirm the spellings of the surnames of the the attending physician and the certifying physican on the Death Certificate by searching for their names online.  Unfortunately, I couldn't find a convenient way to verify the spellings of their surnames.  One could be McNully or McNally or McNulty.  The other looks like Said or Saiu.