Agnieszka Dańko, the daughter of Pawel Dańko and Zofia Szymańska, and the sister of my great grandfather, Jakub Dańko, was born in Nienadowa on 06 Jan 1838.  Agnieszka's record is the second entry on this page.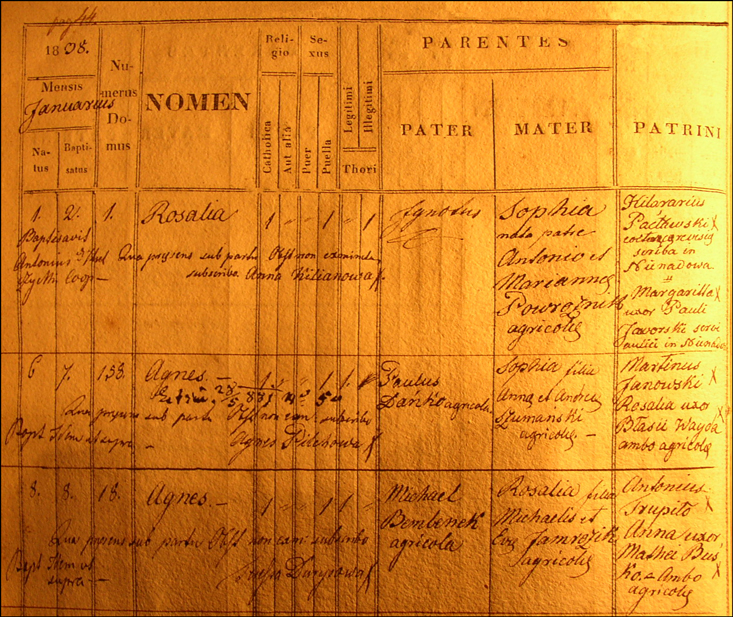 The Birth and Baptismal Record for Agnieszka Dańko
SOURCE: Roman Catholic Parish of the Immaculate Heart of the Most Holy Virgin Mary, Dubiecko, Poland. Liber Natorum et Baptisatorum (Book of Births and Baptisms). 1838. Page 44. Text in Latin, translated by Stephen J. Danko.
Click on the link for a PDF copy of the Birth and Baptismal Record for Agnieszka Dańko, along with a transcription and translation from the Latin.  The record states:
Agnieszka Dańko was born on 06 Jan 1838 in house number 158 in Nienadowa

She was baptized in the church in Dubiecko on 07 Jan 1838 by Antoni [Itselczycki?]

She was a legitimately born, Catholic girl

Her father was Pawel Dańko, a farmer

Her mother was Zofia Szymański, daughter of Anna and Andrzej Szymański, farmer

Her Godparents were Marcin Tanowski, and Rozalia Wayda, the wife of Błażej Wayda, both farmers

The midwife present at the birth was Agnieszka Pilchowa, who was "not tested"

The priest who baptized the child was Antoni [Itselczycki?]

Agnieszka apparently moved to house number 50 on 28 May 1881
It's interesting to note that the priest who performed the baptism only signed the first baptismal record on the page.  On all other records, he signed "same as above".
The midwife, Agnieszka Pilchowa, was described as "not tested".  I suppose this means that she did not have a license as a midwife.  When compared with the Birth and Baptismal Record for Agnieszka's sister Jadwiga, Jadwiga's midwife was listed as "District Midwife".
Pawel Dańko often called on Marcin Tanowski and Rozalia Wayda to be the Godparents of his children.  I don't know who Marcin Tanowski married, but he may be a relative or the husband of a relative of Pawel.  Rozalia Wayda, wife of Błażej Wayda, may well be Pawel's younger sister, but I'll have to search for the marriage record for Błażej and Rozalia to be sure.