After posting information on Bernard Izbicki, the second husband of my cousin Anastasia Rita Meleski, I received a message from Tadeusz Izbicki, a distant cousin of Bernard.  Tadeusz lives in Poland and the common ancestor of Bernard and Tadeusz is Bartlomiej Izbicki, Bernard's great-great-grandfather.
Bernard's parents, Bolesław Izbicki and Wiktoria Kruczyńska, had several other children in Worcester, Massachusetts, including Leon Izbicki.  Leon's birth is recorded on line 1755 of page 490 in volume 544 of the 1904 birth register for Worcester.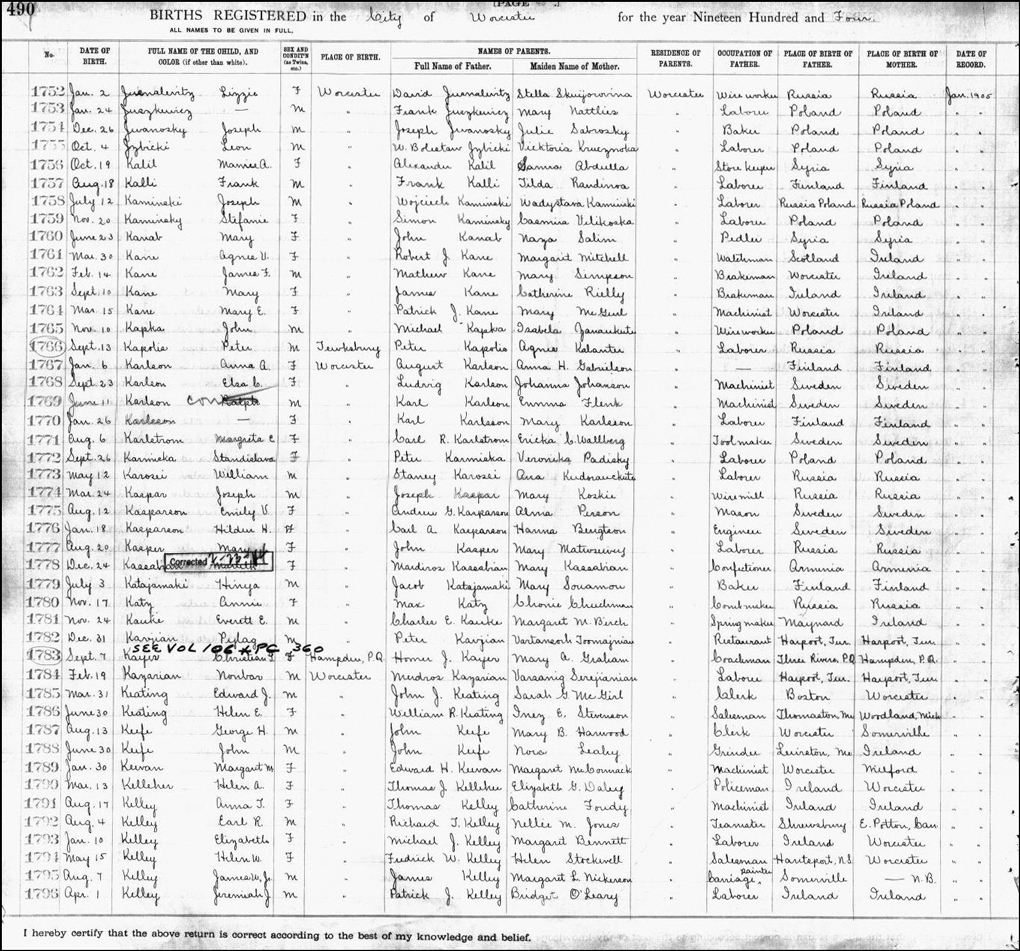 The Birth Record for Leon Izbicki
SOURCE:  The Commonwealth of Massachusetts. Births Registered in the City of Worcester for the Year 1904. Leon Izbicki. Volume 544, Page 490, Number 1755. http://www.newenglandancestors.org.
Click on the link for a PDF copy of the Birth Record for Leon Izbicki – 1904.  The record states:
The Birth Record for Leon Jzbicki is recorded in Volume 544, Page 490, Line Number 1755 in the Birth Records for the City of Worcester for the year 1904
Leon Jzbicki, a white male, was born on 04 Oct 1904 in Worcester, Massachusetts
Leon's father was W. Bolesław Jzbicki, a laborer born in Poland
Leon's mother was Vicktoria Krucznoka, born in Poland
Leon's birth was recorded in January 1905
The surname of the family was misspelled Jzbicki in this record.  Since this record is a transcription of the originals maintained at the town level, this may be a transcription error.
Leon's father is listed as W. Bolesław Jzbicki.  The initial "W." preceding the name stands for "William", a name that Bolesław used in the United States.
Leon's mother is listed as Vicktoria Krucznoka.  The proper spelling of her name is probably Wiktoria Kruczyńska.
As a last note, tonight I watched the televised version of "Questions and Ancestors" on BYU Television.  Tonight's episode was entitled "Researching New England Ancestors" and featured David Lambert from the New England Historic Genealogical Society (NEHGS) in Boston.  David described ways to search for ancestors in New England and also discussed the resources available at the NEHGS.
During the show, David Lambert confirmed what I have suspected: the images of Massachusetts Vital Records from 1841-1910 available to members on the NEHGS website are digital images of the original ledgers, not the microfilms.  These images are incredibly superior to the microfilm images available elsewhere.
Copyright © 2007 by Stephen J. Danko