I haven't been able to find any records for the birthdates of the children of Clark Gibson and Maryette Olds that were recorded at or near the time of the event.  The Canadian Census for 1861 recorded the ages of the children who were living as of the enumeration date and provides a reasonable estimate of the year of birth for those children.
The only other record I've found that was created within a few years of the birth of one of Clark and Maryette's children is the Burial Record of John Frank Gibson.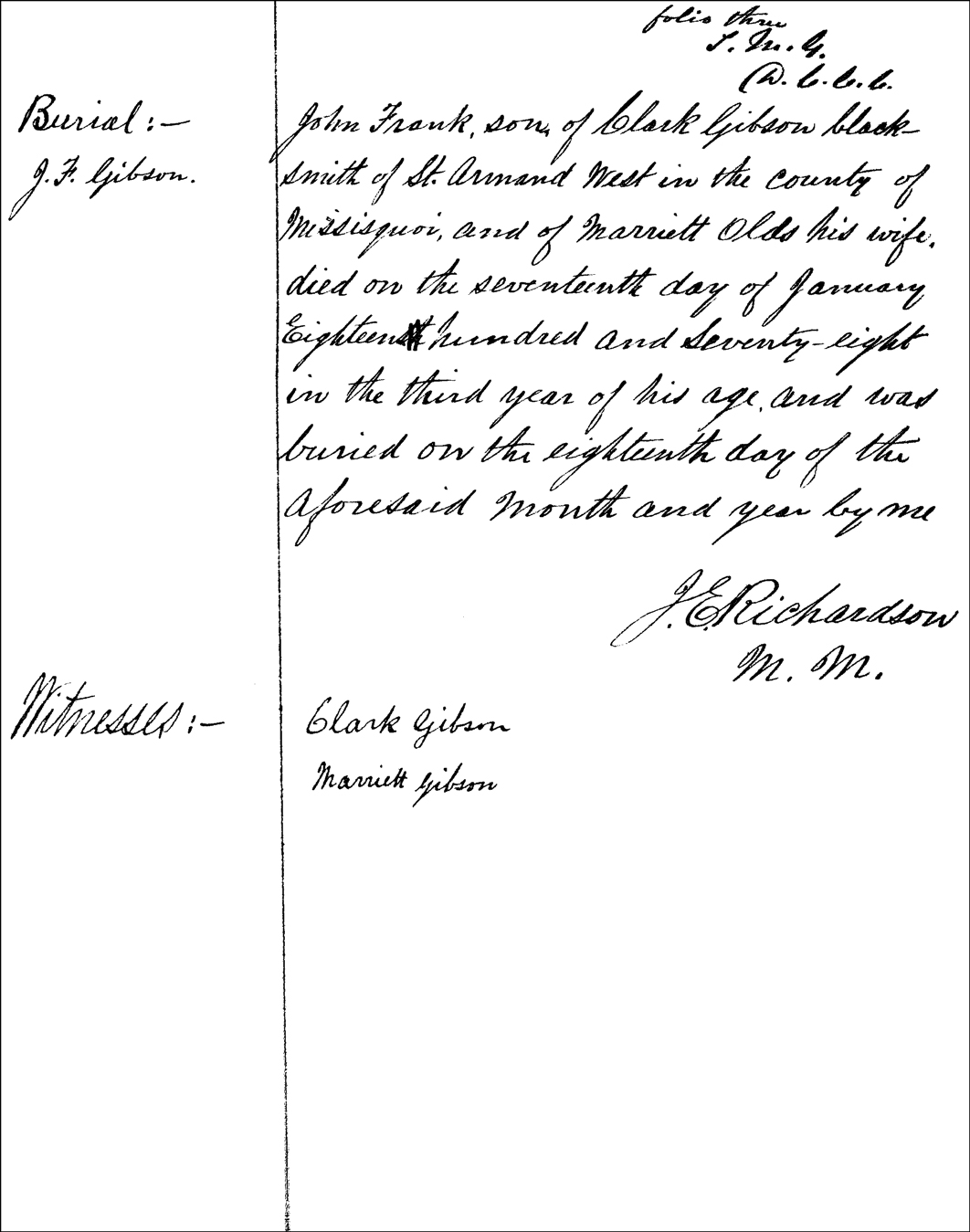 The Burial Record for John Frank Gibson
SOURCE:  The Methodist Church Serving Frelighsburg, Quebec, Canada. Burial Records. 1878. John Frank Gibson. FHL US/CAN Film 2027346 Item 3, Family History Library, Salt Lake City, Utah.
Click on the link for a PDF copy of the Burial Record for John Frank Gibson – 1878.  The record reads:
folio Three L.M.G. D.C.C.C.

Burial:- J. F. Gibson

John Frank, son of Clark Gibson black-smith of St. Armand West in the county of Missisquoi, and of Marriett Olds his wife, died on the seventeenth day of January Eighteenth hundred and Seventy-eight in the third year of his age, and was buried on the eighteenth day of the aforesaid Month and year by me
[Signed] J.E Richardson
M.M.

Witnesses:- [Signed] Clark Gibson [Signed] Marriett Gibson
This record shows that John Frank died on 17 Jan 1878 and buried on 18 Jan 1878.  It further shows that John Frank was in the third year of age, suggesting that he was born in 1875, but no further information was provided about his birth.
Thefirst name of Clark's wife is spelled Marriett in this record, but is spelled Mariette, Maryette, Maryett, and Maryetta in other records.
The initials "M.M." below J.E. Richardson's signature stands for Methodist Minister.
Copyright © 2007 by Stephen J. Danko