In 1851, the families of John Gibson and Clark Gibson are enumerated in St. Georges de Clarenceville in the county of Rouville, Lower Canada (Québec) on lines 19-27 of pages 37-38.  Only the first half of page 37 is shown below.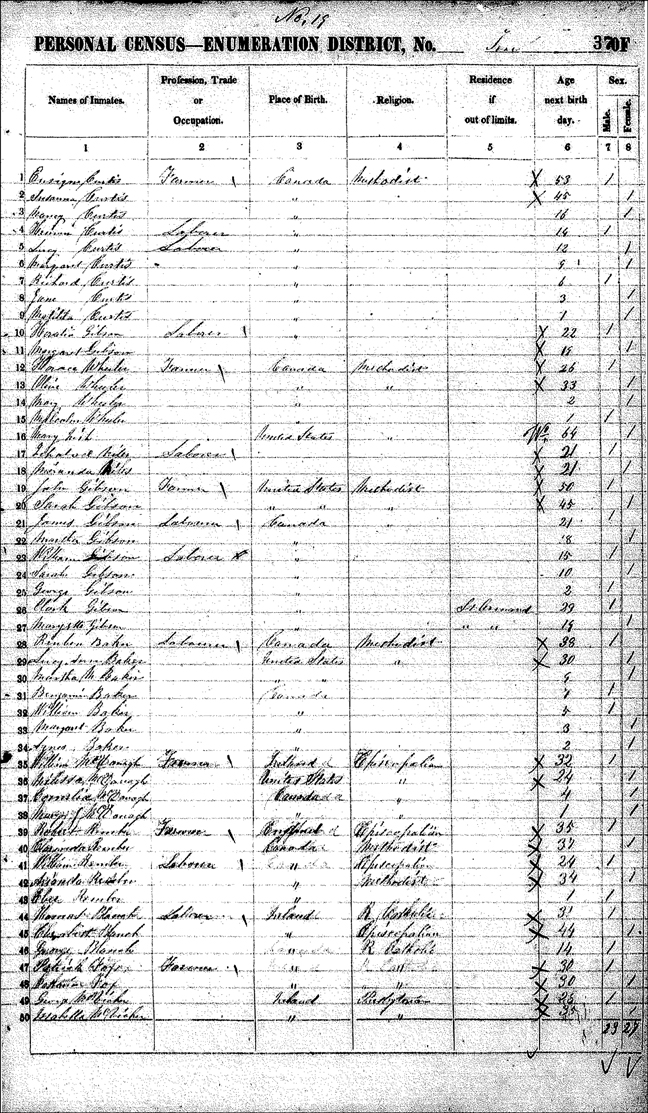 The Gibson Households in the 1851 Census of Canada East (Québec)
SOURCE:  John Gibson Household, 1851 Lower Canada Census (Québec), St. Georges de Clarenceville, Caldwell (Manoir), Rouville (County), pages 37-38, lines 19-27. National Archives of Canada Film C-1137 Schedule A. Microfilm FHL US/CAN Census Area 517289, Family History Library [FHL], Salt Lake City, Utah.
Click on the link for a PDF copy of the Census of Lower Canada (Québec) for the Gibson Households – 1851 .  The Census Record for Schedule A (the nominal household census) covers pages 37-38.  The image above is only the first half of page 37.  The record states:
John Gibson, a 50-year-old farmer, is enumerated with his 45 year-old wife, Sarah Gibson

John and Sarah Gibson's children are James, a 21-year-old laborer; Martha, 18 years old; William, a 15-year-old laborer; Sarah, 10 years old; and George, 2 years old

In addition, Clark Gibson, 29 years old, is listed with his wife Maryette, 19 years old

John and Sarah are listed as Methodist; there is no mark in the religion column for the others

John and Sarah were born in the United States; their children, including Clark and Maryette, were born in Canada

Clark and Maryette are shown as living in St. Armand in the "Residence if out of limits" column
Additional information is provided on parts of the census not shown above:
John, Sarah, Clark, and Maryette are married; all others are single
All individuals are listed as "Members" except for Clark and Maryette who are listed as "Not Members"
None of the household members are listed as attending school
There were no births or deaths in the family during 1851
None of the household members were "Colored Persons – Negroes", "Indians if any", "Members absent", "Deaf & Dumb", "Blind", or "Lunatics"
The family's residence was a one-story log farmhouse; this family was the only family occupying the house
There were no "Vacant" homes, no "Buildings", no "Shops, Stores, Inns, Taverns, &c.", no "Public Buildings", no "Places of Worship", no "Information as to Mills, Factories, &c., &c., their cost, power, produce, &c.", no "Number of persons usually employed therein", and no "General Remarks of the Enumerator"
The information in this Census Record shows that Clark and Maryette were married in or before 1851.
The header of this Census Record states in full:  "PERSONAL CENSUS – ENUMERATION DISTRICT, No. Ten OF St. George de Clarenceville IN THE COUNTY OF Rouville COMPRISING the Parish of St. George of Clarenceville OF THE SAID County TAKEN UNDER ACT 14th & 15th Vict. Chap. 49. Wm. T. Ford ENUMERATOR.
Copyright © 2007 by Stephen J. Danko