Thomas Clark Saxton, son of George Saxton and Ada May Gibson, was baptized in the Methodist Church on the same day as his mother.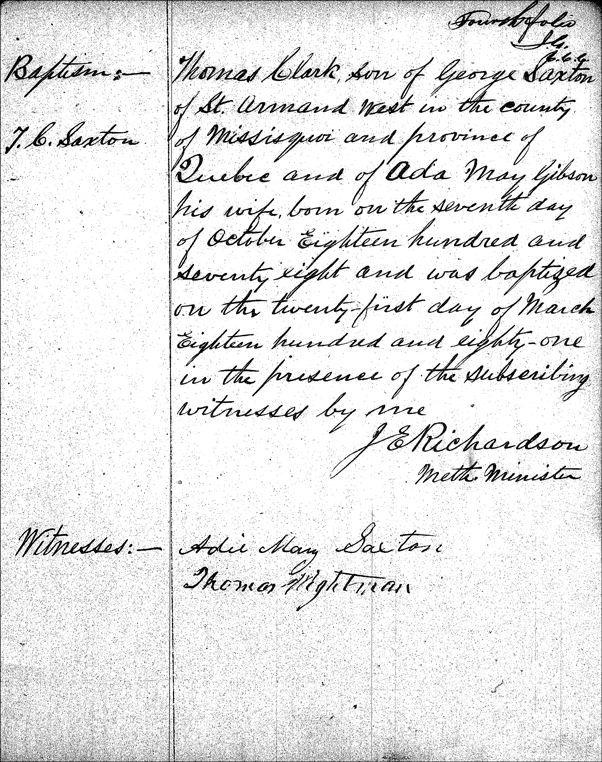 The Birth and Baptismal Record for Thomas Clark Saxton
SOURCE: The Methodist Church Serving Frelighsburg, Quebec, Canada. Baptismal Records. 1881. Thomas Clark Saxton. FHL US/CAN Film 2027346 Item 3, Family History Library, Salt Lake City, Utah.
Click on the link for a PDF copy of the Birth and Baptismal Record for Thomas Clark Saxton – 1881.  the record states:
Fourth folio [H?] [@@@]

Baptism:- T. C. Saxton

Thomas Clark, son of George Saxton of St. Armand West in the county of Missisquoi and province of Quebec and of Ada May Gibson his wife, born on the seventh day of October Eighteen hundred and seventy eight and was baptized on the twenty-first day of March Eighteen hundred and eighty-one in the presence of the subscribing witnesses by me
[Signed] J.E Richardson
Meth. Minister

Witnesses:- [Signed] Adie May Saxton [Signed] Thomas Hightman
Thomas Clark was baptized on the same day as Ada May, his mother, was baptized.  His mother served as a witness, and the second witness, Thomas Hightman, also witnessed Ada May's baptism.
Since Thomas Clark Saxton was baptized only 2-1/2 years after birth, the date of birth provided in this record is probably fairly accurate.
One lingering question I have is:  Did the child's father attend the baptism?  The mother signed the baptismal records as a witness but the father did not.
Copyright © 2007 by Stephen J. Danko