According to some sources I've found, Ada May Gibson and her brother Arnold Gibson (children of Clark Gibson and Maryette Olds) were born 13 days apart in different countries.  Ada May was born on 04 Aug 1859 in Québec and Arnold was born on 17 Aug 1859 in Vermont, USA.  The evidence for Ada May's birthdate is derived from her Baptismal Record.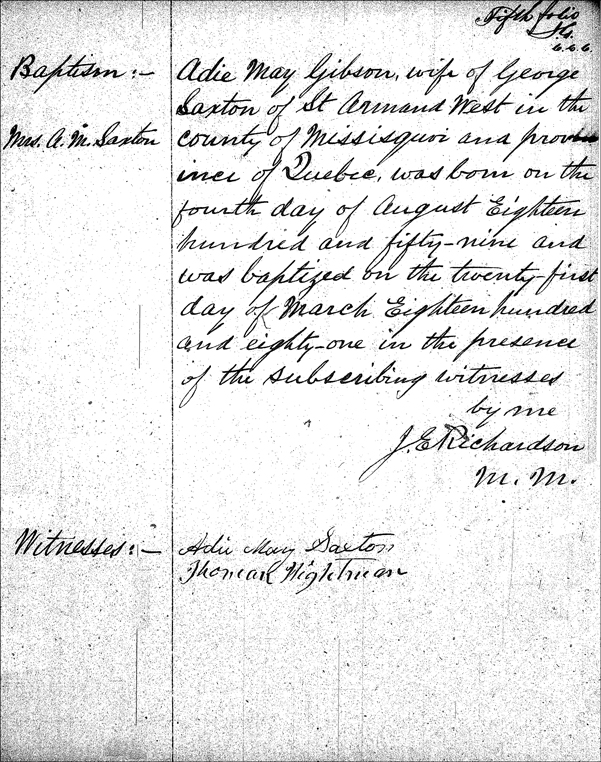 The Baptismal Record for Ada May (Gibson) Saxton
SOURCE:  The Methodist Church Serving Frelighsburg, Quebec, Canada. Baptismal Records. 1881. Ada May Saxton. FHL US/CAN Film 2027346 Item 3, Family History Library, Salt Lake City, Utah. 
Click on the link for a PDF copy of the Baptismal Record for Ada May (Gibson) Saxton.  The record states that:
Fifth folio [H?] [@@@]

Baptism:- Mrs. A. M. Saxton

Adie May Gibson, wife of George Saxton of St Armand West in the county of Missisquoi and province of Quebec, was born on the fourth day of August Eighteen hundred and fifty-nine and was baptized on the twenty-first day of March Eighteen hundred and eighty-one in the presence of the subscribing witnesses by me
[Signed] J.E Richardson M.M.

Witnesses:- [Signed] Adie May Saxton [Signed] Thomas Hightman
The notation M.M. after the minister's name stands for "Methodist Minister".
Curiously, Ada May (or Adie May as she is called in this record) was a witness at her own baptism!
Ada May was baptized as an adult.  Although her birthdate is listed as 04 Aug 1859, the accuracy of the date is suspect, since the information was recorded some 22 years after the fact.
Ada May's brother Arnold was born on 17 Aug 1859, but this information is derived from Arnold's Death Certificate – 68 years after the fact.
Either one or both of these dates is wrong.  But which one?  And how do I find a better source for their birthdates?
Copyright © 2008 by Stephen J. Danko