I previously published the death record and burial permit for Arnold Gibson and the burial permit for Hattie Fadden Gibson.  Arnold and Hattie were married in Sheldon, Vermont in 1885.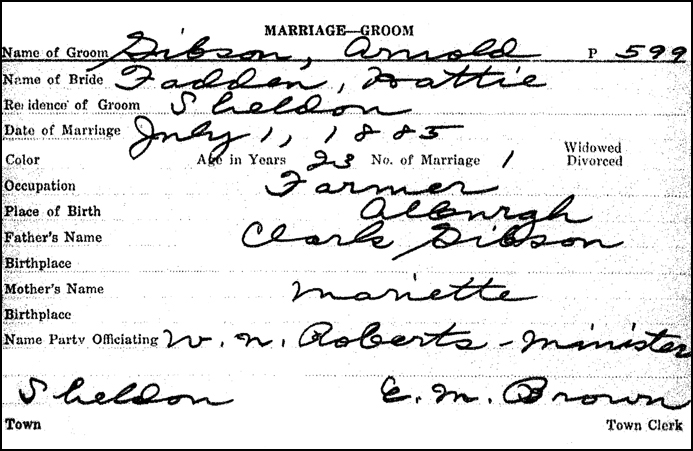 The Marriage Record for Arnold Gibson
SOURCE: The State of Vermont. Department of Health. Marriage Record. 1916. Arnold Gibson and Hattie Fadden. FHL US/CAN Film 2022665, Family History Library, Salt Lake City, Utah.
Click on the link for a PDF copy of the Marriage Record for Arnold Gibson – 1885.  The record states:
Arnold Gibson and Hattie Fadden were married on 1 Jul 1885 in Sheldon, Vermont;

Arnold was born in Alburgh;

Arnold was 23 years old at the time of marriage and this marriage was his first marriage;

Arnold's parents were Clark Gibson and Mariette [no surname given]; the birthplaces of Clark and Mariette are not provided;

W. N. Roberts, a minister, officiated at the marriage;

The document includes the number P599 and is documented by E. M. Brown, Town Clerk in Sheldon.
In Vermont, the marriage records for this period are recorded on separate cards.  This card is for the groom.
The birthplace for Arnold Gibson, as stated on this record, is Alburgh in Grand Isle County, Vermont.  This conflicts with the information on Arnold's Death Certificate, which stated he was born in Island Pond, Essex County, Vermont.
Copyright © 2007 by Stephen J. Danko