My second cousin Liliana is in town!  She and her husband Valery are in San Francisco for a wedding and I surprised them by meeting them at San Francisco International Airport and bringing them to their hotel.  We spent a couple of hours together before I left them to rest up before the wedding tomorrow.
Liliana and I share great grandparents Wincenty Chmielewski and Anastasia Wojnowska.  Our grandmothers Helena and Ona were sisters, and, while many of the cousins I've mentioned on this blog are half-cousins, Liliana and I are full second cousins.
To give some background, our great grandfather Wincenty was married twice.  His first marriage to Scholastyka Woytczuka resulted in the birth of my half great uncle Joseph Meleski and my half great aunt Stefania Meleski.  My grandmother and Ona, however, were full sisters and were very close growing up in Lithuania.
I learned tonight from my cousin Liliana that Ona never spoke Lithuania until she was married, and that both of our grandmothers, although they lived in Lithuania, were Polish – not Lithuanian.
Liliana and I made tentative plans to travel to Lithuania in October to visit her relatives and see the villages where our Chmielewski ancestors lived.  Since Liliana was born and raised in Lithuania, this is a chance I can't afford to let pass by!
So, in honor of Liliana's visit, here's a photo of my grandparents and their children: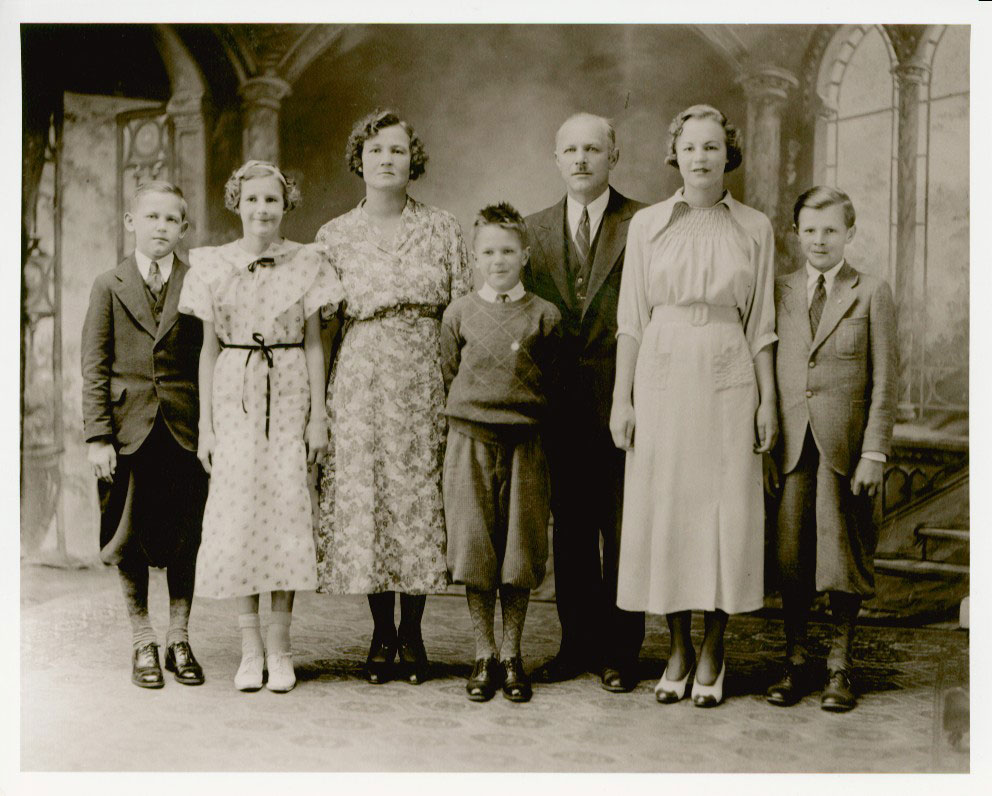 The Niedzialkowski Family
From the left: Fred, Jane, Helena (Chmielewski / Meleski), Henry, Kostanty, Nat, and Ray.
This is one of my favorite photographs.  Just look at those knickers!