Clark Gibson and his first wife Margaret Coyle had three children.  I've been able to find the Birth Record for only one of these children, namely Anna May Gibson.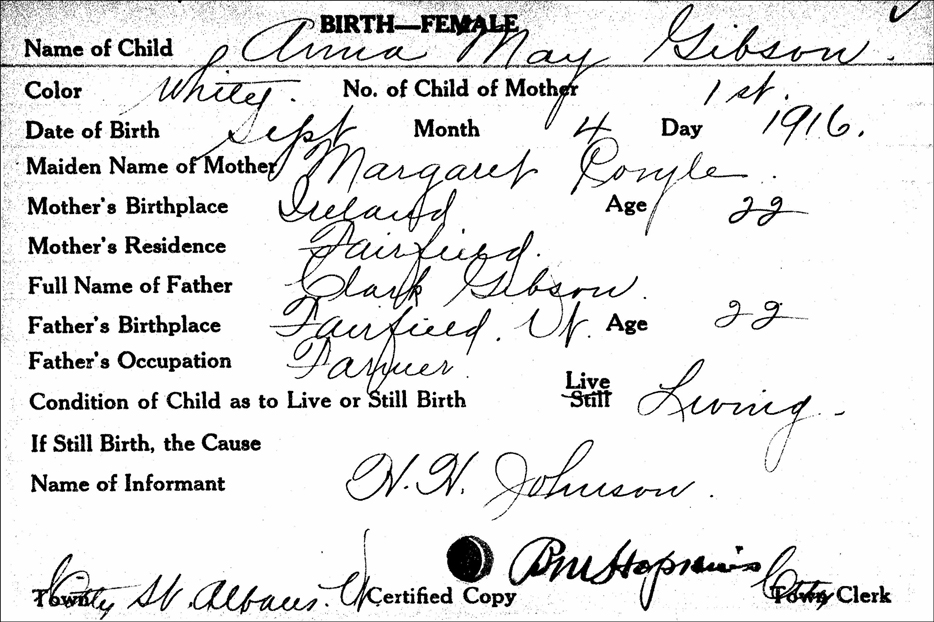 Birth Record for Anna May Gibson
Click on the link for a PDF copy of the Birth Record for Anna May Gibson – 1916.  The record shows that:
Anna May Gibson was born live on 04 Sep 1916 in the City of St. Albans, Vermont;

She was white and the first child of her mother;

The mother, Margaret Coyle, was 22 years old, was born in Ireland, and was living in Fairfield;

The father, Clark Gibson, was a 22 year old farmer who was born in Fairfield, Vermont;

The name of the informant was H. H. Johnson and the City Clerk was BM Hopkins.
After the birth of her third child, Margaret Coyle Gibson returned to Ireland with the children, including Anna May.  Clark remained in the United States.  As far as anyone knows, Clark never heard from Margaret or her children again.
Copyright © 2007 by Stephen J. Danko