I posted the Gibson family genealogy report yesterday without any sources, so today I'll post one source.  I knew from my cousins that their father, Clark Gibson, was born in Fairfield, Vermont and that his parents were Arnold Gibson and Hattie Fadden.  I don't qualify to obtain Clark's death certificate, since New York State, where Clark died, restricts death records for 50 years.  Instead, I was able to obtain a copy of the Certificate of Death for Clark's father, Arnold Gibson.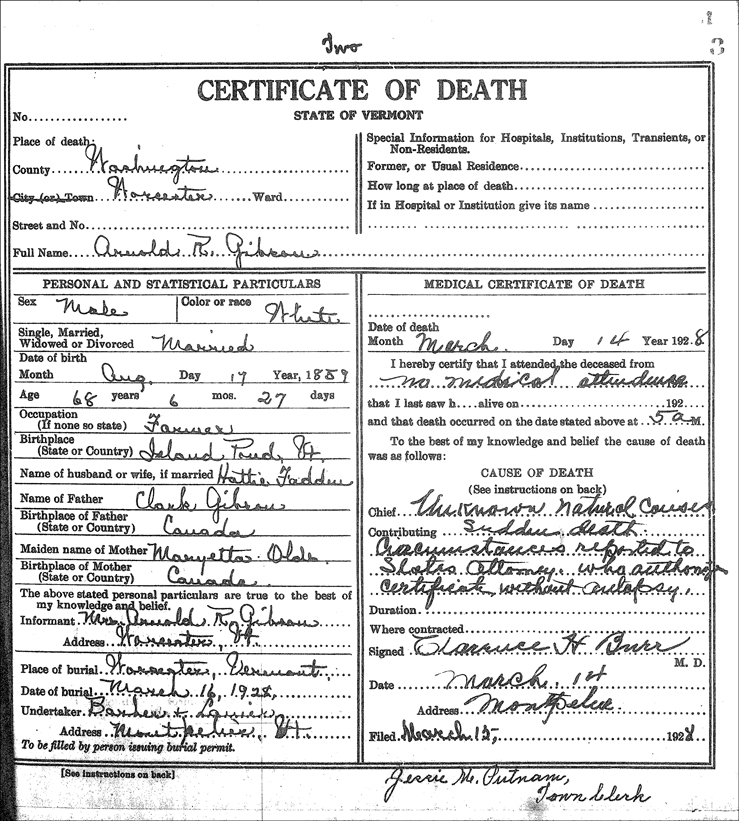 Certificate of Death for Arnold Gibson
SOURCE: The State of Vermont. Department of Health. Certificate of Death. 1928. Arnold Gibson. FHL US/CAN Film 2022665, Family History Library, Salt Lake City, Utah.
Click on the link for a PDF copy of the Certificate of Death for Arnold Gibson – 1928.  The record states that:
Arnold Gibson was a white male, born on 17 Aug 1859 in Island Pond, Vermont;

He was a farmer, married to Hattie Fadden;

His parents were Clark Gibson and Maryetta Olds, both born in Canada;

Arnold died at 5 AM on 14 Mar 1928 at the age of 68 years, 6 months, and 27 days in Worcester, Washington County, Vermont;

There was no medical attendance at the time of his death and the cause of death was reported as "unknown natural causes" and "sudden death;"

The circumstance of Arnold's death were reported to the State Attorney who authorized a Certificate of Death without autopsy;

Arnold was buried in Worcester, Vermont on 16 Mar 1928 by Barber & Lavier of Montpelier, Vermont;

Mrs. Arnold R. Gibson of Worcester, Vermont provided the personal and statistical particulars;

Clarence H. Burr, M.D. of Montpelier signed the Certificate of Death on 14 Mar 1928;

Jessie M. Putnam, Town Clerk filed the record on 15 Mar 1928.
The information about Arnold's birthplace on this Certificate of Death disagrees with that in some other sources, which state that Arnold was born in Alburg, New York.  Discovering Arnold's place of birth may require additional investigation.  This record provides very useful information on finding further records for Arnold and his parents.
Of interest is the place of death at the top of the page.  The words "City (or) town" are struck through.  I assume this was done because Worcester, Vermont did not have the status of a city or town.  The 1920 US Federal Census listed Worcester as a township.
As I post source documents on the Gibson family, I'll hyperlink the Gibson genealogy report listed in the pages in the sidebar.
Copyright © 2007 by Stephen J. Danko