Jane A. Goodrich was the mother of Albert Francis Blackman and the mother-in-law of my half-cousin once-removed Anastasia Rita Meleski.  Based on information in the marriage records for Albert Blackman and Anastasia Rita Meleski and for Charles I. Goodrich and Jane A. Goodrich, I was able to find Jane's Birth Record on the website of the New England Historic Genealogical Society.
However, Jane's birth record lists her first name as James.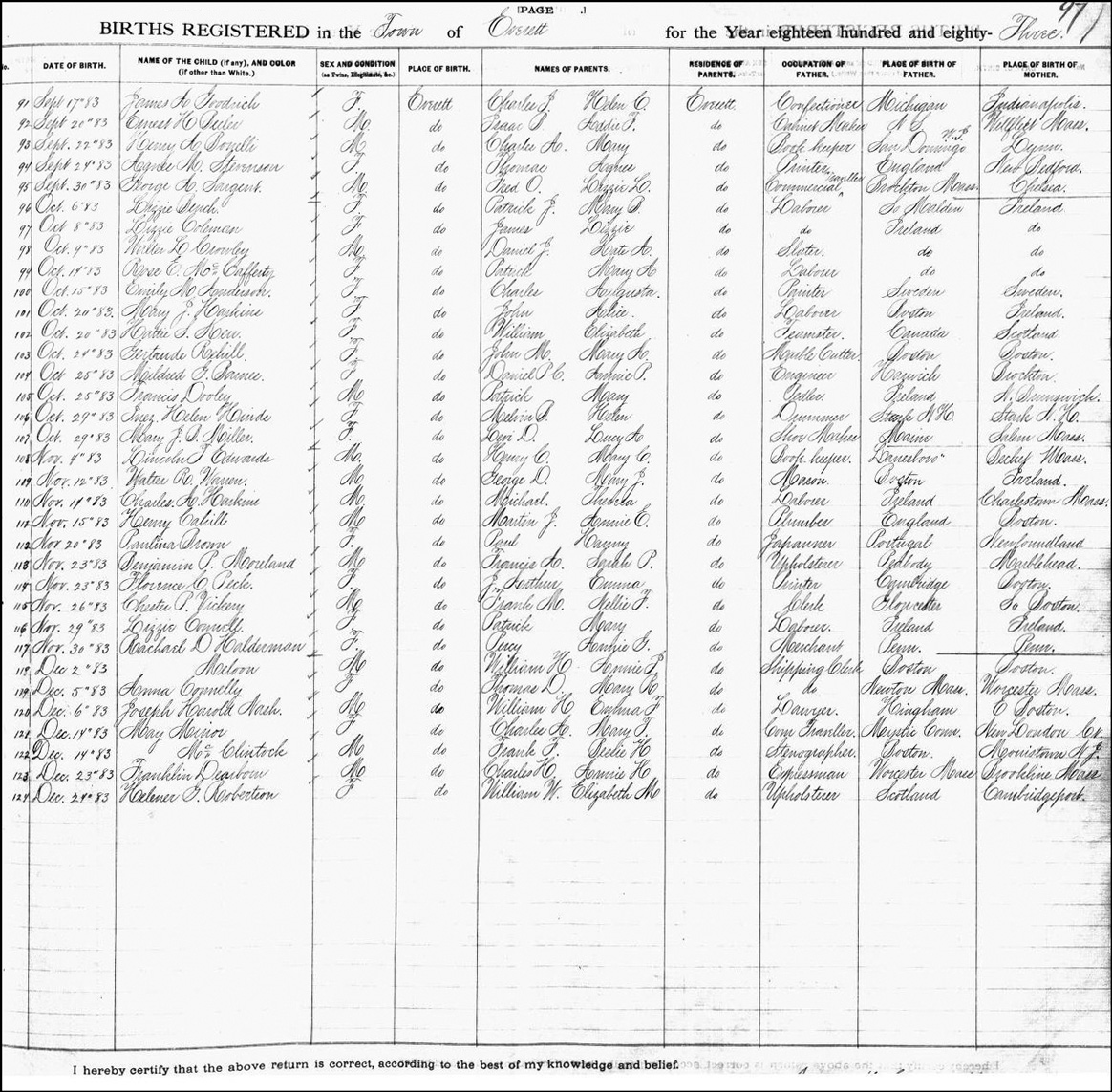 The Birth Record for Jane A. Goodrich
Click on the link for a PDF copy of the Birth Record for Jane A. Goodrich – 1883.  The record states that:
The name of the child was recorded as James A Goodrich, a female child, born on 17 September 1883

The birth was recorded in volume 341, page 97, number 91 in the town of Everett

Jane was born in Everett

Jane's parents were Charles I. and Helen C.

Jane's father was a confectioner born in Michigan

Jane's mother was born in Indianapolis
Based on Jane's marriage record, she was born between September 1883 and September 1884, so the date is correct.  The names of the parents and the location of birth are also correct.  I could find no other record in Everett for the birth of a child between 1841 and 1910 with the surname Goodrich.  Furthermore, although the name of the child is James A. Goodrich instead of Jane A. Goodrich, the sex of the child is listed as female.
The question now is, was Jane's name at birth really James, or did the registrar make a mistake?  The older Massachusetts town vital records were not immediately recorded in the registers, and this particular register does not show exactly when this birth was recorded.  The clerk who recorded the birth was almost certainly not present at the event and probably recorded births only once every three or six months.
I am relatively certain that this is the correct record of Jane's birth, despite the difference in the name.
Copyright © 2006 by Stephen J. Danko