My grandfather, Kostanty Niedzialkowski, filed his Declaration of Intention to become a citizen of the United States in 1917.  The Declaration was required by the Act of January 29, 1795.
A few years before Kostanty arrived in the United States, immigration and naturalization laws were amended by the Act of June 29, 1906.  This act did not specifically require a Certificate of Arrival, nor did it not specifically mandate that the applicant legally enter the United States.  The courts, however, generally refused to accept a Declaration of Intention without verification that the applicant entered the country legally.  The Act of March 2, 1929 included a requirement to verify that the applicant was a lawful permanent resident through a Certificate of Arrival.  Passenger Arrival Manifests were searched and information on the manifests was used to generate a Certificate of Arrival.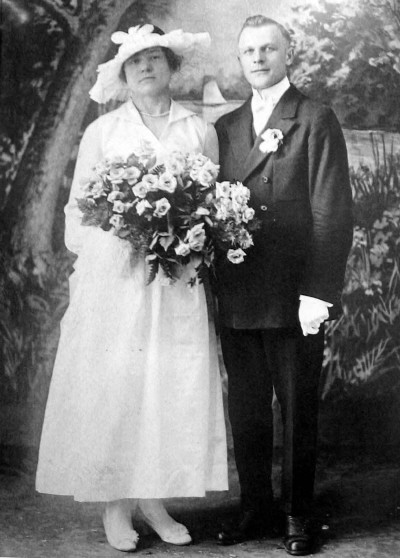 Above:  Helen and Kostanty Niedzialkowski
Whether Kostanty had difficulty obtaining a Certificate of Arrival or just became too busy after marrying Helen Meleski (Chmielewski), raising a family, and earning a living, he failed to complete the naturalization process in a timely manner.  The Declaration of Intention he filed in 1917 stated that the declaration was "Invalid for all purposes seven years after the date hereof", and so he had to start the naturalization process all over again.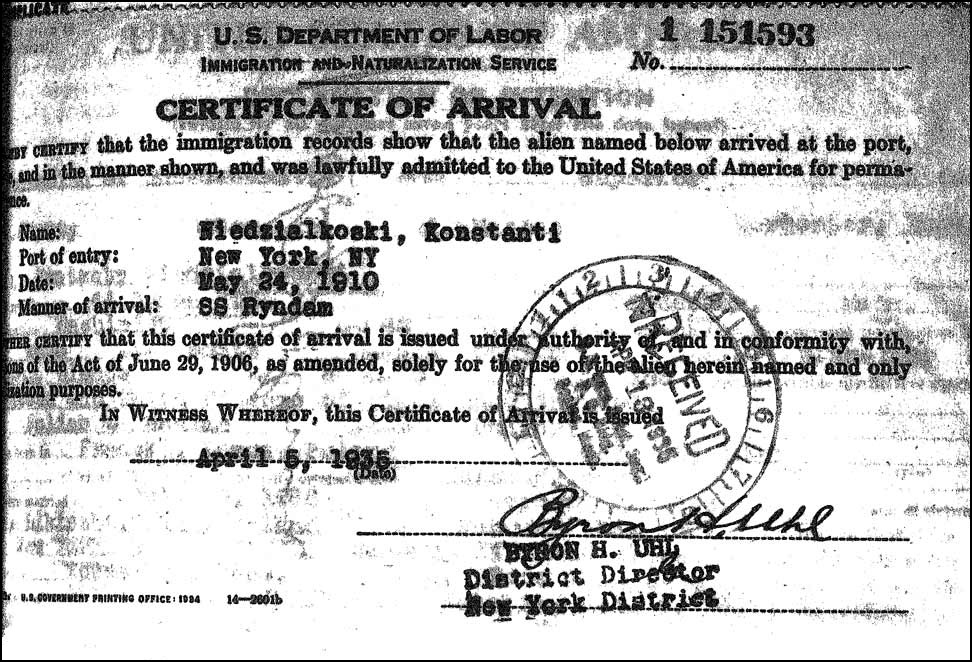 On April 5, 1935, a Certificate of Arrival was issued to certify that Kostanty had been lawfully admitted to the United States of America.  The Certificate states:
Name:  Niedzialkoski, Konstanti
Port of entry:  New York, NY
Date:  May 24, 1910
Manner of arrival:  SS Ryndam
The upper edge of the Certificate appears to be perforated, suggesting that the Certificate was torn from a larger sheet.
The Passenger Arrival Manifest of Konstanti Niedzialkoski included the annotation 1-151593- 4/5/35 in the Occupation column.  The first number is the naturalization district number, the second number is the number of the Certificate of Arrival, and the date is the date of issuance of the Certificate.  This annotation corresponds to the correponding number and date on the Certificate itself.  The U.S. Citizenship and Immigration Services website list several annotations to the Passenger Arrival Manifests.
Because Kostanty's Declaration of Intention had expired, he submitted a new Declaration on April 27, 1935.  The new Declaration of Intention of Kostanty Niedzialkowski includes a wealth of information not included on the Declaration he made in 1917.  It includes:
His residence at 44 Byron St., Worcester, Worcester Co., Massachusetts
His occupation as a Machinist and the fact that the second and third fingers of his right hand were injured
A description of him as male, white, medium complexion, blue-gray eyes, blonde hair, height 5 feet 9 inches, and weight of 190 pounds
His Polish-Russian ethnicity and his polish nationality
His birth on October 28, 1892 in Pomocki, Lomza, Poland
His marriage to Helen Meleski on July 10, 1918 in Worcester, Massachusetts
Helen Meleski's birth on February 15, 1897 in Likisski, Vilna, Poland and her entry into the United States at New York, N.Y. on January 14, 1913
The names and birthdates of his five children: Natalie, Raymond, Jane, Fred, and Henry, all born and residing in Worcester
His emigration from Rotterdam, Netherlands on the SS Ryndam and arrival in New York, NY on May 24, 1910
His prior Declaration of Intention No. 12755 on June 2, 1917 in the Massachusetts Superior Court
His photograph and signature
A reference to his Certificate of Arrival No. 1-151593
Kostanty now had to wait another three years to file his Petition for Naturalization, and if he did not file within seven years, this Declaration of Intention, too, would become invalid.
Next:  Kostanty files his Petition for Naturalization, obtains Affidavits of Witnesses, and signs an Oath of Allegiance.
Copyright © 2006 by Stephen J. Danko