While searching for the 1901 Canadian Census Record for John Rawding and his family, I came across several other records for this family.  In particular, I noticed that some of the family members traveled back and forth between Canada and the United States and left behind the records of those journeys.
Many records of alien arrivals at various United States ports of entry have been preserved.  These records include Card Manifests (Alphabetical) of Entries through the Port of Detroit, MI, 1906-1954, United States National Archives microfilm publication M1478, 117 rolls.  The record for James Rawding, son of John Rawding, entering the United States at Detroit in 1923 is recorded on roll number 83.  Better yet, Ancestry.com has digitized these records and access to these records is free for the rest of the year 2006.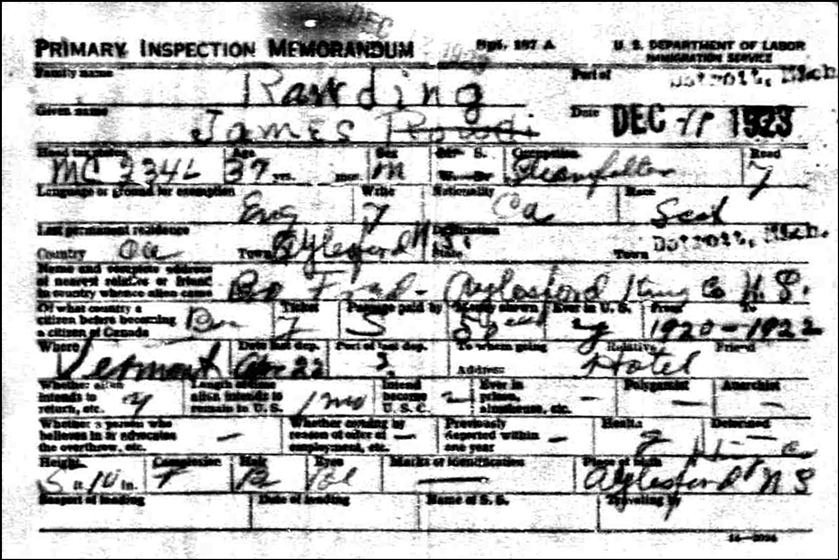 Detroit Card Manifest for James Rawding, Front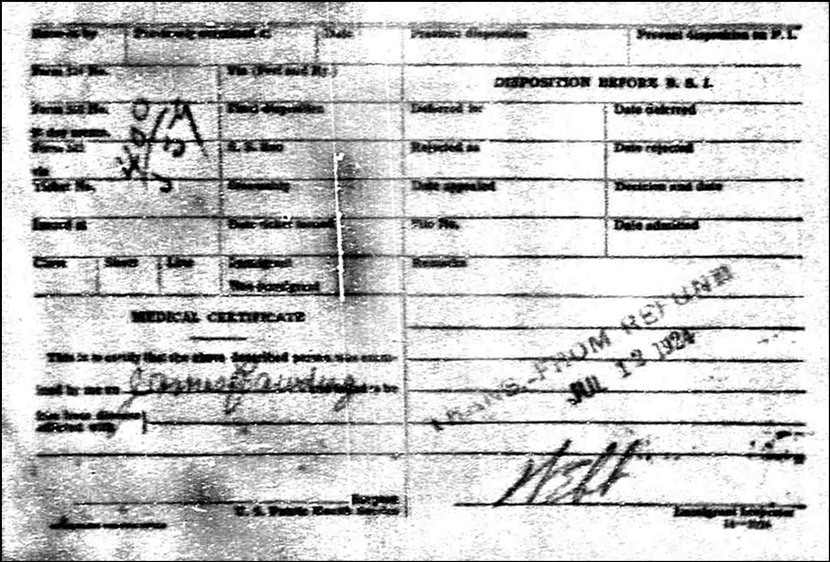 Detroit Card Manifest for James Rawding, Back
SOURCE:  James Rawding; December 12, 1923, in Card Manifests (Alphabetical) of Entries through the Port of Detroit, MI, 1906-1954; micropublication M1478 (Washington: National Archives), roll83.
James Rawding's Card Manifest was recorded on Form Spl. 187A, Primary Inspection Memorandum.  The information recorded on the front of this card is similar to that recorded on the Ellis Island Passenger Manifests and is transcribed in the PDF copy of the Detroit Card Manifest for James Rawding – 1923.  The back of the card was used to record information if an alien appealed a decision barring him from entering the United States.  The card for James Rawding has a few notes on the back of the card, but was apparently admitted.  Information on the front of the card includes the following information:
James Rawding, a single male born and living in Aylesford, Nova Scotia entered the United States on 12 Dec 1923 at Detroit, Michigan
James was 34 years old, was of Scottish race and Canadian citizenship, and was employed as a steamfitter
James had a brother Fred in Aylesford, Kings County, Nova Scotia
James had previously been in the United States, specifically in Vermont, from 1920-1922
On this trip, James intended to go to a hotel, intended to stay in the United States for a month, and did not intend to become a citizen
James was described in good health, 5 feet 10 inches tall, with fair complexion, brown hair, and blue eyes
He had a ticket, paid for his passage himself, and had with him $50.00
Now that I know these records exist, I'm going to start looking for border crossing records for others I know entered the United States through Canada.
Copyright © 2006 Stephen J. Danko