While I don't have any information on my Chmielewski ancestors further back than my great grandparents, I do have a number of documents from the descendants of my great grandparents, most of which are from the State of Massachusetts.
The New England Historic Genealogical Society (NEHGS) has posted a database of Massachusetts Vital Records up through 1910 and has digitized and linked many of the original documents to the database.  The database is restricted to members and access to this database is only one of the many reasons I faithfully renew my membership each year.
One remarkable aspect of the digitized records on the NEHGS website is that the images are apparently digital photographs of the original registers, not just digitized versions of the microfilms.  The microfilm copies of these registers are generally of poor quality, but the digitized images at NEHGS are excellent.  Compare the image in today's post with that in yesterday's post to see the difference.
One of the records I found recently was that for Anthony Chmielewski, a younger brother of Harry Chmielewski.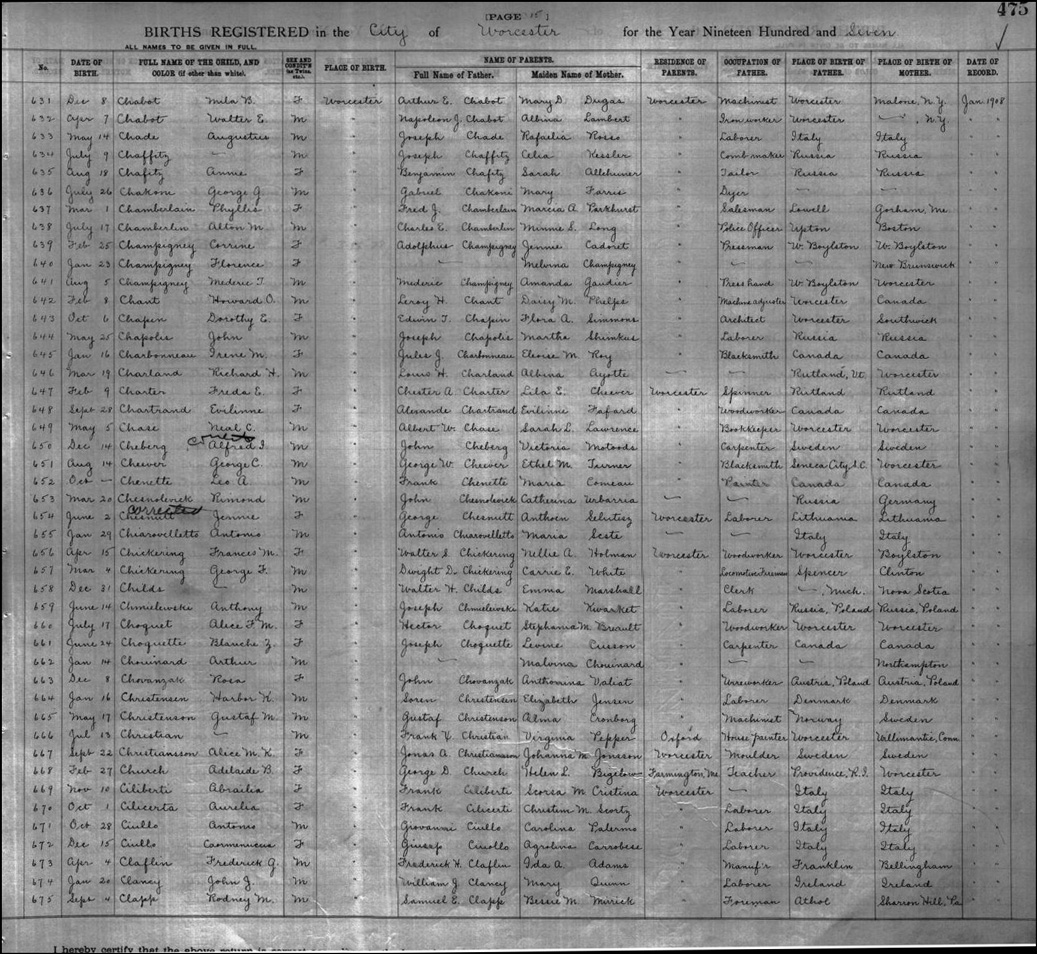 The Birth Register for Anthony Chmielewski
Click on the link for a PDF copy of the Birth Record for Anthony Chmielewski – 1907.  The record states that:
Anthony Chmielewski was born in Worcester, Massachusetts on June 14, 1907

Anthony was a white male

His father was Joseph Chmielewski, a laborer from Russia, Poland

His mother was Katie Kwarket from Russia, Poland

The record is from the Register of Births for 1907, Volume 568, Page 475, Number 659
SOURCE:  The Commonwealth of Massachusetts. Massachusetts State Archives. Record of Birth. Worcester County. 1907. Volume 568, Page 475, Number 659. Anthony Chmielewski.
The maiden name of Anthony's mother is listed as Katie Kwarket.  Most records list her maiden surname as Warchol.
These registers were not completed at the time of the event.  They were prepared periodically from the records accumulated over a number of months.  This record is an exact image of an original document.  I consider this record to be an original source of primary birth information for Anthony Chmielewski, but because these records may have been compiled several months after the actual events by people not present at the event, is the birth information really secondary, rather than primary?
Copyright © 2006 by Stephen J. Danko