My grandmother's half-nephew, Harry Meleski, was a prominent attorney in Worcester, Massachusetts.  His Death Certificate is filed with the City of Worcester, with a copy to the State of Massachusetts.  I obtained this copy from the State of Massachusetts, Registry of Vital Records and Statistics.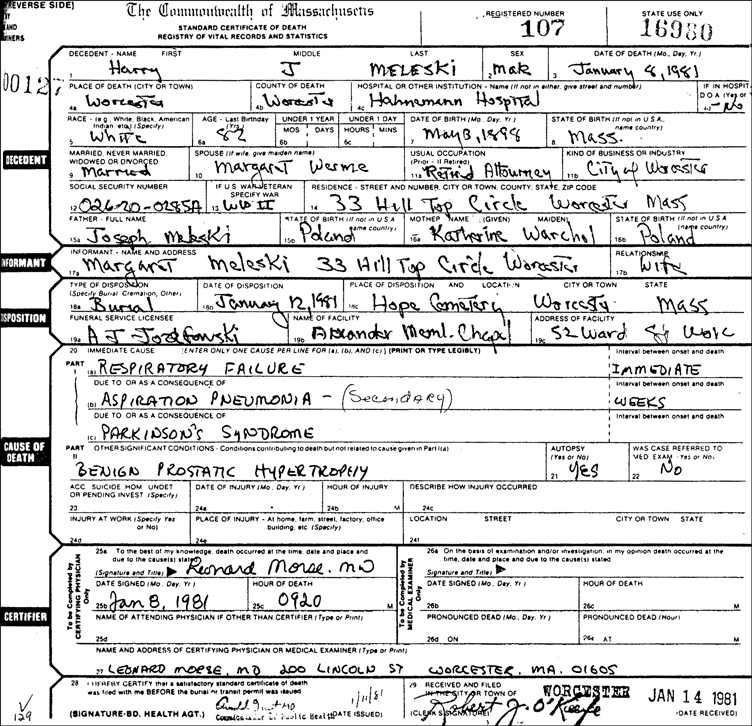 The Death Certificate for Harry J. Meleski
Click on the link for a PDF copy of the Death Certificate for Harry J. Meleski – 1981.  The record states that:
Harry J. Meleski was born on May 3, 1898 in Massachusetts and died January 8, 1981 in Hahnemann Hospital, Worcester, Worcester County, Massachusetts

Harry's wife was Margaret Werme

His residence was 33 Hill Top Circle, Worcester, Massachusetts

His occupation was Retired Attorney for the City of Worcester

His parents were Joseph Meleski and Katherine Warchol, both born in Poland

Harry was buried in Hope Cemetery, Worcester, Massachusetts on January 12, 1981 by A J Jozefowski of Alexander Memorial Chapel at 52 Ward Street, Worcester

An autopsy was performed

Harry died as a result of respiratory failure, due to weeks of aspiration pneumonia, as a consequence of Parkinson's Syndrome

Harry also suffered from benign prostatic hypertrophy

Harry's death was certified by Leonard Morse, MD
Harry and his wife died childless.  Their grave has been largely neglected.
Copyright © 2006 by Stephen J. Danko