My great-great-great-great grandmother, Cecylia Chotkowska was born in 1767.  Her sister, Julianna, was born in 1758.  The record of her baptism is record 36 for the year and the third record on this page of the Book of Baptisms of the Krasne Church 1755-1781.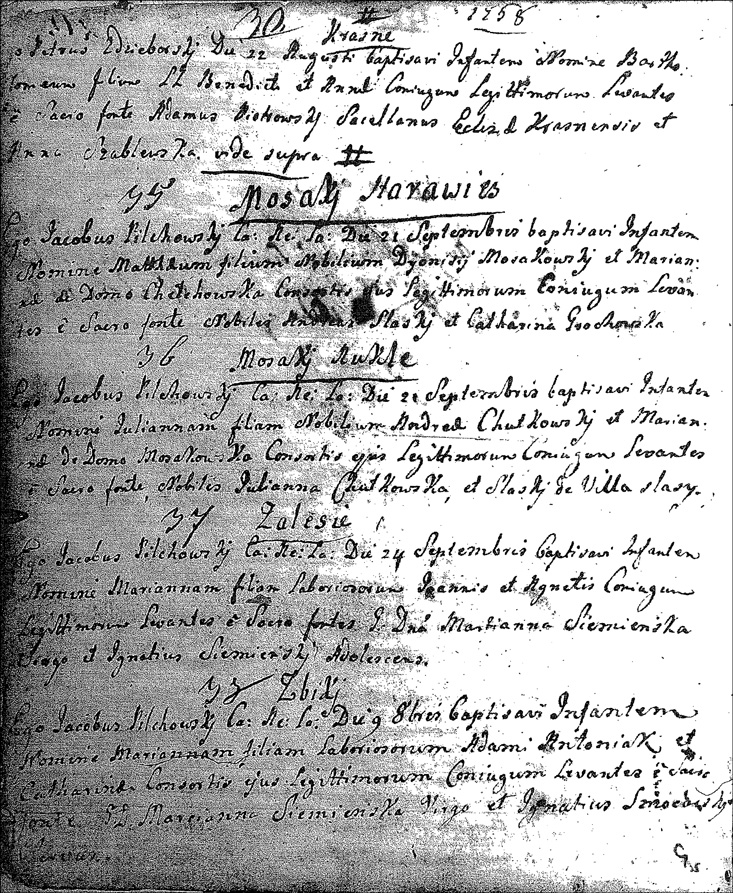 The Baptismal Record for Julianna Chotkowska
Click on the link for a PDF copy of the Birth and Baptismal Record for Julianna Chotkowska – 1758.  Translated from the Latin, the record states:
36. Mosaki Rukle

I, Jacób Pilchowski Ca: Re: Lo: on the 21st of September, baptized an infant by the name of Julianna, the daughter of the Noble Andrzej Chotkowski and Marianna née Mosakowska his wife, a lawfully wedded couple.  The Godparents in the Sacred Font were the Nobles Julianna Chotkowska and Slaski of the country home Szlazy.
One problem I have had while researching my Chotkowski ancestors is that the Krasne parish has another family with a similar name: Chełchowski.  In the handwriting of the time, it's sometimes difficult to tell the difference between the names since the letter T and the letter ł look similar, and the letter k sometimes looks like the letter combination ch.  To make matters worse, At the time Andrzej and Marianna Chotkowski were having children, another couple, Andrzej and Marianna Chełchowski, were also having children.
In fact, before I realized there were two different surnames, I copied a large number of births from the indexes before I realized that the children in my list were born less than 9 months apart!  It was then I realized I was dealing with two families with similar names.
Copyright © 2006 by Stephen J. Danko