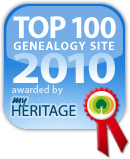 MyHeritage.com has posted a list of what they consider the top 100 genealogy sites on the Internet, and Steve's Genealogy Blog is included in that list!
The criteria MyHeritage used to evaluate genealogy sites included:
1) high quality content; 2) originality in topic choice, approach and design; and 3) frequently updated content. We're hoping to showcase the best genealogy sites in smaller countries, as well as those as far afield as Greece, Hungary and the Czech Republic.
The three criteria MyHeritage used to evaluate genealogy site are certainly three of the criteria I use myself on my blog, and so I am pleased to be recognized for that.
The entire list of MyHeritage.com's Top 100 Genealogy Sites can be found on the MyHeritage.com blog.
Thanks MyHeritage.com!
Copyright © 2010 by Stephen J. Danko