The village of Zakrzewo is significant in my family history because it was the location where some of my Chodkowski cousins were born.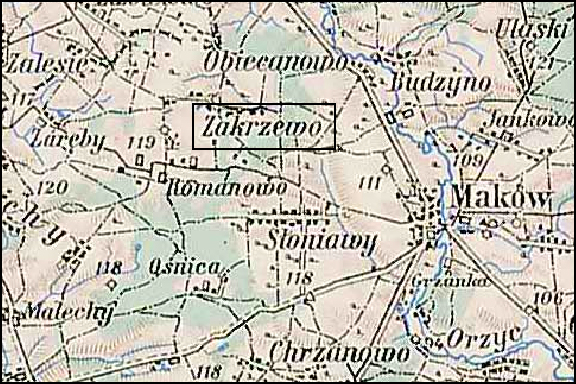 Austrian Military Map of the Zakrzewo Area – 1910
SOURCE: Third Military Mapping Survey of Austria-Hungary, Sheet 39-53, Ostrolecka. Online http://lazarus.elte.hu/hun/digkonyv/topo/200e/39-53.jpg; downloaded 21 May 2010.

Słownik Geograficzny Entry for Zakrzewo
Source:  Chlebowski, Bronisław, Józef Krzywicki, Filip Sulimierski, and Władysław Walewski, eds., Słownik Geograficzny Królestwa Polskiego i Innych Krajów Słowiańskich (Geographical Dictionary of the Kingdom of Poland and other Slavonic Countries) – Warsaw 1895, Volume XIV, page 319.
Click on the link for a PDF copy of the Słownik Geograficzny entry for Zakrzewo. Translated from the Polish, the entry reads:
11.) Zakrzewo, a village and grange [large manorial farmstead] in the Maków Powiat, Karniewo Gmina, and Maków Parish (4 versts distant) versts [0.66 miles per verst]. In the year 1885, the Zakrzewo grange extended 206 morgs [in the Russian partition 1 morg = 1.388 acres]: 167 morgs of [arable] land and gardens, 20 morgs of meadows, 12 morgs of pastures, 8 morgs of wastelands. There are 7 wooden buildings. The village of Zakrzewo includes 4 settlements and 5 morgs.
The place described in this entry is only one of at least 37 places in Poland called Zakrzewo.
The maps of the Third Military Mapping Survey of Austria-Hungary and the entries in the Słownik Geograficzny were prepared at about the same time and make a good pair for studying places in and around the Congress Kingdom of Poland at the end of the 19th century and beginning of the 20th century, a time period when the Eastern European ancestors of present-day Americans left their homelands for the United States.
Copyright © 2010 by Stephen J. Danko