A couple of weeks ago, George Morgan wrote about Types of Marriage Records in his "Along Those Lines…" Blog.  In that article he mentioned something I never thought of:  if you're trying to find the church where your ancestors were married, but the marriage records only list the name of the person who officiated the marriage, search the City Directory for the name of the person who officiated and you may find the church!
Today, I checked the marriage record for my grandparents, Kostanty Niedzialkowski and Helen Chmielewska.  The marriage record states that they were married on July 10, 1918 by B. A. Bojanowski, priest, Worcester, Massachusetts.
I then checked out the 1918 City Directory for Worcester, Massachusetts, available online at Ancestry.com, and found the following entry: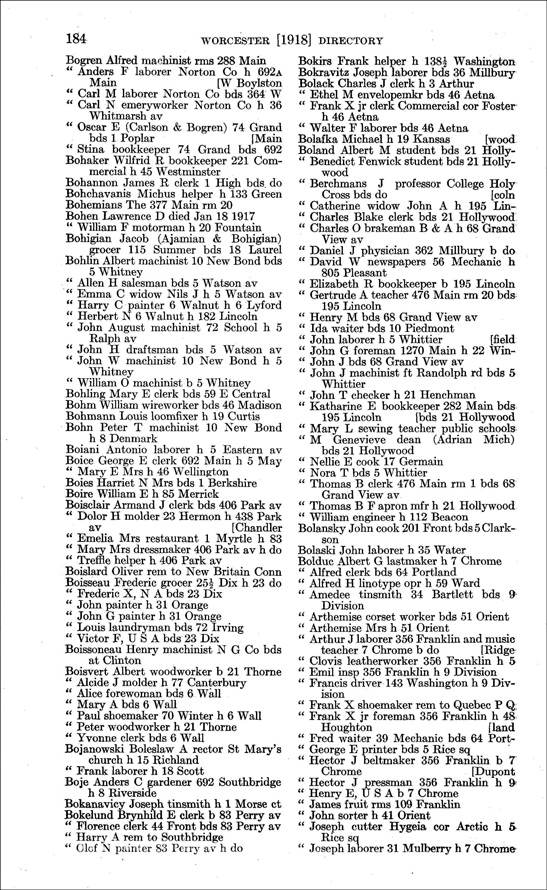 1918 Worcester City Directory Entry for Boleslaw A. Bojanowski
Click on the link for a PDF copy of the Worcester City Directory entry for Boleslaw A. Bojanowski – 1918.  The record states:
Bojanowski Boleslaw A rector St Mary's church h 15 Richland
St. Mary's Church, which opened on August 15, 1906, is still standing, although it is now known as Our Lady of Częstochowa Church.  The church still offers mass in Polish, and the elementary school and high school associated with the church are still known as St. Mary's School.  The rectory, previously located at 15 Richland Street is now located around the corner at 34 Ward Street.  The 15 Richland Street location is now part of the path of Interstate 290, the construction of which split the parish community in half.
George Morgan's nifty trick worked!  Thanks, George!
Copyright © 2006 by Stephen J. Danko