Genealogists love family heirlooms.  Whether it's the trunk that grandmother brought over from the old country, a quilt that's been handed down for generations, or an old photo album, most genealogists dream of documenting and preserving these mementos of our family history.  While we may not have the space to store everything that our ancestors accumulated throughout their lifetimes, there certainly are some items that we would like to preserve, document, and pass on to further generations.  Sometimes family bibles, photos, and heirlooms end up in antique stores and flea markets, where they may be salvaged by people like Megan Smolenyak Smolenyak (yes, that's two Smolenyaks there!) who try to reunite these orphan heirlooms with their families.
Last night I spoke with a friend of mine whom I hadn't seen in a while and we spent some time catching up on each other's lives.  He told me that a friend of his, an elderly woman, had died and he was helping her daughter clean out the house.  One of the first places they started to clean out was the woman's desk, and when they opened the first drawer, they found a treasure trove of love letters between the woman and her future husband.  They read some of the letters, smiled and reminisced about the pair.  Then they opened the second drawer and found the drawer full of letters the woman had received from servicemen stationed overseas during World War II.  Apparently the woman was an avid letter writer and took it upon herself to make the boys overseas a little less lonely by writing to as many as she could.  Again, my friend and the woman's daughter read a few of the letters.
Then came the decision – what to do with all these letters describing the love between two people and all these letters documenting the daily lives and personal feelings of servicemen in World War II?  The woman's daughter didn't want them, and there were no other descendants.  So they shredded the letters.
I was aghast!  These letters were important documents that should be preserved!  Even if the daughter felt that the love letters were too personal to be shared with others, the letters from World War II servicemen have significant historical value and could have been donated to a historical society or library!
This morning, I dug out one of the shoe boxes of old letters I have and started looking through them.  I was actually a little surprised at how "old" the letters smelled, but the odor was, nevertheless, somehow comforting.  I thought I'd transcribe a few here.  These aren't necessarily the most interesting or most genealogically valuable letters in the box; they're just the first ones I pulled out.
The first is a letter from Bishop Edward J. Maginn, the auxiliary bishop of Albany, New York who wrote to me from the Vatican II Conference.  The letter is written on thin paper with a Cavalieri Hilton Roma letterhead.
October 13, 1965

Dear Stephen,

I was very happy to receive your kind letter and I thank you for writing.  It gets pretty lonesome here, so far from home.

We are working very hard, especially on our homework, which, as you know, is harder than class-work.

Keep praying for us and asking the Holy Spirit to help us.

With a blessing.

Sincerely,

+ Bishop Maginn
The second letter is from a friend of mine I've known almost since birth.  She wrote the letter shortly after starting her sophomore year at Dartmouth College.  The letter is written on both sides of stationary with pictures of colorful butterflies on the lower half.
10/7/74

Dear Steve,

Sounds like your courses are unusually stimulating (Z Z Z z z z …)

Well, I'm taking History of the American West, which is not difficult but a lot of reading; Comp Lit-Modern Novel I, which is Kafka, Mann, Zorba the Greek, etc., & Ulysses by Joyce – forget it!  I have 500 pages to read in it this week – 500 more I don't understand.  Then, Music Theory; and Music II – private voice lessons, for the year, for credit & free (the most important).  Out of 20 kids who auditioned, 5 were taken; whether because of lack of ability or because of already silver-throated voices to be developed I really don't know, but I prefer to fool myself into believing the latter.

I just (1/2 hr. ago) got a call from the Hanover Town Board of Recreation asking me to teach a dance class(es) at the H.S. for wages which I may select!  When you're infamous you don't have to look for anybody – they all come to you!

I'm singing in a trio, Andrews Sisters style, and we have our 1st appearance in a concert next Wed. with another group.  We still haven't decided on a name, & after coming up with such winners as "The Hotcha Sisters", the "Boogie Woogies", and "The Sleaze Sisters", the closest we could come to a possibility worth considering for more than 2 seconds, was "Daddy's Daughters."  No?  Guess it doesn't quite make it either.  Hopefully, we'll be performing at the big Glee Club concert in Nov., opening the 2nd half of the show, all depending on how we do on Wed.

Socially, things aren't overly stimulating, if you know what I mean, but I'm very satisfied & secure right now, in knowing that I have a lot of good friends up here – it's taken me a long time to realize, but it was worth the wait.

Well, hope things are better than O.K.  Write soon.     Love, Karen
The third letter is from my mother, written five years before she died.  She wrote this letter to me when I was attending the State University of New York College of Environmental Science and Forestry, just after I had moved out of the dorm and into an apartment in a marginal neighborhood in Syracuse, New York.  The envelope was postmarked January 24, 1975, even though the letter itself is dated the next day, and the letter was posted with a 10-cent Christmas stamp.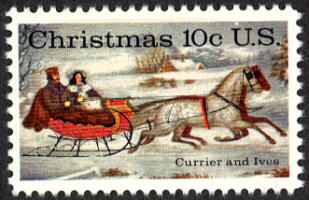 1-25-75

Dear Steve,

You made my day when you called.  I was so happy.  Glad to hear everything is fine.

It's been raining here all day, and it is quite damp.  Dad was home Tues, Wed, Thurs, & Fri, and he went to work to-day (3-11).  Not a very good day to go to work after being sick.  He feels better.

Did you get a copy of your report card?  Forgot to ask you on the phone.  Glad the T.V. works O'K.  As you say, it's better than nothing.-

I bet you are kept pretty busy.  How are you making out getting to school in the morning?  How are you making out with living expenses?  Let us know if you need anything.

Love,

Mom
I wonder what will become of all these letters when I'm gone.  I have boxes and boxes of them, but will they be of interest to anyone else?  Or will they end up in the shredder?
Copyright © 2006 by Stephen J. Danko