Franciszek Chodkowski, husband of Franciszka Długołęcka and son of Tomasz Chodkowski and Agnieszka Kuligowska, died on 12 February 1846 in Mosaki Rukle, Przasnysz Powiat, Płock Gubernia, Congress Kingdom of Poland. He was buried at the parish church in Krasne, Przasnysz Powiat, Płock Gubernia, Congress Kingdom of Poland on 14 February 1846.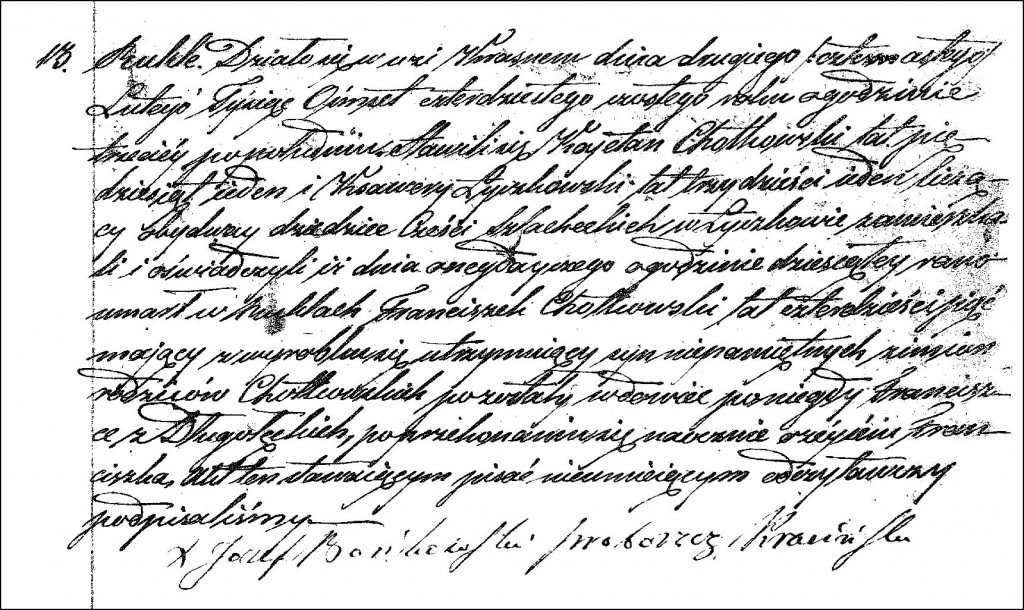 The Death and Burial Record of Franciszek Chodkowski – 1846
SOURCE: Parafia pw. św. Jana Chrzciciela (Krasne, Przasnysz Powiat, Płock Gubernia, Congress Kingdom of Poland), " Akta urodzeń, małżeństw, zgonów 1841-1851 [Records of Births, Marriages, and Deaths 1841-1851]," folio 45 recto, entry 13, Franciszek Chodkowski, 14 Feb 1846; filmed as Kopie księg metrykalnych, 1808-1892; FHL INTL microfilm 0,702,794.
Click on the image above to view a higher resolution image. Click on the link for a PDF copy of the Birth and Baptismal Record of Franciszek Chodkowski. Translated from the Polish, the record reads:
13.

[Mosaki] Rukle. This happened in the village of Krasne on the second / fourteenth day of February in the year one-thousand eight-hundred forty-six at the hour of three in the afternoon. There appeared Kajetan Chodkowski, fifty-one years of age and Ksawery Łyszkowski, thirty-one years of age, both owners of the noble parts and residing in Lyszkowo, and they stated that on the day before yesterday at the hour of ten in the morning, Franciszek Chodkowski died in [Mosaki] Rukle at the age of forty-five years, working as a day laborer, son of Chodkowski parents whose names are unknown, widower of the deceased Franciszka née Długołęcka. After visual confirmation of the death of Franciszek, this document was read to the declarants who do not know how to write and was signed by Us.
          [signed] The Reverend Józef Bońkowski, Pastor of Krasne 
This record states that the names of Franciszek Chodkowski's parents were not known. Since Franciszek's wife was already deceased and two apparently unrelated men from another village reported his death, it is not surprising that the declarants did not know that Franciszek's parents were Tomasz Chodkowski and Agnieszka née Kuligowska Chodkowska.
Franciszek Chodkowski was my 4th cousin, 4X removed.
Copyright © 2010 by Stephen J. Danko