I previously wrote that my Great Grandfather Jakub Dańko was married twice.  His first marriage was to Agnieszka Sowa, my great grandmother.  After Agnieszka's tragic death, Jakub married Zofia Głowacz.  Two years after this second marriage, Zofia bore Jakub a son, Piotr.  Piotr's record is number 53, the second record on page 238 of the parish register.  Like other church records in Galicia, these records were maintained in Latin in a columnar format.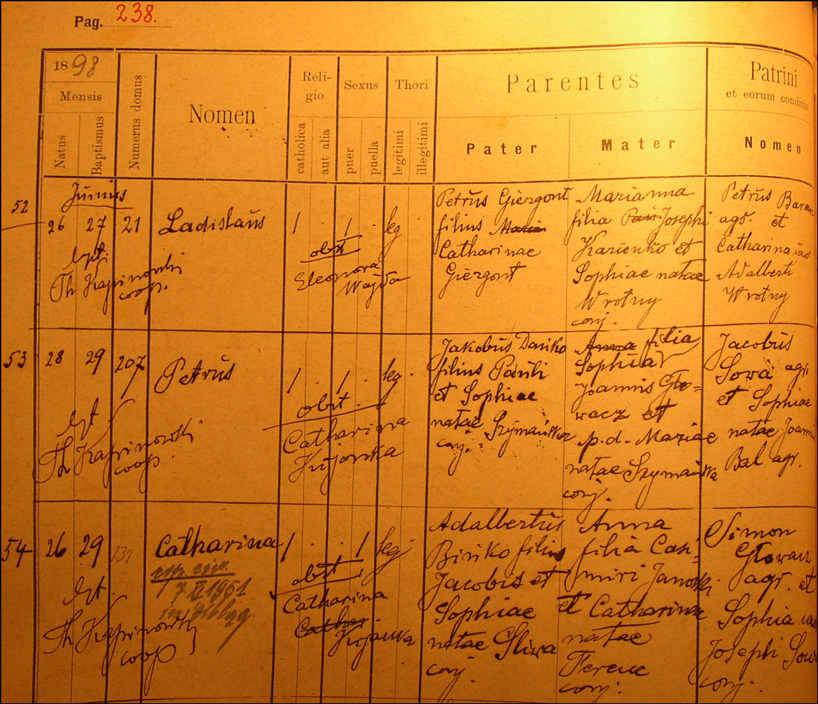 The Birth and Baptismal Record for Piotr Dańko
Click on the link for a PDF copy of the Birth and Baptismal Record for Piotr Dańko 1898.  Translated from the Latin, the record states that:
Page: 238
Number: 53
Birth: June 28, 1898
Baptism: June 29, 1898
House Number: 207
Name: Piotr Dańko
Religion: Catholic
Sex: Boy
Legitimacy: Legitimate
Father: Jakub Dańko, son of the married couple Paweł Dańko and Zofia née Szymańska
Mother: Zofia Głowacz, daughter of the married couple Jan Głowacz and the deceased Maria née Szymańska
Godparents: Jakub Sowa, farmer, and Zofia daughter of Jan Bal, farmer
Priest: Father Tomasz [Kaprinowicz]
Midwife: Katarzyna Kijanka
Jakub married Zofia when he was 53 years old and Zofia was 25.  Piotr was born when Jakub was 55 and Zofia was 27.  Jakub died less than a year after Piotr was born.
Before the name of Zofia's mother there is an abbreviation "p.d.", which probably stands for "post delictam", indicating that Zofia's mother was deceased at the time of Zofia's marriage.
I imagine that Zofia probably remarried after Jakub's death.
Copyright © 2006 by Stephen J. Danko