Dean Richardson's January 1st post "What's Your Genealogical Superpower?" was picked up by Randy Seaver for "Saturday Night Genealogy Fun" and then Sheri Fenley (aka The Extraordinary Flying Condor) upped the ante and posted about "Super Heroes and the Powers That May Be" and included a cool avatar.  Donna Pointkouski (aka The Extraordinary Splintery Stick) has also reported on her Genealogical Superpower in "Donna's Picks" and included an avatar. Likewise, Tina Sansone (aka Gtownma Census Superhero) wrote about her Genealogical Superpower at "Census Superpower", Midge Frazel (aka Super Midge) wrote a post at "Super Midge" and Cindy Bergeron Scherwinski wrote "What's Your Superpower?" (although she seems to have misplaced her cape).
In need of a bit of a diversion I, too, created a Superhero avatar at The Hero Factory.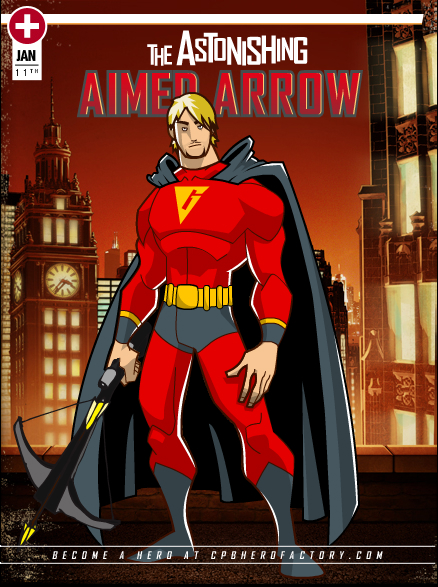 My Genealogical Superpower? I suppose it's my dogged determination and ability to jump into new sources and repositories in order to find information about my ancestors. The records are written in Russian? OK, I can learn enough Russian to read the records. The repository is in Lithuania? OK, I can travel to Lithuania. The clerk at the cemetery office just told someone that they really can't help people with their genealogy research? OK, perhaps I can charm the clerk into making me a copy of the cemetery file for my relative, anyway.
I still have a lot of brick walls to knock down. Even though I have good evidence for the parishes where the records of my grandfather and great grandfather should be, their records aren't there. So, now, I'm left with the brute force method of genealogy: shoot arrows in every direction and see what I hit. To that end, I'm searching all the microfilmed Polish parish records for a wide radius around Pomaski, Poland and, with luck, I might find where my ancestors really were when they claimed to be in Pomaski.
What's your Genealogical Superpower?
Copyright © 2010 by Stephen J. Danko