My Great-Great Grandmother Julianna Niedziałkowsa, the wife of Wojciech Niedziałkowski, died one year before her husband.  Julianna's record is number 38, at the bottom of page 133 in the parish register.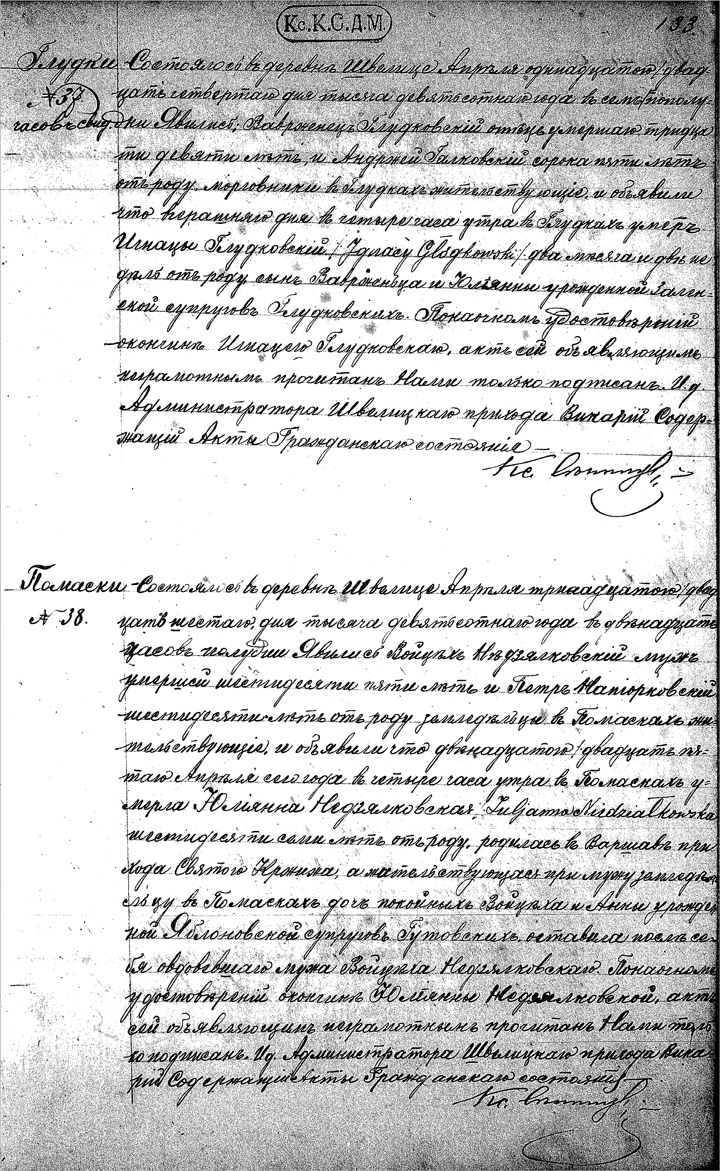 The Death Record for Julianna Niedziałkowska
Click on the link for a PDF copy of the Death and Burial Record for Julianna née Niedziałkowska – 1900.  The record, translated from the Russian states:
№ 38.  Pomoski

This happened in the village of Szwelice on April 13th / 26th 1900 at 12 Noon.  Wojciech Niedziałkowski, the husband of the deceased, age 65, and Piotr Napierkowski, age 60, farmers living in Pomaski, appeared and stated that on April 12th / 25th of this year at 4 o'clock in the morning in Pomaski, Julianna Niedziałkowska died, age 67, born in Warsaw, Holy Cross parish, and living with her husband as a farmer woman in Pomaski, the daughter of the deceased Wojciech and Anna née Jabłonowski Gutowski.  She is survived by her husband, the widower Wojciech Niedziałkowski.  After eyewitness testimony on the death of Julianna Niedziałkowska, this document was read to the declarant, who is illiterate, and was signed by us alone.  Id. Administrator of the parish of Szwelice, Assistant Pastor, Keeper of the Documents of the Civil State -.

Father [Sędzicki]
Not only did the deaths of Wojciech and Julianna Niedziałkowska occur a year apart, but Wojciech died a year after Julianna – almost to the day.  Julianna died on April 25, 1900 and Wojciech died on April 27, 1901.
This record provides the names of my great-great-great grandparents, Wojciech Gutowski and Anna Jabłonowska.  It further documents that Julianna was born in Holy Cross Parish in Warsaw.  This discovery, while interesting and valuable information, presents a difficulty.  Holy Cross Parish is very large, with thousands of baptisms every year – but the parish records are not indexed.  As yet, I haven't been able to find Julianna's Birth and Baptismal Record.
Julianna's death at age 67 indicates that she was born in about 1832-1833.
Copyright © 2006 by Stephen J. Danko