The Birth and Baptismal Records for Józef Niedziałkowski and Sabina Niedziałkowska included a notation in the margin with details of their marriages.  Fortunately, the priest in the Szwelice parish seems to have been rather diligent about recording marriages in the margins of the Birth and Baptismal Records, because the record for Stanisław Niedziałkowski also includes a marginal marriage notation.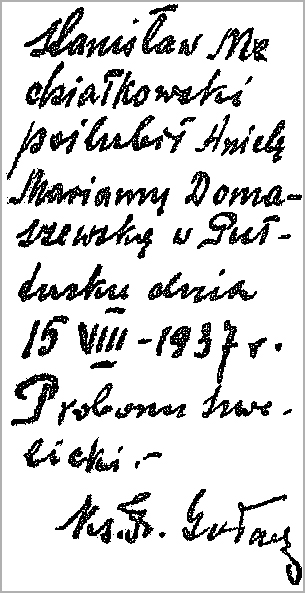 Marginal Marriage Notation for Stanisław Niedziałkowski
Click on the link for a PDF copy of the marginal marriage notation for Stanisław Niedziałkowski.  The record, translated from the Polish, states:
Stanisław Niedziałkowski married Aniela Marianna Domaszewska in Pułtusk on the 15th day of August in the year 1937

Pastor of Szwelice-

Father [G. Gutowski]
The name of Stanisław's bride, Aniela Marianna Domaszewska, is unusual in that the name includes a "middle" name.